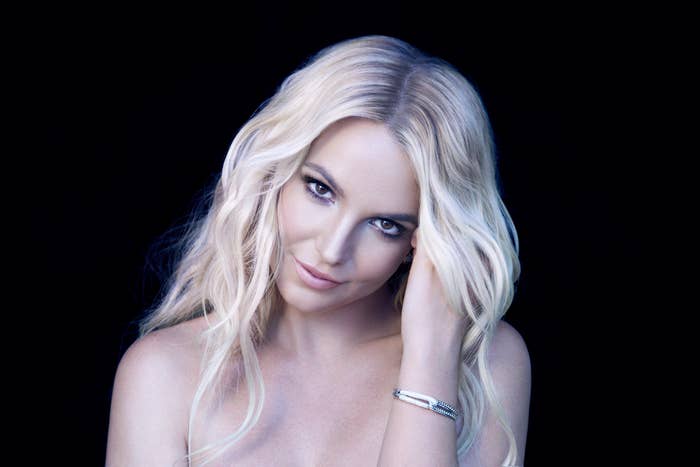 Britney Spears is one of the world's biggest pop stars. The appointed Princess of Pop gained early popularity at only 16 years old with her charting 1998 single, "...Baby One More Time." And her accomplishments have only continued since, with the star receiving countless accolades.
Within her height of tabloid reign, Spears encountered numerous run-ins with the paparazzi, backlash in the media, and endless headlines about her love life. Unfortunately, in 2007, the star suffered a trying time, which led to her being forced into an inhumane conservatorship that named her father, Jamie Spears, as her guardian for physical well-being and personal and estate finances. "I am Britney Spears now," her father said on the first day of the conservatorship according to Spears. It wasn't until over a decade later that Spears' conservatorship ended, with the star officially being freed from its tight grip in 2021.
On Oct. 24, the Glory singer released her highly acclaimed memoir, The Woman in Me, revealing some of the greatest moments in her life, along with several dark ones. "This is what's hard to explain, how quickly I could vacillate between being a little girl and being a teenager and being a woman, because of the way they had robbed me of my freedom," Spears writes in the novel. "The woman in me was pushed down for a long time."
From her upbringing to her rise to fame, Spears tells all in The Woman in Me. Here are the memoir's biggest revelations.
The Mickey Mouse Club wasn't as glamorous as you'd think
In Spears' memoir, readers learn more about her time in The Mickey Mouse Club alongside a cast of future household names. "Being in the show was boot camp for the entertainment industry: extensive dance rehearsals, singing lessons, acting classes, time in the recording studio, and school in between," Spears said of the experience.
She also went into detail about other actors she gravitated toward during that time. "The Mouseketeers quickly split into our own cliques, divided by the dressing rooms that we shared: Christina Aguilera and I were the younger kids, and we shared a dressing room. We looked up to the older kids—Keri Russell, Ryan Gosling, and Tony Lucca, who I thought was so handsome. And I quickly connected with a boy named Justin Timberlake," Spears penned.
Spears experienced hyper-sexualization at a young age
The 41-year-old spoke on how older men preyed on her since the age of 15. In the book, she noted how men would ogle her. "[My lawyer] took me around [New York City], and I went into rooms full of executives and sang Whitney Houston's 'I Have Nothing,'" she said. "Gazing out at the rooms full of men in suits looking me up and down in my small dress and high heels, I sang loud."
She also mentioned that at the beginning of her career, she would receive hyper-sexualized questions regarding her body, with reporters asking if she had breast augmentation.
The "I'm a Slave 4 U" VMA performance was a bit scarier than it appeared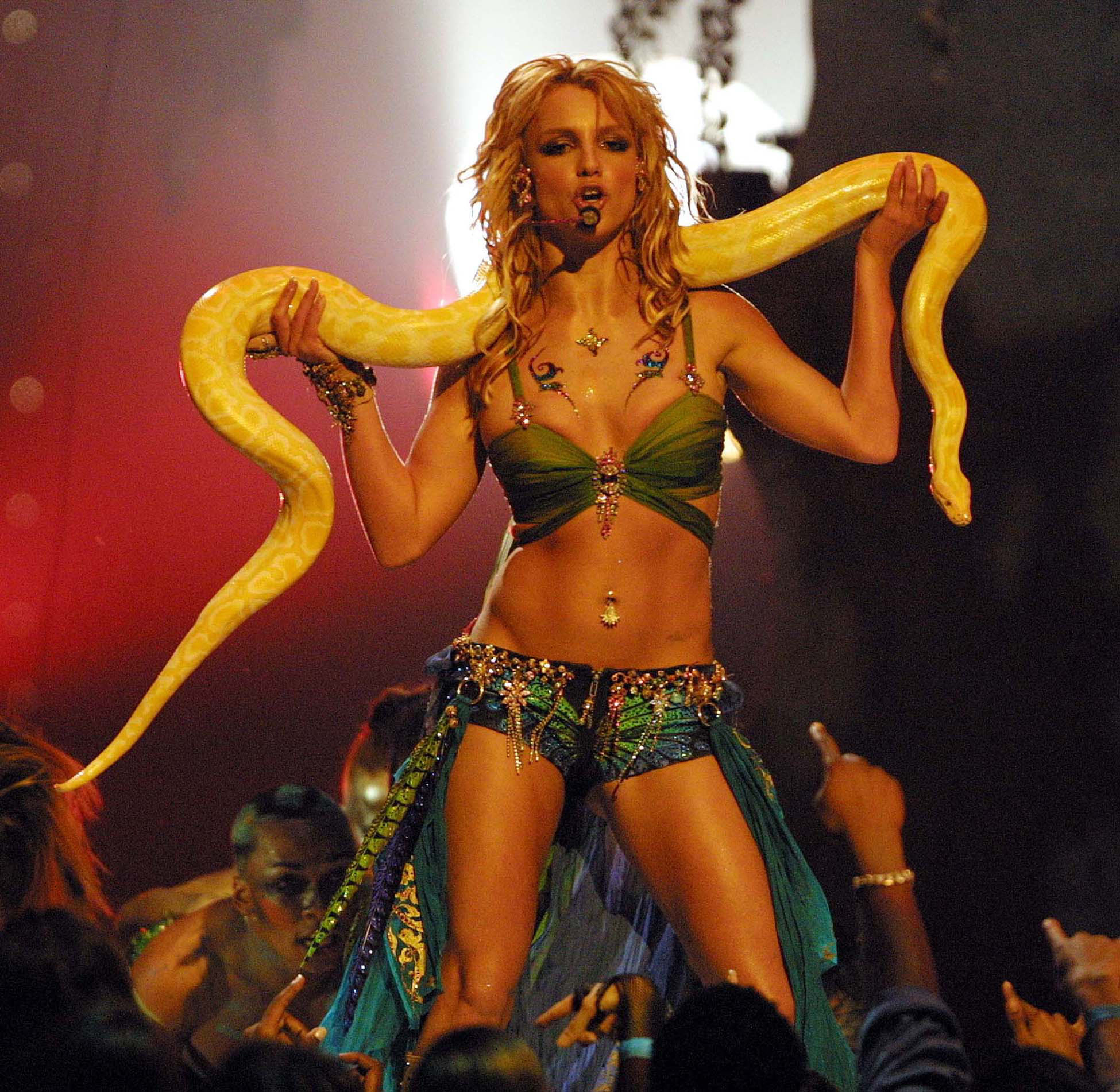 In 2001, Spears performed one of her most iconic musical numbers at the MTV VMAs. The pop star turned on her charm as she sang "I'm a Slave 4 U" while holding a 7-foot white and yellow anaconda on her shoulders, with a grown Bengal tiger parading in the background.
Even though fans still praise her performance, the 20-year-old at the time was scared to death. In The Woman in Me, she recalled her emotions while holding the reptile, saying, "[it was] even more terrifying than it appeared."
She wrote, "What nobody knows is that as I was singing, the snake brought its head right around to my face, right up to me, and started hissing at me. You didn't see that shot on the TV but in real life? I was thinking, 'Are you fucking serious right now? The fucking goddamn snake's tongue is flicking out at me. Right. Now.' Finally, I got to the part where I handed it back, thank God."
Dating Justin Timberlake came with a lot of baggage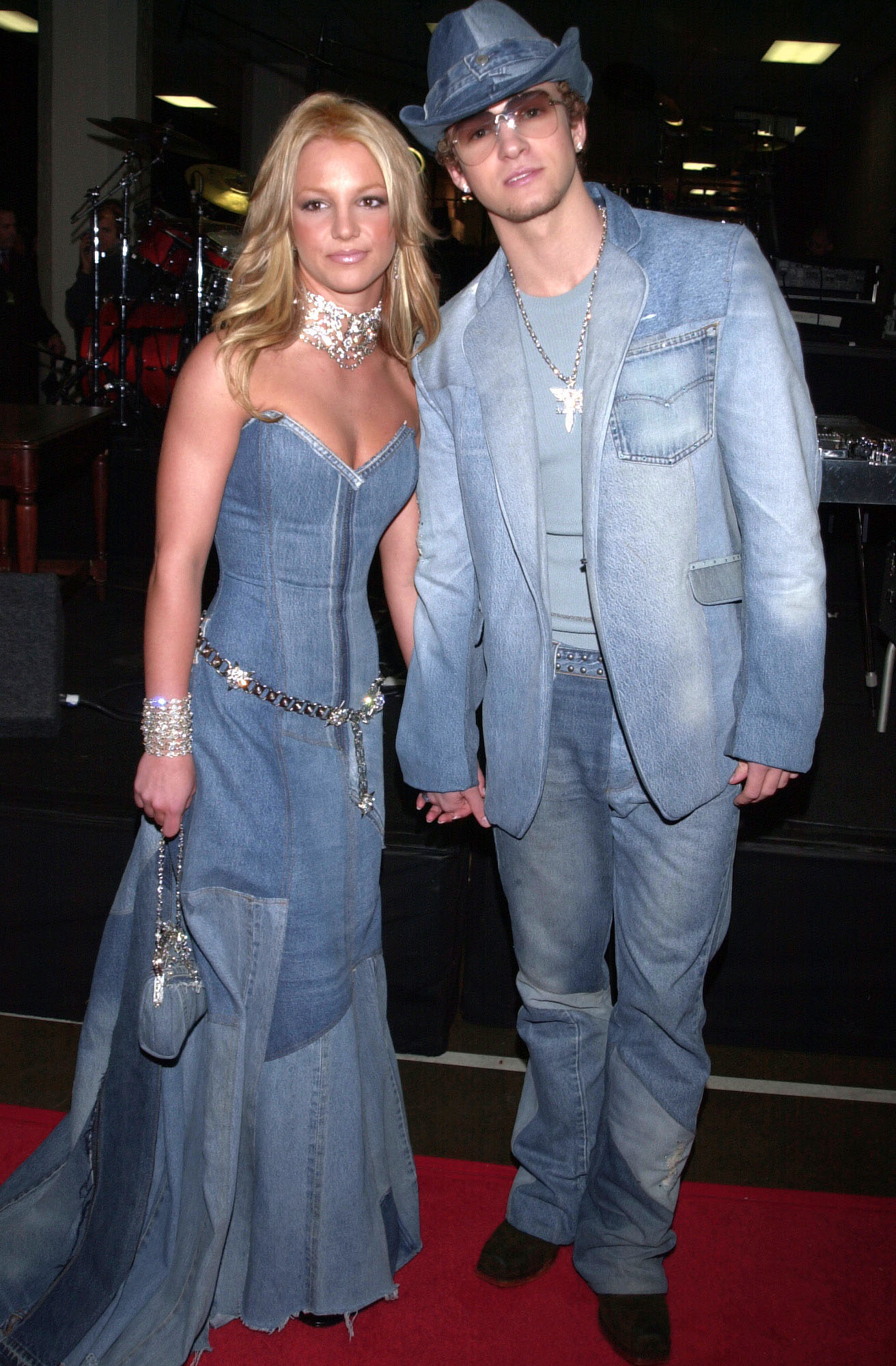 One of the singer's most famous relationships was with NSYNC member Justin Timberlake. The two went from childhood friends to lovers, and their three-year romance was featured at the forefront of every tabloid in the early aughts.
Being one of Hollywood's hottest couples, they were gushed over by fans. They appeared on multiple red carpets together, even working their infamous denim custom outfits at the American Music Awards. During their relationship, the two were undeniably cute together. But behind closed doors, Spears recalls a different kind of relationship that painted her to be a "heartbreaker" while she endured countless cheating. "There were a couple of times during our relationship when I knew Justin had cheated on me. Especially because I was so infatuated and so in love, I let it go, even though the tabloids seemed determined to rub my face in it," she penned. "When NSYNC went to London in 2000, photographers caught him with one of the girls from All Saints in a car. But I never said anything. At the time, we'd only been together for a year."
In 2002, Spears was deemed a cheater after she was seen locking lips with Australian choreographer Wade Robson. ""[Wade and I] were out one night and we went to a Spanish bar. We danced and danced. I made out with him that night," she wrote.
The same year, the NSYNC member broke up with Spears over a text message. He then released his debut album, Justified, which featured the famous track "Cry Me River," which painted Spears as a "harlot who'd broken the heart of America's golden boy."
The music video featured a Spears look-a-like, exploiting the situation, and not recognizing Timberlake's part in the breakup. Being so in love with Justin, Britney was crushed by their split, saying the media had the situation wrong as she was "comatose in Louisiana, and he was happily running around Hollywood."
Spears shockingly recalls the time she got an abortion
The star unveiled that she and Justin got pregnant while dating. She felt she could be ready to be a mother, but Timberlake was not prepared to be a father. "It was a surprise, but for me, it wasn't a tragedy. I loved Justin so much. I always expected us to have a family together one day. This would just be much earlier than I'd anticipated," she wrote.
She continued, "But Justin definitely wasn't happy about the pregnancy. He said we weren't ready to have a baby in our lives, that we were way too young." The two decided to get an abortion. She admits she never would have made such a decision if it was only left up to her. The entertainer described the event as "one of the most agonizing things I have ever experienced in my life." She recalls laying on the bathroom in agonizing pain as Timberlake comforted her.
Diane Sawyer's abrasive interview left Spears feeling humiliated
In 2003, Spears sat down with famous journalist Diane Sawyer for a special interview. Still healing from her heartbreak from Justin, she was forced to partake in a national interrogation as she cried in front of millions of viewers.
"I wasn't told what the questions would be ahead of time, and it turned out they were 100 percent embarrassing," Britney said. "I was too vulnerable then, too sensitive, to do this type of interview. I didn't want to share anything private with the world. I didn't owe the media details of my breakup. I shouldn't have been forced to speak on national TV, forced to cry in front of a stranger, a woman who was relentlessly going after me with harsh question after harsh question."
The Crossroads actress not only said the special "exploited" her but was an internal "breaking point" that caused a flip to switch. "I honestly feel like that moment in my life should have been a time for growing—and not sharing everything with the world. But I had no choice. It seemed like nobody really cared how I felt."
The star speaks on her turbulent relationship with her sister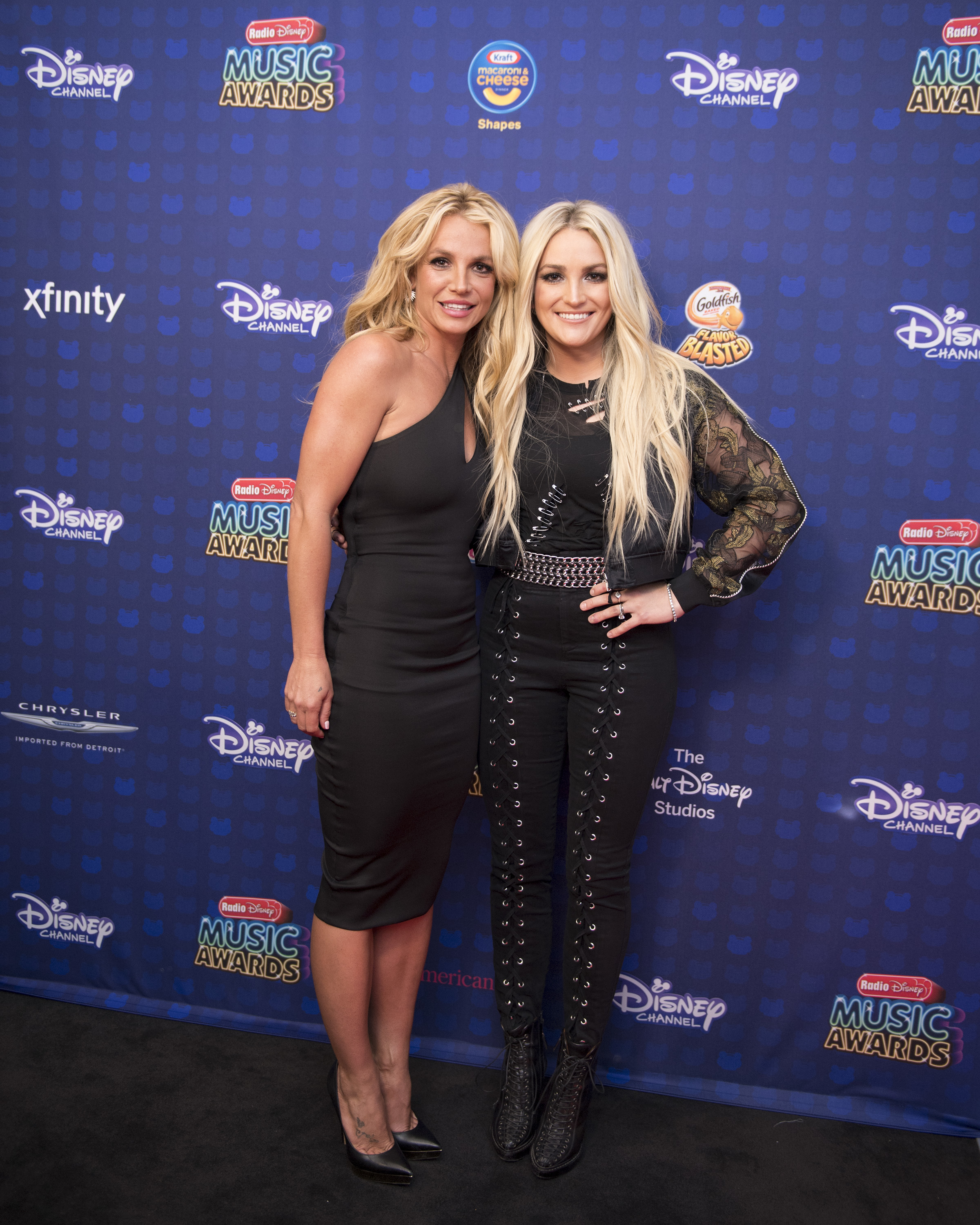 Throughout the memoir, Spears recalls memories of her younger sister, Jamie Lynn Spears, calling her a "bitch." In the book, she wrote, "My little sister, well, when I tell you she was a total bitch, I'm not exaggerating. It was clear that the girl ruled the roost. Meanwhile, it was like I was a ghost child. I can remember walking into the room and feeling like no one even saw me. Jamie Lynn only saw the TV."
She then looked back on how her sister would disrespect her mother, saying, "I'd listen to her spew these hateful words, and I'd turn to my mother and say, 'Are you going to let this little witch talk to you like that?'"
Jamie even questioned Britney's contributions to the family after Britney bought "a house for Jamie Lynn to grow up in."
"She was not exactly grateful for it. She'd later say, 'Why'd she get us a house?' like it was some sort of imposition," Britney explained.
Spears later revealed that she and Jamie are working on their relationship as she tries to understand her sister's upbringing in a divorced home and the effect of living in the shadow of an international pop star.
Spears had a surprise 55-hour marriage
In 2004, the "Toxic" vocalist remembered starting a war when her family learned that she married Jason Alexander in Las Vegas on one heavily drunken night.
"As a twentysomething will do after a few drinks, I wound up in bed with one of my old friends, a childhood friend who I'd known forever [Jason Alexander]. The third night we were there together, he and I got shit-faced," she recalled vaguely. "I don't even remember that night at all, but from what I've pieced together, he and I lounged around the hotel room and stayed up late watching movies — Mona Lisa Smile and The Texas Chainsaw Massacre — then had the brilliant idea of going to A Little White Chapel at 3:30 in the morning."
She added, "People have asked me if I loved him. To be clear, he and I were not in love. I was just honestly very drunk — and probably, in a more general sense at that time in my life, very bored."
When her parents found out about the young star's night out, they demanded that their marriage be annulled. The next day, the two were no longer married.
The 2007 drama in Spears' words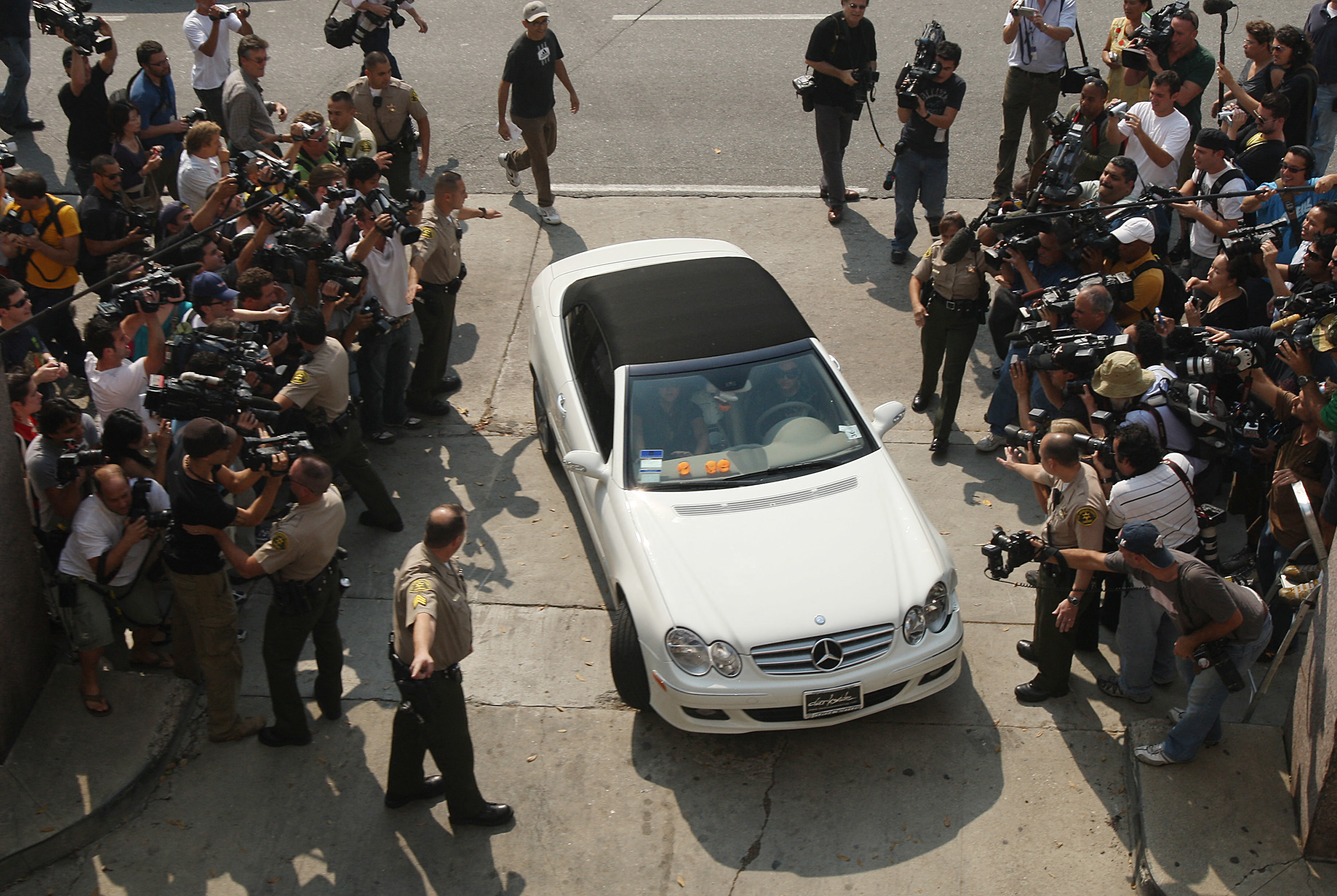 In 2007, Spears was faced with a, needless to say, messy high-profile divorce from Kevin Federline. The pair share two boys, Sean and Jayden. At the time, Federline refused to allow parental visitation for weeks, which led to months. As she was going through a challenging time in her life, the media continued to label her as an erratic and unfit mother.
In her memoir, the international singer explained her thought process at the time of her decision to shave off her well-known blonde hair. "I'd been eyeballed so much growing up. I'd been looked up and down, had people telling me what they thought of my body since I was a teenager," she penned. "Shaving my head and acting out were my ways of pushing back."
"Flailing those weeks without my children, I lost it, over and over again. I didn't even really know how to take care of myself," she admitted.
Spears admits succumbing to the conservatorship just to see her children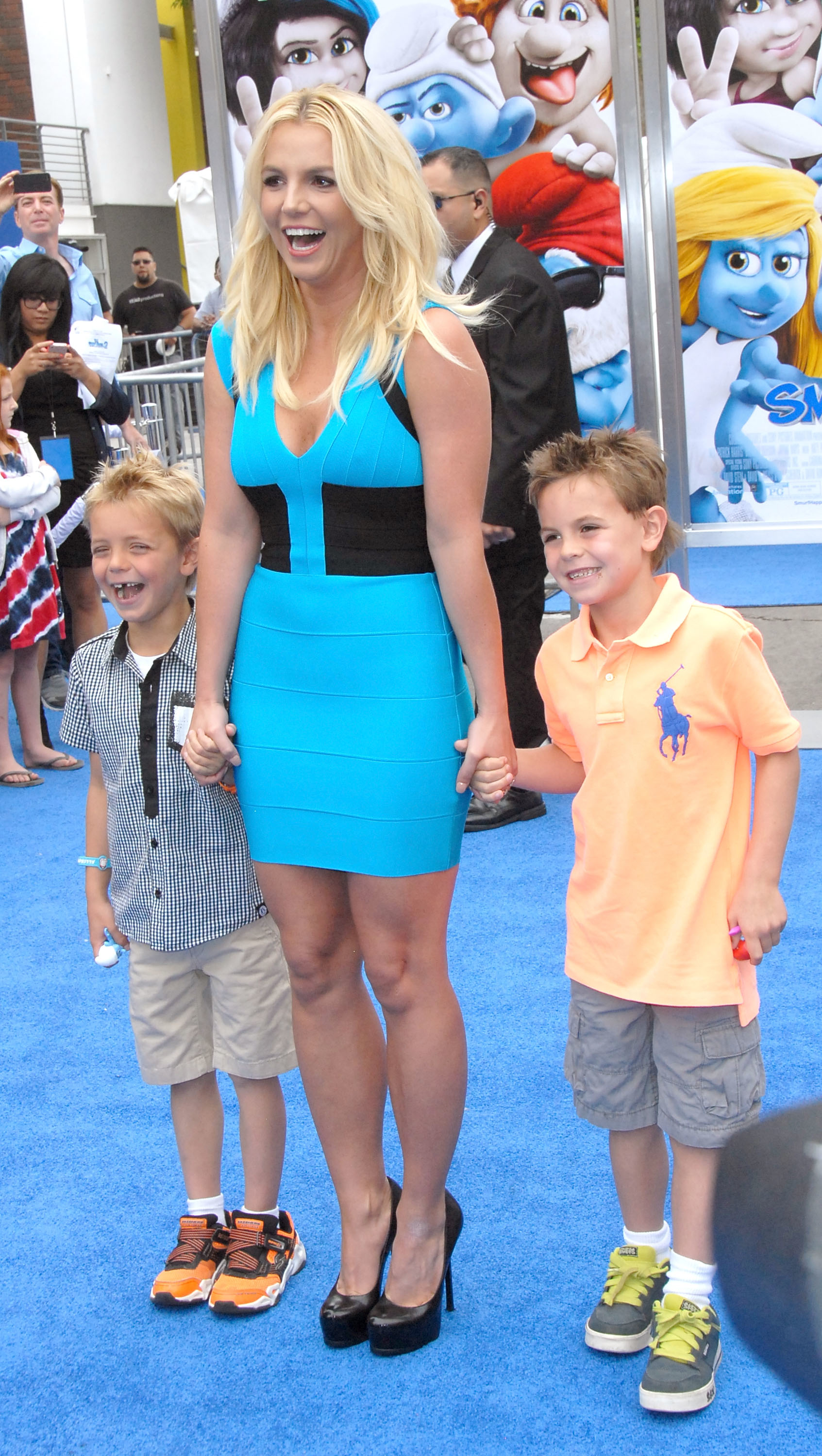 Upon Britney Spears receiving two involuntary psychological assessments, her father was placed in control over her conservatorship. Spears tried for years to challenge her father, but the conservatorship ultimately gave her "freedom" to be with her children.
In the memoir, she recalled her father constantly playing a sick game of control, insinuating if she stayed in line, she would receive more time with her children. "My freedom in exchange for naps with my children — it was a trade I was willing to make," she wrote.
Jamie Spears used his daughter for money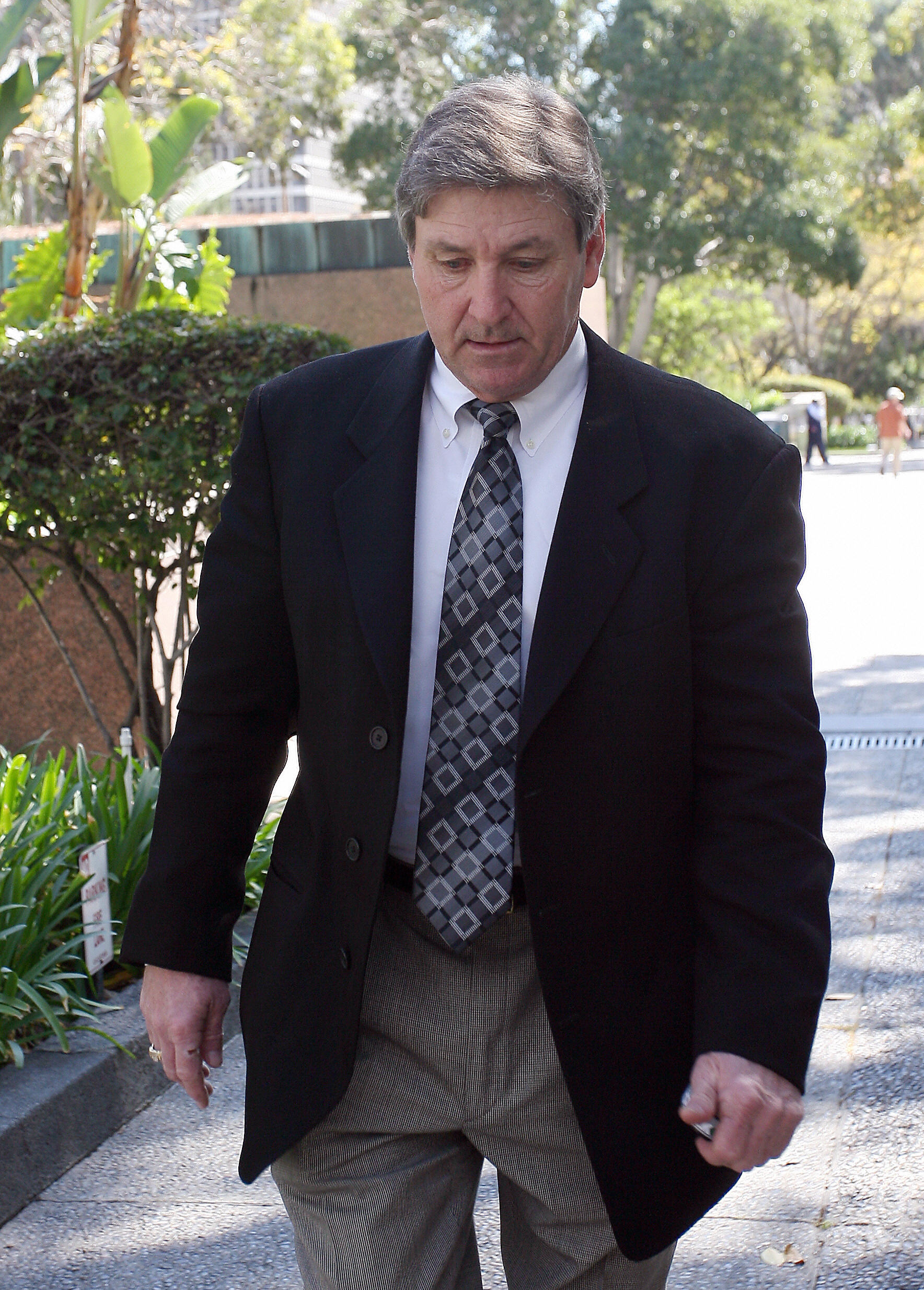 In 2008, the court ordered Spears' father and pointed lawyers to control her financial and personal affairs and estate. As the conservatorship began, her father sat in her in-home office with Spears describing, "My father shoved aside my bowl of receipts, setting his things up on the bar. 'I just want to let you know,' he says, 'I call the shots. You sit right there in that chair, and I'll tell you what goes on. I am Britney Spears now.'"
She was forced to pay salaries for lawyers she could not contest, up to nearly half a million dollars annually.
During the conservatorship, Spears was set to pay her father $16K monthly, making him a millionaire. She was forced on unwanted tours, performances, and public outings. In the time she wanted to spend with her children, she was instead forced to perform musical acts that did not feed her soul. "The conservatorship stripped me of my womanhood, made me into a child. I became more of an entity than a person onstage. I had always felt music in my bones and my blood; they stole that from me," she penned. Her parents thrived off her finances as they got back together due to her father finally having a stable job at the cost of their child's independence and sanity.
Spears had a set allowance, strict diet, and extremely micromanaged daily schedule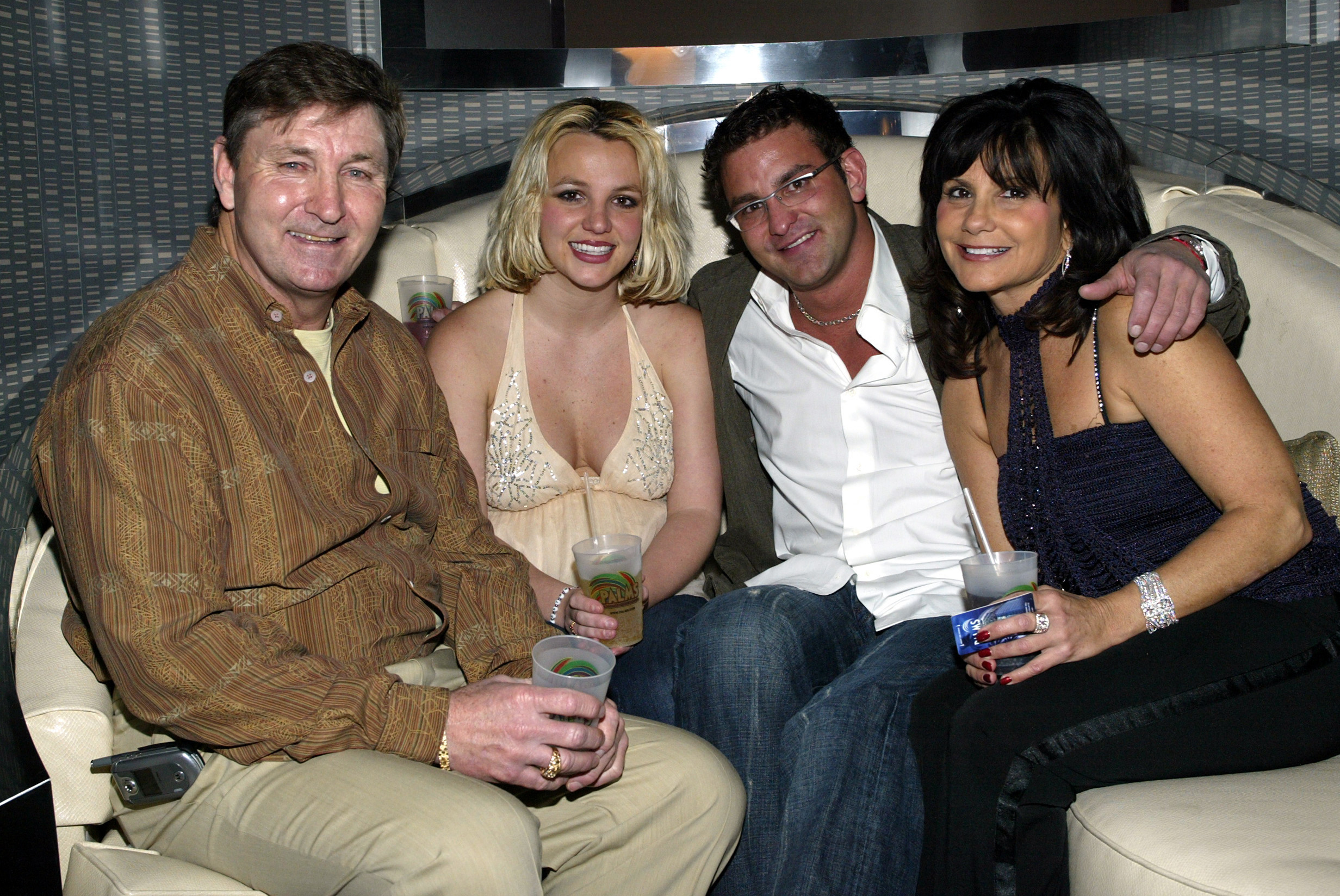 She noted that during her conservatorship, she was given $2,000 a week as an allowance. "This was despite the fact that I did 248 shows and sold more than 900,000 tickets in Vegas. Each show paid hundreds of thousands of dollars," she explained. The star couldn't even pay for a $1,000 dinner check to show appreciation to her dancers.
This was followed by an immoral diet that took a toll on her. "No matter how hard I dieted and exercised, my father was always telling me I was fat," she writes. "He put me on a strict diet." Even when she begged her brother to sneak "real food" such as hamburgers, they declined, saying her father put him under strict orders not to do so.
"So for two years, I ate almost nothing but chicken and canned vegetables," Spears said.
She was also faced with a schedule that kept track of her at all times (even bathroom breaks!). The documents deemed that the actress was "too sick to choose my own boyfriend and yet somehow healthy enough to appear on sitcoms and morning shows, and to perform for thousands of people in a different part of the world every week." The Mississippi native missed out on summer vacations with her boys and was forced to show up to harsh performances that were physically hard on her body.
The conservatorship prevented Spears from removing her IUD
One of the most shocking moments in the memoir is when Spears reveals that she had no say in her health decisions. In 2016, she met her third husband, Sam Asghari. "Everything began to seem possible. Hesam and I became so close that we started to talk about having a baby together. But I was in my thirties, and I knew that time was running out," Spears unveiled. Upon asking to schedule a doctor's appointment to remove her IUD, she was declined by her father.
Spears did not know she could challenge her father for 13 years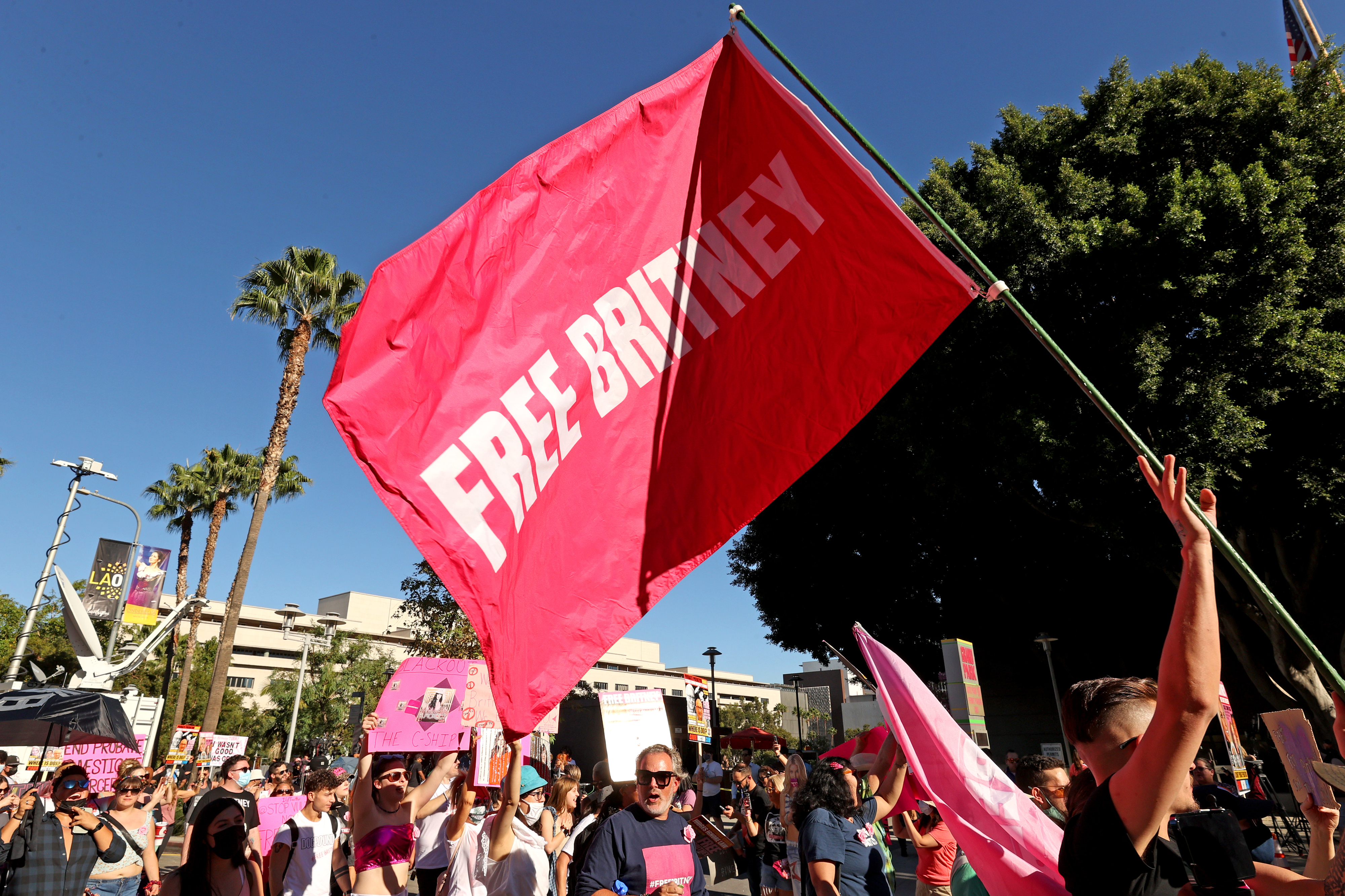 In the summer of 2021, she reported conservator abuse against her father upon gaining insight and strength from the #FreeBritney movement. She gave testimony in court requesting the end of manipulative guardianship, in addition to appointing her own lawyer, Mathew Rosengart, for the case. Upon her win, she looked back on the moment she realized she was free. "I felt relief sweep over me. The man who had scared me as a child and ruled over me as an adult, who had done more than anyone to undermine my self-confidence, was no longer in control of my life," Spears penned. "I was free."