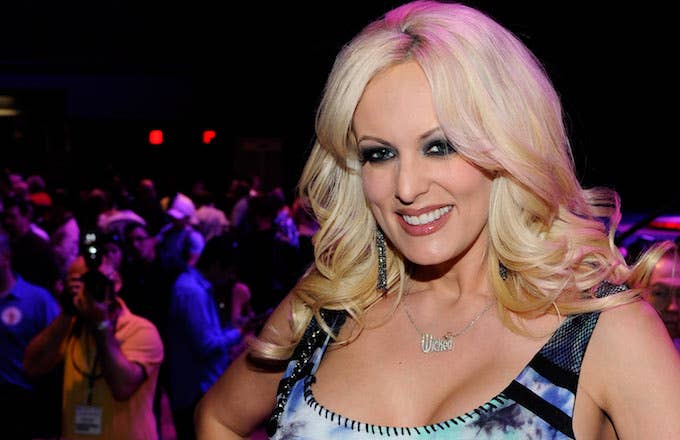 Porn star Stormy Daniels can't seem to stay out of the headlines as the saga about her reported affair with Donald Trump nearly a decade ago continues. But this time, it's not even her doing the talking. Her friend Keith Munyan, who is named in the non-disclosure agreement she signed as having "confidential information" about the tryst, added even more context to one of the Trump administration's biggest scandals.
"He would call all the time. That man can talk about nothing for hours," he told the Daily Beast, having overheard a handful of conversations between the two. Munyan alleges that Trump offered Daniels condos New York City and Florida (both of which she declined) and even promised her a spot on The Apprentice. 
"She would go, 'Oh, look who's calling me now,' and would put him on the phone," Munyan said, stressing he and Daniels would laugh about it but that it wasn't all bad. He does claims Trump was polite whenever he spoke to Daniels, something most would say seems uncharacteristic of the President. "She had very professional conversations with him," he said. "It was always about business and what her goals are. ... They had great conversations, not like he does now. He just wants to hear himself talk."
He added that Daniels felt pressured into signing the NDA that would eventually prevent her from speaking about the affair at all beyond hints and indirect responses, a claim her lawsuit against Trump implies as well. "The reason Stormy signed the NDA was to protect her family," he said. "She signed it because she felt intimidated."
In the suit, Daniels alleges that Trump "aggressively sought to silence [her] as part of an effort to avoid her telling the truth" in the months leading up to the 2016 Presidential election, but that his failure to sign the agreement himself makes the whole thing invalid. Daniels is even offering to return the $130,000 "hush agreement" payment she got from Trump's lawyer Michael Cohen in exchange for being able to speak freely.