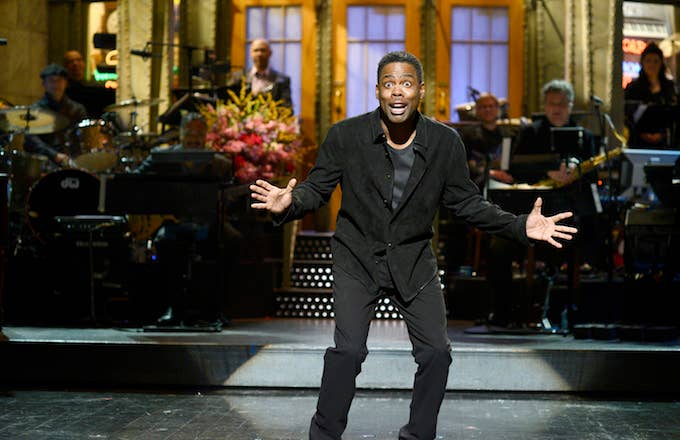 In a spooky clip from a 2014 episode of Saturday Night Live, Chris Rock sounds like he may have predicted the distasteful Dodge Ram commercial that aired Sunday night during Super Bowl LII. The commercial in question featured Martin Luther King Jr.'s sermon "Drum Major Instinct," in which he talks about needing only heart and soul to "serve," and which Dodge unsurprisingly reappropriated for their "Built To Serve" campaign.
One quick-thinking Twitter user immediately summoned the clip from the SNL episode that Rock hosted in 2014, which essentially predicted the use of something so revered as a Martin Luther King Jr. quote for commercial use. In it, Rock stated that nothing is really sacred anymore when it comes to our consumer culture, and he joked that we're "Just five years away from 9/11 sales." It's a weird state of affairs when a comedy bit comes to life in such an off-putting manner, but hey, Chris Rock warned us.
The irony of MLK's message being stripped of its context and haphazardly remixed into a commercial for cars, was not lost on the masses, as the ad received swift backlash. What's even more baffling, is that the quotes lifted came from the very same speech in which MLK Jr. condemned America's capitalist nature of promoting material things as necessities. 
The excerpt from "Drum Major Instinct" that touches on capitalism reads as follows:
"Now the presence of this instinct explains why we are so often taken by advertisers. You know, those gentlemen of massive verbal persuasion. And they have a way of saying things to you that kind of gets you into buying. In order to be a man of distinction, you must drink this whiskey. In order to make your neighbors envious, you must drive this type of car. In order to be lovely to love you must wear this kind of lipstick or this kind of perfume. And you know, before you know it, you're just buying that stuff… I've got to drive this car because it's something about this car that makes my car a little better than my neighbor's car… I am sad to say that the nation in which we live is the supreme culprit. And I'm going to continue to say it to America."
You can watch the Dodge commercial in question by heading here.