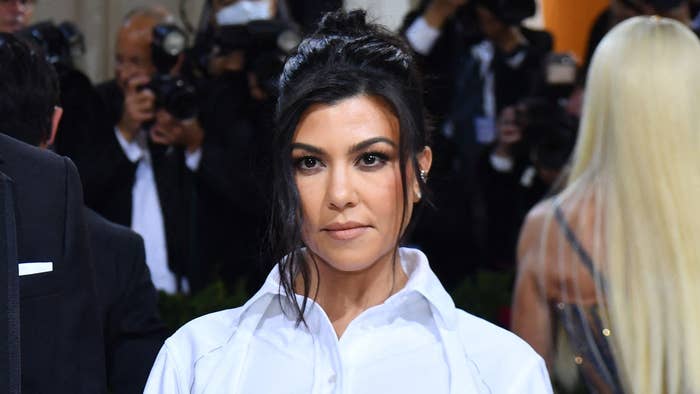 Kourtney Kardashian was reportedly criticized by the mayor of Malibu for allegedly providing false information on a permit application for an event being thrown by her Poosh brand, though many of the details have since been cast in doubt.
TMZ claimed on Sunday that Mayor Bruce Silverstein accused Kardashian's team of putting in an application with the city for an "emergency expedited permit for large event." He supposedly heard the event was going to be a baby shower held at a single-family home.
The actual party on Saturday was a promotional event (see below) for Kardashian's health and wellness brand, put on by an event production company that filled out the application.
Kourtney's baby shower, an entirely separate engagement, was held on Sunday at her home. (Which is not the property in question.)
Silverstein was reported to have said over 600 people showed up, which he has since disputed. In some of his initial remarks on Saturday, he stated, "I am appalled by the situation, and it helps me understand what residents throughout the city are dealing with. Not a good look for the city—although it is a great ad to non-residents who want to come here and destroy the residents' peaceful enjoyment of their homes. ... I understand that the event has been represented to be a baby shower that is being hosted by the owner of the property. Both of those representations are contrary to what the event planner told me—which was that the house is being 'rented' for an 'influencer event.'"
An attendee told Page Six, "There were no more than 100 people attending the privately held wellness event for friends of Poosh."
Mayor Silverstein issued a lengthy clarification on his Facebook on Monday evening, writing, in part, "The initial coverage by TMZ had multiple errors, and TMZ rewrote the article in a more accurate and balanced manner after I provided them with my written correspondence with the city and a copy of the special event permit—none of which had been seen by them when TMZ published their original article. TMZ not only rewrote their article to make it more accurate, but they also understood the difference between my gripe being with Kourtney Kardashian, which was not the case, and my gripe being with the City Staff for the manner in which this was handled, which is the case here and in many other matters. This was not a one-off problem. … It is a problem our residents face on a regular basis. … Most of the press coverage has reported that I accused Kourtney Kardashian of lying or committing fraud. I said no such thing, and it is noticeable that no press coverage even pretends to quote me on that statement. … What I did say is that the event planner and homeowner who applied for the permit lied and should be sued by the city for fraud. I stand by that statement, as I will explain at the City Council meeting this evening."
Silverstein went on to say "there is no direct quote of me" saying anything about a baby shower application, or of him numbering the guests around 600.
"What I did say is that 'I understand that the event has been represented to be a baby shower that is being hosted by the owner of the property,' and that 'Instagram and Facebook posts by "Poosh"—Kourtney Kardashian's health & wellness company—prove that the entire event today was purely promotional, and not a baby shower.' I stand by those statements, as I also will explain at the City Council meeting this evening. Incidentally, if someone had asked me to name the members of the Kardashian family before I learned of this event, I would not have known to include Kourtney or many other members of the family. They are outside my area of interest. I learned about Kourtney Kardashian from the event planner when she told me that the event was going to be an 'influencer event' led by Kourtney Kardashian. After the event planner told me that, I looked up Kourtney Kardashian and learned who she is. I also learned that Ms. Kardashian is expecting a child, that she recently had undergone fetal surgery, and that her husband recently tested positive for COVID. In that regard, I wish the entire Kardashian family, including their soon-to-be baby, the best of health."
This article has been amended to include statements and corrections provided since its publication.