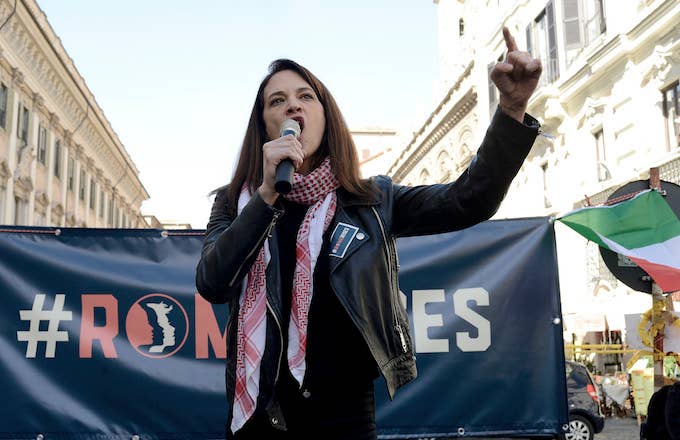 In Ronan Farrow's Pulitzer Prize-winning article for The New Yorker, "From Aggressive Overtures to Sexual Assault: Harvey Weinstein's Accusers Tell Their Stories," Italian actress and director Asia Argento shared her traumatizing experience of Weinstein's sexual assault against her. As a huge advocate for women against abuse, and significant contributor of the #MeToo movement, Argento's story added to the impact and context of these revelations. However, according to Deadline, not everyone is taking Argento's side in this social battle — especially not French director Catherine Breillat with whom Argento collaborated on The Last Mistress — who called the actress a "traitor" and a "mercenary."
Breillat's comments were made on an episode of the Murmur podcast, which has been taken down, but not before Indiewire staff could get a hold of it. During this talk, Breillat reportedly called Weinstein's banishment from Hollywood a "loss" for European cinema, brandished the #MeToo movement as something she's "not for," and then made her way to the topic of former collaborator Asia Argento. Before we continue, it should be noted that Breillat suffered a serious stroke in 2004 — making it tough to gauge whether her opinions come from a stable place or not.
"To be very honest, I don't believe Asia," said Breillat. "I know her, and she was very, very young…If there's anyone I don't believe, it's Asia Argento. As a person, Asia Argento is quite servile. I never asked her to kiss my feet, but she's that kind of person. I don't believe Asia. If there's anyone capable of defending herself, who's not timid about sex, who does it a lot, and has lots and lots of desire for both men and women, it's her. So I don't believe Asia."
Leaving Breillat's comments about Argento's sex life aside for a minute — I mean, "she does it a lot," really? — the most striking statement of the Murmur podcast was the director claiming Argento wanted to engage in sexual activities with Weinstein.
"For Asia, it was obviously, let's say, motivated by self-interest — it was a kind of semi-prostitution," said Breillat. "Harvey Weinstein's not the worst man there is; he's not the most stupid, either. Asia may have been disappointed that she didn't become a great Hollywood actress she might have been, but there were lots of other things: drugs, many other things. She feels bitter. Because bitterness, too, can lead people to denounce if you wanted to obtain something and you didn't obtain it, if you feel humiliated. Quite honestly, I don't like Asia. I think she's a mercenary and a traitor."
I think I speak for all of us when I say that comments like these can not go un-clapped back at. Thankfully, Asia Argento felt the same.
Breillat continued to rail against the activism of Hollywood actresses like Jessica Chastain, claiming her thoughts on the infamous sex scene in Last Tango in Paris as irresponsible were ludicrous. "Long before the #MeToo movement started, I was very upset when Jessica Chastain made statements against the film Last Tango in Paris," said Breillat. "If you listen to her, that film should never have been made. To listen to her, Maria Schneider was raped. But Jessica Chastain wasn't there, and it's not true — I was on set. The scene was fiction."
Of course, denouncing Argento as a liar and a traitor for claiming she was assaulted, and then telling Chastain she shouldn't comment for not having been in the room with Schneider, is the epitome of hypocrisy — if Breillat wasn't in the room with Argento and Weinstein, how can she so confidently claim that Argento had consensual sex? It's a pretty simple logic problem, which Breillat may not have considered — then again, the debilitating stroke has probably played a significant part in her irresponsible commentary throughout. If you look at Argento's tweets following the initial response, though, it seems like Breillat has been a ruthless director for years. 
In addition to that, Maria Schneider herself eventually stated that she not only felt ill at ease during the aforementioned scene, but that she "felt humiliated and to be honest, I felt a little raped, both by Marlon (Brando) and by Bertolucci."
It's pretty safe to say that Breillat should mind her own business, and not theorize about who was actually raped and who wasn't. That seems like a very basic level of politeness that we should all stick to, in general.