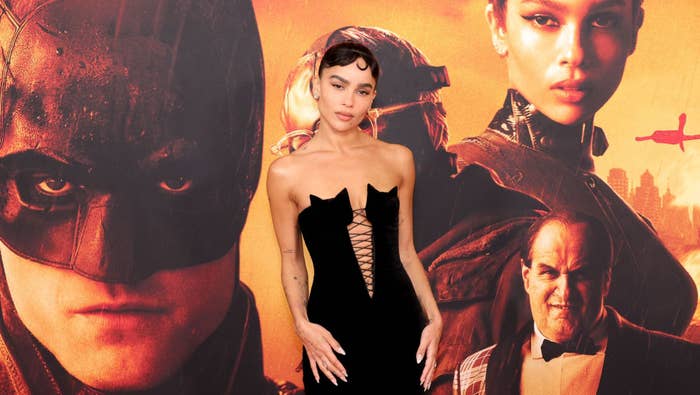 UPDATED 3/9, 10:55 a.m. ET: Zoë Kravitz clarified her comments about being told she was too "urban" to audition for The Dark Knight Rises. "I was NOT told I was too urban to play Catwoman in The Dark Knight [Rises]," she wrote on her Instagram story. 
"I wanted to AUDITION for a small part in the film and was told (I do not know who said this but this is how it was worded to me ) that they were not going 'urban' on the part," she continued. "This is something I heard a lot 10 years ago — it was a very different time."
Kravitz added that she "did not mention this to point any fingers or make anyone seem racist, namely Chris Nolan, the film's producers or anyone on the casting team, because I truly do not believe anyone meant any harm."
Her objective was to give an "example of what it was like to be a woman of color in this industry at that time," adding that, "this was many years ago when words like that were thrown around very casually and although I'm very glad that we are attempting to evolve — let's all calm down — as well as fact check before we write things that are untrue."
See original story below.
While Zoë Kravitz is now the face of Selina Kyle, the Catwoman actress told the Guardian she was turned away from auditioning for the role over a decade ago.
The film was 2012's The Dark Knight Rises, the conclusion of Christopher Nolan's Batman trilogy. Kravitz sought to play Catwoman, who was eventually portrayed by Anne Hathaway, but told the outlet she was considered "too urban" for the role.
"I don't know if it came directly from Chris Nolan," Kravitz said. "I think it was probably a casting director of some kind, or a casting director's assistant. … Being a woman of color and being an actor and being told at that time that I wasn't able to read because of the color of my skin, and the word urban being thrown around like that, that was what was really hard about that moment."
Kravitz said to prepare for her debut as Catwoman in The Batman, she trained for four months, studying feline movements to further immerse herself in the part. She previously told Jimmy Fallon she even drank milk out of a bowl. While Kravitz adored her time as Catwoman, she told the Guardian her catsuit could at times be difficult. "I was like a two-year-old," she said with a laugh. "If I needed the toilet, someone had to escort me in and out."
Elsewhere in the interview, Kravitz spoke on another uncomfortable situation: filming HBO's Big Little Lies in Monterey, California. "There were a few moments where I felt a little uncomfortable because it is such a white area. … Just weird racist people in bars and things like that," she said.
The Batman crushed the domestic box office on its opening weekend, raking in $134 million domestically, making it the second-largest launch of the pandemic era after Marvel's Spider-Man: No Way Home, which premiered to an astonishing $253 million in the U.S. The Batman's opener was the largest weekend for Warner Bros. in five years.
"It's fun to see the public really embrace the movie," Jeff Goldstein, president of domestic distribution at Warner Bros, told Variety. "Since the movie is three hours long, it became appointment viewing. That bodes well for its run on the big screen. It helps that the word of mouth is so strong."