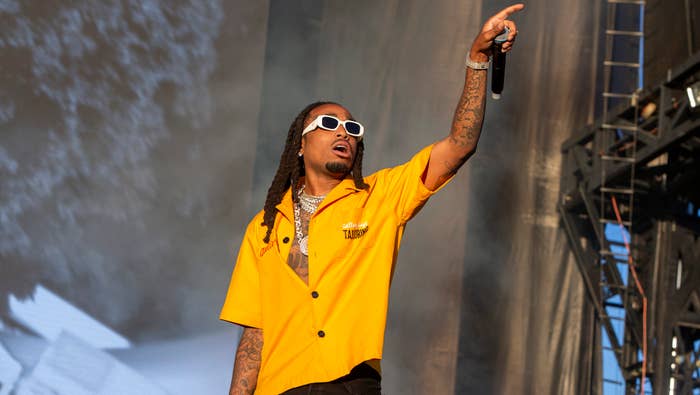 After it was announced in April that Quavo will star in a new action thriller film called Takeover, new details have emerged about the movie, including that the Migos rapper will star alongside Titanic actor Billy Zane.
Per Variety, Zane will star as Gamal Akopyan, the head of an international heist ring that relies on "street takeovers" to pull off daring robberies. When one of Akopyan's heists goes awry, he must fight to escape the Atlanta takeover scene alive with "nine figures worth of diamonds."
Takeover is written by Jeb Stuart, known for his classic action flicks Die Hard and The Fugitive, and will star Quavo as Guy Miller, a slippery former criminal who's trying to get his life back on track. Miller's chance at redemption soon becomes derailed when illicit opportunities drag him back into Atlanta's dangerous street racing scene.
The action flick will be filmed in Atlanta and will be handled by Trioscope and Quality Films, the film division of Quality Control. The two companies signed a co-production deal last March and will mesh live-action scenes with animation for the movie. Directing duties will be handled by Trioscope chief creative officer Greg Jonkajtys, who directed Netflix's The Liberator.
To promote the forthcoming film, which will reportedly be the start of a franchise, Trioscoope also announced they will start their first ever Web3-enabled community called "Takeover World" where fans of the film can "get a chance to collaborate" in the development of the film, and access behind the scenes footage and insights.
"I'm really excited for this opportunity, especially shooting in my hometown of Atlanta," Quavo previously said in a statement. "This film is an ideal opportunity to further delve into my craft, and I can't wait to see how the action plays out in this animated environment."
The Migos rapper is no stranger to acting. He's previously appeared in Atlanta, Narcos: Mexico, and Black-Ish, but Takeover will be the rapper's first starring role.