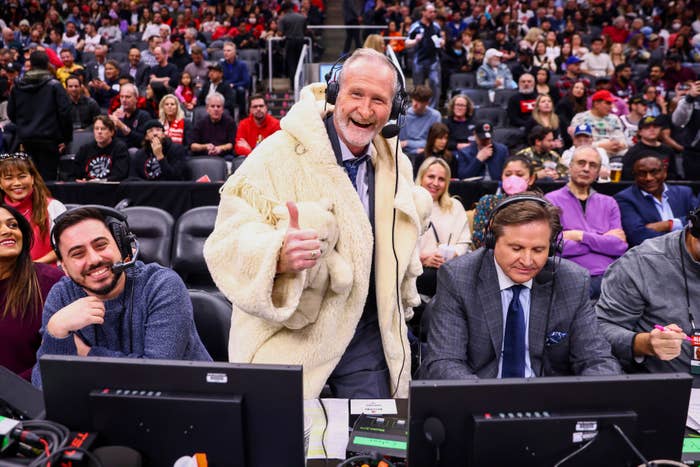 Last night Drake was courtside at the Toronto Raptors vs. Brooklyn Nets game at Barclays Center in a large fur coat with teddy bears on it. But today, Twitter is loving the fact that TSN announcer Jack Armstrong took an opportunity to don the coat, which was designed by artist Jean-Charles de Castelbajac.
Drake then threw on a headset and joined the broadcast, poking fun at Armstrong at the same time.
"You're evolving," Drake joked. "It's a meme like 'Listens to Her Loss once.'"
While the moment itself was hilarious, fans' reactions to the bit were possibly even funnier.
One Twitter user noticed that during their chitchat, the Raptors had failed to score even once.
Another user made a meta meme using a template with Drake in it to poke fun at Armstrong stealing Drake's coat.
City News Toronto journalist Lindsay Dunn said that Armstrong looked like an "adorable little garden gnome."
One Twitter user used a gif to hint that Armstrong in Drake's coat looked like Will Ferrell's character in The Other Guys when he recounts a story of how he used to be a pimp in college.
But beyond all the jokes were Raptors fans just happy to have an announcer as charismatic as Armstrong.
The Raptors play again on Sat. Nov. 26 against the Dallas Mavericks. It remains to be seen if Drake will return or if Jack Armstrong still has the coat.