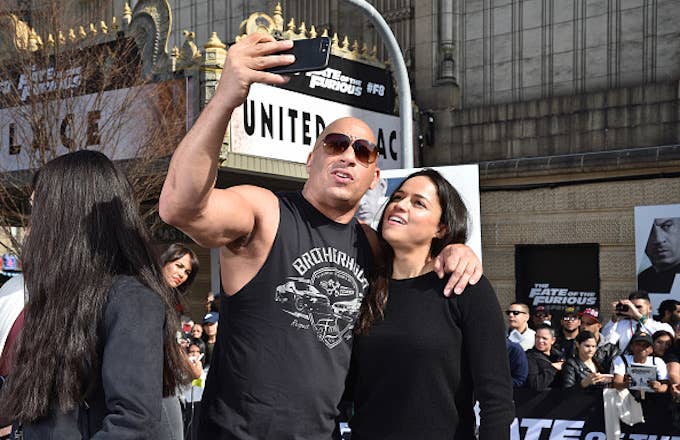 The latest installment in the Fast and Furious franchise, The Fate of the Furious, opened to mixed reviews from American moviegoers and critics. But around the world, Furious fans are showing up and droves to watch the eighth movie in the series, helping the film break the global box office record for an opening weekend.
After pulling in an estimated $532.5 million worldwide during its opening weekend, The Fate of the Furious has officially surpassed Star Wars: The Force Awakens for the best opening weekend ever. That's about $3.5 million more than The Force Awakens took in during its record-setting first weekend, and is a staggering achievement for the Fast and Furious franchise.
Ava DuVernay celebrated director F. Gary Gray's success on Twitter:
The vast majority of the box office receipts can be attributed to moviegoers outside the United States. Domestic revenue for The Fate of the Furious is expected to be just over $100 million, with international markets accounting for over $432 million worth of Furious fandom. That represents a pretty steep decline domestically—Furious 7 took in $147.2 million stateside when it opened—but the franchise continues to grow around the world. The Fate of the Furious reportedly raked in $190 million in China alone, with Mexico, the United Kingdom, Russia, Germany and Brazil all contributing at least $10 million in ticket sales of their own.
A franchise of this scale needs to do crazy numbers to be a success, as The Fate of the Furious reportedly cost about a quarter of a billion dollars to produce. But with numbers like these, don't expect the franchise to be going away any time soon; the Fast and Furious franchise has earned over $4 billion worldwide, and is one of the highest-grossing franchises in history, standing alongside titans in the industry like Batman, Star Wars, and Harry Potter.