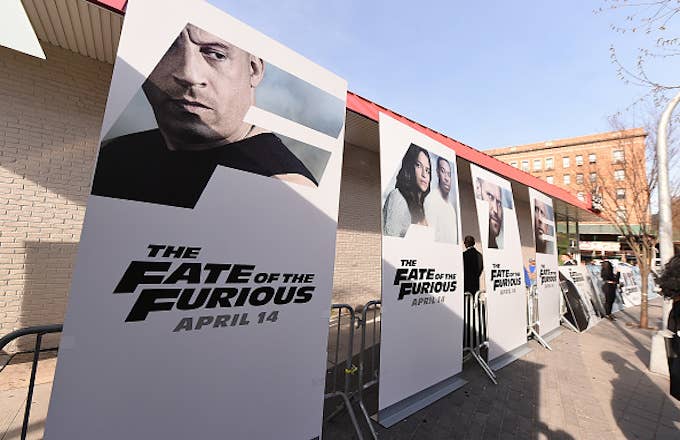 The Fast and Furious series is a box office powerhouse, and The Fate of the Furious has done a great job carrying on that legacy. After breaking the global box office record during its opening weekend, the eighth installment has officially earned over a billion dollars in worldwide sales.
The majority of revenue for The Fate of the Furious has come from outside the United States. $867.6 million of the billion-plus in revenue is from the international box office, with the other $192.7 million coming from domestic sales, which has been the overarching trend since weekend one. International sales exceeded $430 million in the record-breaking opening week.
The movie is still edging out wins domestically too—it finished No. 1 at the American box office for a third consecutive week. Don't expect this trend to last, as Guardians of the Galaxy Vol. 2 is set to release on May 5, and the superhero romp is expected to take over the lead with ease after earning $101 million in its first limited-release window.
Sales for The Fate of the Furious have helped push the Fast and Furious series up the all-time revenue chart, edging past some of your favorite heroes and blockbusters. Fast and Furious has now generated more worldwide revenue than the Batman series, and sits only about $140 million behind X-Men despite releasing fewer movies than both major series. Several additions to the X-Men series are expected within the next couple years, and it will be fascinating to see the two fiscal powerhouses go head-to-head.
The success of The Fate of the Furious and the series as a whole even has Universal considering a spin-off featuring The Rock and Charlize Theron. Not everyone will agree on whether we need even more Fast and Furious, but whether you love or hate the series, you better get used to it being a fixture at the box office.