While the pandemic has forced us indoors, duty always calls. This summer has seen people venture out in varying stages of safety. For Hollywood star and producer Michael B. Jordan, being the global face of Coach menswear means sometimes you gotta head to Malibu during the COVID-19 pandemic and make some dope memories with your friends and family for their new Fall 2020 campaign.
Titled "Coach Family", Michael B. Jordan joins the likes of Jennifer Lopez and Coach ambassadors Kiko Mizuhara and Jeremy Lin in showing the world what family means to them. "At this moment, it feels important to re-examine our values," said Coach Creative Director Stuart Vevers. "To me, fashion, at its best, has always been about community, creativity and building lasting relationships. I am proud to share stories with our Coach Family about the people that matter most in their lives—relationships that are authentic and timeless." For his portion of the Coach Family campaign, the Creed star linked with his immediate family as well as his closest friends, who grill him about his real height, his quarantine 'stache, and more...all in the flyest pieces from Coach's Fall 2020 collection.
Duty isn't the only thing calling this summer, though. Change is also on the docket, and Michael B. Jordan's helped lead the charge of creators who are working towards inclusion in Hollywood and beyond. Amidst a busy schedule, this conversation with Michael B. Jordan, which took place days before the world learning of Chadwick Boseman's passing, touches on Jordan's favorite pieces from Coach's Fall 2020 collection, shooting the "Coach Family" campaign, and hitting the drive-in for the first time. This is how Michael B. Jordan spent the summer of 2020.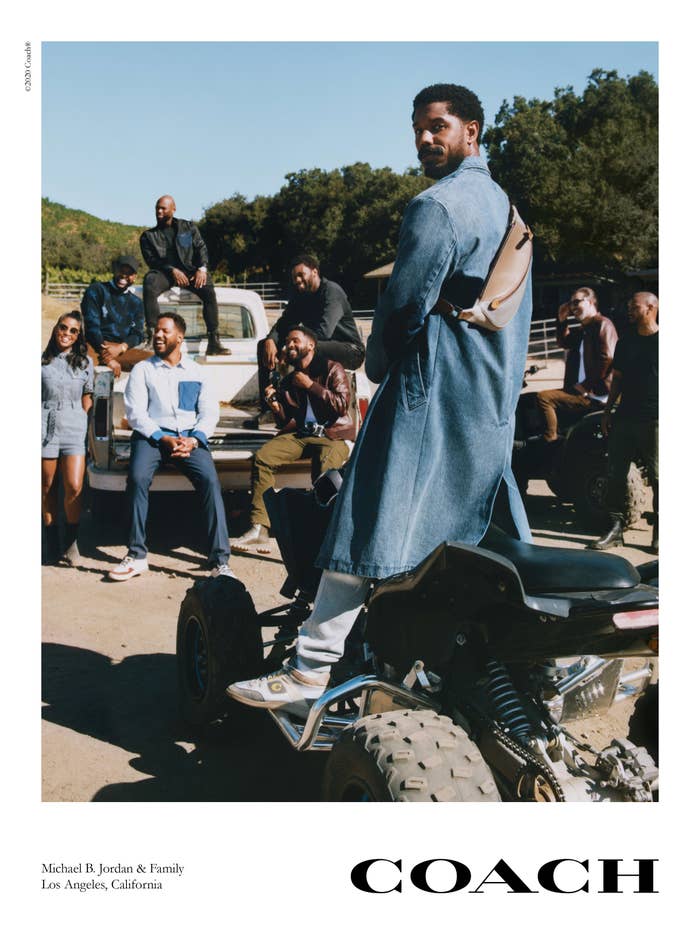 Can you talk a little bit about that spot and what that means to you?
I think it was great, honestly. To be able to incorporate my family into my work is a beautiful thing, man. It's awesome to be able to work with them and tie them organically into this shoot. Your family is who you surround yourself with. Who supports you and the foundation in which you stand on and for me has always been my motivation. So it was a great experience, getting out there. I'm pretty sure it was like herding cats. All the different personalities. But it was a lot of fun, a lot of fun and we captured some beautiful images. I got asked a whole bunch of crazy questions.

My friends are unapologetically them. They treat me the same that they've always treated me. The people got a chance to see us in our element and how we interact with one another. And it was just, it was a lot of fun, a lot. A lot of shit-talking, like being at a family, barbecue. It was good.
That's your closest circle of friends. Those are the people that know the most about you?
Yeah. Those guys all got a decade on me. I've been blessed to have a really big group of friends and there's other people that obviously weren't there that are very close to me also. But you know, that's kind of like my core.
Were you shook? Did you want to make sure they didn't ask the wrong thing?
Nah, man. They know what we doing, they ain't going to put me out there too crazy. They was talking about my height or they know I had a struggle beard for I don't know how long. So it's one of those things, they all take they shots, man. But it's all in good fun. That's how we interact with one another.

As a black man, it's been hard with the quarantine trying to get in and out the barber. It's been dope to see you embrace the facial hair during this last five, six months.
You know what? Thank you, man. I appreciate That.

When and where you shot this? Was this something that was shot during the pandemic or beforehand?
Yeah, we shot this during the pandemic. We were socially distancing responsibly when we shot it. We shot it out in Malibu. We wanted something outside, with some good visuals and to be able to accommodate the entire social distance thing. Protocols and stuff for photoshoots. So it wasn't that long ago, maybe three weeks ago, beginning of the month.
I know you've been out in the protests and stuff, but in terms of work work, was that one of the first things you'd done since the pandemic started?
Yeah, it's the first thing. I was doing a little bit of some voiceover stuff here and there, but for the most part, that was my first time on a set. All that stuff kind of went down.
How was that experience for you? Do you think you'd be more comfortable if you've got any other TV or movie things coming up or is it still a process?
Aw man, I've been sitting my ass down for way too long. I can't wait to get back on the set. Me being down, sitting down this long. It's been quite a few years since I've had that time. I've stayed busy, but this has been a time for me, honestly, to sit down and be around my family and my friends. I've had a chance to spend time with them as, as much. And I'm an uncle now.

Congrats on that!
Thank you, man. Change some diapers and stuff.
You getting ready for when that potentially happens in your life at some point; that's a good practice.
I'm taking my time. All right?
Did you have any favorites from this particular fall collection?
There's a Basquiat crew sweater I think is really, really tough. So it's a lot. The shoes were really dope. There are some cream ones with a blue toe, looks really dope. There's a throw blanket that I really dig; that is definitely in my house. Something that I really enjoy. Coach does bags better than anyone. So, to be able to have some of those leather bookbags and just the symbolic Basquiat crown. And it was kind of some of my favorite pieces.

You a fan of Basquiat?
I am. Such an incredible artist, what he represents and nobody stands for, but also just his art over the years. He lost his life, 27 years old, young, hasn't even peaked yet, really creative. And what his art kind of represented is, I think very similar to what we're going through right now. So it's really, really, really important.

I was going to say, it's unfair to talk about what you've been doing now with not also recognizing that, I think you were one of the first stars I remember making sure you had an inclusion rider on the projects that you work with. You going out, being involved in the protests, and #ChangeHollywood, which was announced this summer. Do you have any visions for the future of the initiative?
One of the main things that we've been doing is obviously trying to reinvest in black talent and careers. Trying to generate economic power to create pathways for black talent and they raised in the industry. To ensure a fair and inclusive work environment, black businesses is extremely, extremely important. Investing in black communities is very, very important and trying to divest from the police where we can, you know what I'm saying? Like, we're not saying defund them completely. We're saying divest all extra resources that they don't need. To be able to go to places that, and reinvest those same type of resources into our communities where it really matters. It really counts. I think those are some of the things that we've been in support of moving forward. And like you said, these days have been proving just how important this initiative is. Of course how important this protest is. How important that we stand in solidarity to demand change.

Ober the summer, you got some drive-in movie screenings going on in Newark. The drive-in craze is one thing I've loved to see during the pandemic. Can you talk about how that came about?
Honestly, we were thinking of ways... Obviously it's been a rough summer and we were trying to find ways to bring a little bit of joy, a little happiness to people that were locked in their homes for such a long time. Watching movies for me is definitely an escape, so to be able to partner with Amazon and present/curate these movies, some of my favorite films. To present them in my community and through other theaters throughout the country that have a drive-in theater. To be honest, that was my first time going to a drive-in movie theater when we did it.

Did you like that experience?
It was cool. It was really cool, man. Just to sit in your car with it. Turn your radio up, speakers up and be able to hear it through your car, pop the trunk and watch it through the back. It kind of gave a camp vibe. Get some snacks and don't got to worry about anybody telling you, "shh." It was a cool experience, man. And hopefully this is something that we can continue to do even after pandemic. Cause I think it might be a nice little bit to kind of keep this thing moving through.

I guess that leads me to a question. Post pandemic, Michael B. Jordan is curating a drive-in theater. What's your Saturday night selection?
I'm going to go with Trading Places.