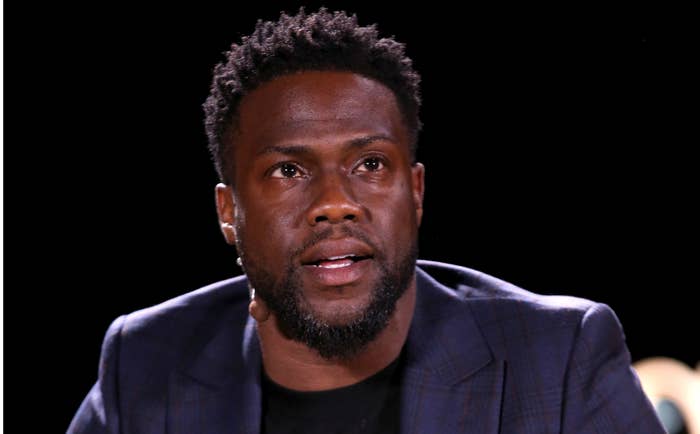 Overnight, The Ellen DeGeneres Showinterview featuring Kevin Hart addressing the homophobic tweet scandal that caused him to step down as the host of this year's Oscars ceremony hit Twitter. The interview—which was scheduled to air on Monday but was pushed up to Friday by DeGeneres herself—finds Hart speaking candidly about his feelings regarding the situation.

"To any attack, there's another side," Hart told Ellen. "On my side, I say, openly, I'm wrong for my past words. I said it. I understand that. I know that. My kids know when their dad messes up, I'm in front of it because I want to be an example so they know what to do." Hart went on to speak about how quickly these 10-year-old tweets surfaced after he was announced as the Oscars host, calling the move "a malicious attack on my character. That's an attack to end me."
Now, sure, it's no coincidence that these tweets got dug up with the quickness; Guardians of the Galaxy director James Gunn went through a similar scandal in 2018 that ended with him being fired by Disney for horrible "jokes" he tweeted and blogged about (and apologized for) years prior. Simple Twitter searches can uncover things said that many would wish stay hidden, but the key is: If Hart is truly trying to be the example of what his kids (and everyone in general) should be doing when forced to face these situations, why not just apologize? And continue to apologize until others hear it?
Hart told Ellen that it was a dream of his to host the Oscars, primarily because so few African Americans get the opportunity to do so. Hell, he's doing things in Hollywood that few African Americans get to do in general. He's a draw; Night Schoolpulled in almost $78 million at the box office in 2018, and he's a part of the blockbuster Jumanji reboot series, which made an astonishing $404.5 million at the box office a year prior. He's a force in Hollywood, not just for African Americans, but for audiences the world over, which made me understand his reasoning for pulling out of the Oscars hosting gig back in December. "I have made the choice to step down from hosting this year's Oscars," Hart tweeted. "This is because I do not want to be a distraction on a night that should be celebrated by so many amazing talented artists." In reading that, I knew what it was, which Hart confirmed to Ellen: He didn't want to make the Oscars about himself, which in turn becomes him "taking one for the team," which can be looked upon favorably in the future. Hart's looking for longevity; the aforementioned Night School was a project he produced, co-wrote, and starred in. He's branching out into different genres (his interview with Ellen is for his first real dramatic role in this month's upcoming film The Upside). The last thing Kevin Hart wants is to piss off Hollywood. The thing is, there's a way to appease the system while also making sure you come off as a sincere human being. And it all started from the moment these allegations hit and how Hart chose to handle it.
"When it happened, my first thought is, 'I'm gonna ignore it,'" Kevin admitted to Ellen, saying that these tweets were "10 years old. This is stuff I've addressed. I've talked about this." That's true; he spoke on the situation and material from his 2010 stand-up special Seriously Funny, in a 2015 Rolling Stone feature. At the time, Hart said that the humor of the joke isn't about his son, but "because of my own insecurities," and added that he "wouldn't tell that joke today," although it's not because he's upset at the material as he's grown. It's "because when I said it, the times weren't as sensitive as they are now. I think we love to make big deals out of things that aren't necessarily big deals, because we can. These things become public spectacles. So why set yourself up for failure?" For what it's worth, that's a lot different than saying, "I apologize for these jokes that may have offended you. I'm a different person now than I was then, and have made strides to live my life in a way that shows you can be funny without being homophobic," which, if in print, would be easy for anyone questioning decade-old tweets from someone set to host the Oscars.
One of the biggest points of contention is if Kevin should be apologizing in 2018/2019 at all. At first, when these tweets came to light, Hart's reluctance to apologize upfront rubbed people the wrong way. One has to wonder if that was because he felt "attacked," but still, if you're a bigger man now than you were then, and understand the power of words, wouldn't it make sense to swallow your pride, accept your responsibility as a man, a celebrity, and figure for the community, and just say "I'm sorry," which he ended up doing before stepping down from the Oscars hosting gig? Many feel that past apologies should be enough...but, ultimately, if you're really feeling sorry for it, and you see that a large number of people are offended by these obviously old jokes, the onus should be on you to stand tall, explain how you've changed in the last decade as loudly as you need to, and move forward.

Ultimately, this Kevin Hart situation begs the question: Why is the Oscars so gung-ho on having him host? Just weeks ago, we were told that they were going to have a hostless ceremony this year. Could it be because Kevin Hart, who is a bona fide star, would more than likely see them rise in the ratings from the low they hit in 2018? Regardless of if you believed that Ellen hit up the Oscars to inquire about having Hart host this year or not, there's a reason this interview happened on Ellen instead of other outlets—you have to wonder if DeGeneres, who is gay, could be seen as a voice of reason to the LGBTQ community for this particular situation. It might even sway many who weren't going to watch, or who were pissed at Hart's tweets and want to give him another chance, just because of the power that DeGeneres has over her audience. It'd just help if Hart actually felt like he was the sincere individual he says he wants to be for his children (and, again, anyone who looks up to his success story). Because right now, Hart's coming off as someone who's clapping back at the whole Internet for "attacking him" when his energy would be better placed in a heartfelt apology followed up by actual proof that he's not the man who wrote those tweets a decade ago.