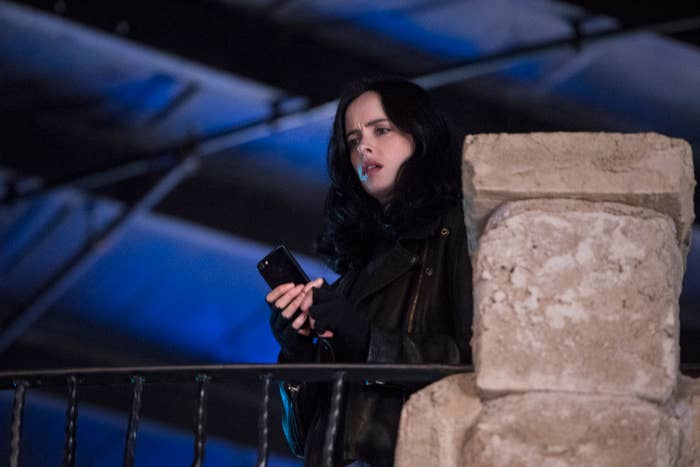 I don't know about you, but I've been suffering from Jessica Jones withdrawal for quite a while now. I think I realized it somewhere in the middle of Netflix's mid team-up of Marvel's street-level heroes, The Defenders, last summer. Things got off on the right foot, especially with Jessica Jones being the introductory vehicle to exposing the series' main storyline, but once she started having less screen time, I found myself not giving a fuck about the rest of the show. There's something about Jessica, and thankfully, Netflix is helping the world celebrate International Women's Day 2018 by gifting us the second season of Marvel's Jessica Jones, which is maintaining its reign as being best Marvel show on Netflix.
Releasing season two on International Women's Day is momentous, but not because she's the lone female Marvel hero on Netflix with a series. With recent talk of "inclusion riders" coming from the 90th Oscars ceremony, it's great to see that the acclaimed Netflix series is not only led by a woman (Melissa Rosenberg), but also that all 13 episodes were directed by women. That only leaves one vital question: With all of these pieces firmly in place behind the scenes, where the hell does that leave Jessica for the second season?
Ed. Note: Mild spoilers for seasons one and two of Marvel's Jessica Jones ahead.
After checking out an advance look at the first five new episodes, I can confirm that Jessica's starting back at the beginning. Even during The Defenders, it was clear that the effects of her last altercation with the diabolical Kilgrave from season one (which ended with Jessica killing him) are present. Coming into season two, there's a lot on her shoulders and mind. Jessica's dealing with being known by the public as both a murderer and a vigilante, and there's still the lingering trauma of the mental and physical abuse inflicted by Kilgrave, but she still has to work because that whiskey ain't buying itself! Her Alias Investigations business is in high-demand due to her name ringing off in the press, but Jessica's not interested in the majority of the cases coming her way. That is until a man walks in and shares a deep, dark secret with her that ends up giving Jessica the big bad she needs to figure out. This, of course, is IGH. 
We were first introduced to IGH during season one of Jessica Jones, with the penultimate episode revealing that an organization by the name of IGH had paid for Jessica's medical bills after the accident that killed her family and, potentially, gave her her superhuman powers. It was a tidbit of information that becomes the entity ruling over season two, as Jessica realizes that not only was IGH involved in what's made her the (super)human she is today, but she's far from alone in that regard.
Truth be told, this storyline has turned some critics off; it's hard to go from David Tennant's acclaimed performance as the Purple Man Kilgrave in season one to another shady organization doing shady shit years ago as the central theme. That's essentially the plot of The Punisher, which was only at its juiciest when Frank was on screen. Unfortunately, Jessica Jones tends to fall into those same traps during season two. With a story that is heavy on unraveling the dealings of a shadow organization, there are a fair number of players onboard, including Jessica's best friend, Trish Walker, who dives deeper into the case, as well as the Hellcat persona that is lifted from the world of Marvel Comics. That means bringing in her new beau, and an assortment of trash individuals with a host of secret documents and whatever else is handed out in dark alleys. It's all very necessary, but when it's not Jessica on the screen, things tend to drag, which doesn't help when these Marvel's Netflix series standard 13-episode arcs are already too long.
And that might be the biggest problem for this season; with the five advance episodes I was able to preview, there's definitely a "much ado about nothing" vibe that runs through the course of the story (so far). Everything feels like it's important, but is it really 13 episodes worth of importance? You can tell almost immediately that certain characters are introduced into the story to play as a diversion from the A-storyline, just so they can keep their 13-episode quota intact. It's how things are done around Netflix, especially with Marvel shows, but that don't make it right.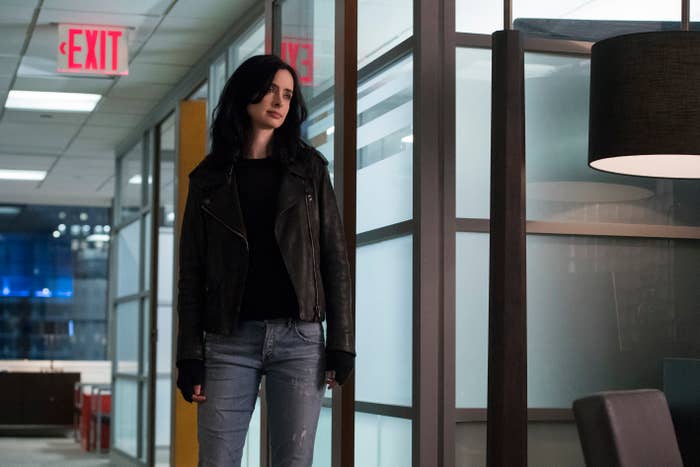 Those problems aside, Jessica Jones is still the best character in the Marvel Cinematic Universe on Netflix, hands down. She's one of the only characters that truly feels lived in, making her a bit more "human" than the other heroes. There's real trauma that is ultra-relatable to many watching, and the way she handles her problems (sarcasm and drinking brown liquor) feel like home, for good or ill. Plus, while she does have these amazing abilities, Jessica's best strength is her sleuth skills, which appear to get her further than being able to punch a hole in someone's chest.
At times, trekking through a season of Marvel television on Netflix can feel like a chore, but with a series like Jessica Jones, it's more than worth it.