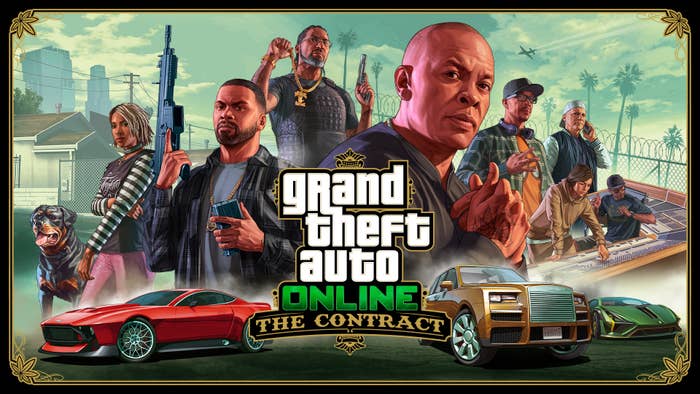 On Dec. 15, just in time for the holiday season—read holiday break—Rockstar Games released GTA Online: The Contract, the latest free update to their massive GTA Online world, itself a massive free update to GTA V, a massive world that has consumed gamers since its release in 2013. That itself is a huge feat in the 20 years since Rockstar Games shook the gaming world with the release of Grand Theft Auto III, but DLC updates are a different world entirely. You couldn't get the expansion on music the way Rockstar does now back then, and no other companies own that lane that Rockstar does. The Contract proves that and more.
The entire concept behind the expansion is only something Rockstar could do; they are the only company that could turn Shawn Fonteno—aka the real-life actor behind Franklin, the first GTA V's lead character we meet—into a beloved enough figure that his return in a DLC feels like an event. It is an event, especially when Franklin is called on by the Dr. Dre—who returns with his Cayo Perico story intact—to recover a cellphone holding genuine unreleased tracks that can't get loose in Los Santos.
The Contract doesn't forget that there's been time passed since the events at the end of GTA V, so we get to see where the moves Franklin took him. He blew up large enough to have DJ Pooh reach out; Franklin's unique skill set are just what the doctor would order, and with the return of Franklin comes GTA V favorites like his life-long homeboy Lamar (Slink Johnson), Chop The Dog, and more. The Contract also brings in new ventures (like F. Clinton & Partner) and a new Music Studio (Record A Studios, where you get to see Dr. Dre is his element) to the world of GTA Online, you're getting loads of new tracks, including the new radio station MOTOMAMI Los Santos, which is hosted by ROSALÍA and Arca in a pairing you may not have expected but works so well. West Coast Classics and Radio Los Santos are also given updates with The Contract, with DJ Pooh and Big Boy shifting gears to reflect on the issues facing Dre in Los Santos by bringing you more Dre-centric dialog and music. You'll also get new music from the likes of Freddie Gibbs, Offset, a Mozzy and YG collab, and appearances from Schoolboy Q, Mike Dean, and many more.
Before you get lost in the holiday haze of The Contract, good food, and a (maybe virtal) (hopefully safe) family gathering, Complex got to speak to Shawn Fonteno and DJ Pooh about GTA Online: The Contract. Fonteno speaks on going viral and his return to the motion capture suit, while Pooh shares how he sold Dr. Dre on getting involved with GTA Online and Rockstar Games. Turn this one up!
The Return of Franklin (and Shawn Fonteno)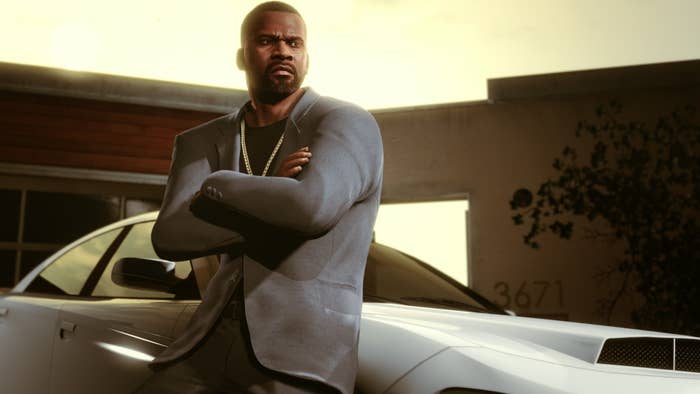 Welcome back to GTA. How does it feel to be involved in the new DLC? 

It feels great. It's like an overwhelming feeling, you know what I'm saying? To just see how the fans are reacting to it, man, it's crazy. They are just so happy about it. It makes me feel like a real video game actor now, like an icon in the video game world, 'cause that's the response I'm getting from all the fans, man—my phone can't stop ringing, my DMs are full!
I'm glad that they're happy with my performance, man. It makes me feel good that I did a good job. It feels like a dream in a sense, you know? When you really step back and look, 155 million-plus and growing…
People that recognize you for something that you did—your talent, your acting, and just the person that you are—that's beyond amazing. I don't even know the word for it; it's more than amazing, but that's the feeling I get.
What was it like getting back into the mo-cap suit? Were you nervous?

Now? I wasn't nervous. I was just unsure at first, cause when I was first in that suit, it was eight, nine, maybe 10 years ago, so I was wondering if I was going to easily pick back up on the craft that I had learned over a few years of working with Rockstar. In that sense, I was nervous – was I going to be able to fall back into it? Was I even going to be able to bring Franklin back to life, and feel happy with doing it? But when I got into the suit, man, it was  like, there it is.
I tell everybody this man, but the crew just gave me the red carpet. They make you feel so welcome, and they make you feel so good that you don't miss a beat. You get in there and you get back with the old crew. And as long as you comfortable, you're going to act comfortable, so it's great. Just getting back in the suit, man, after all them years!
A lot of people got back into or just discovered GTA V and GTA Online during the quarantine. Do you ever jump in and play the game?

Yeah, I've jumped in GTA Online, but it was a couple of years ago when me and Ned Luke got up in there and played together. But when GTA V came out in 2013, man, I must've played it constantly. I completed the game, honestly, probably 50 to a 100 times because every time you play it, you constantly could go back and find things that you could have done differently, or find different scenarios and whatnot. I'm getting back online now, though! I finally got on yesterday, and I just get a kick out of watching all the fans have fun. Just seeing them post all this stuff that's familiar to me, like going into the studio – seeing that in full-fledged action, man it's something, you know what I'm saying? 
Me and Slink, man, I'm thinking we got another one that can reach back to in maybe a year or two years. Let's just let everybody have fun with this last one before we do it again.
The (Rockstar) Legacy of DJ Pooh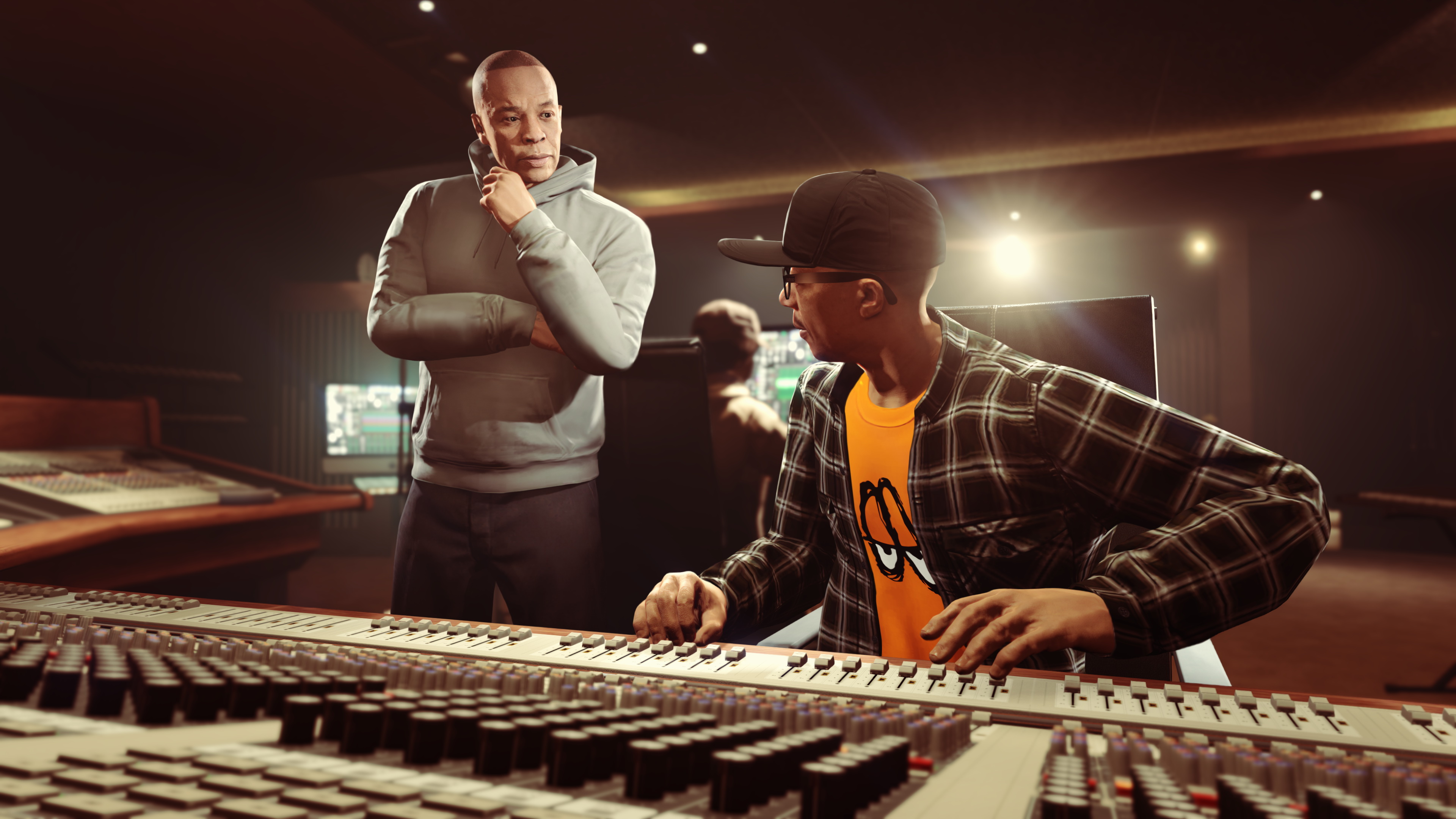 You have a longstanding relationship with Rockstar who approach everything they do with a sense of real authenticity. Can you speak to your history working with Rockstar and some of your highlights? 

Man, it's hard to say because there's been so many. I really have enjoyed every moment working from the San Andreas stuff all the way up to GTA V and GTA Online. This time around, it just feels a little bit more extra special because I got a chance to bring along a bunch of homies and let them do their thing too. And I felt like it all fit in there, like it all fit perfectly the way the Rockstar team was able to work everything out with Dre.
How does it feel to go from being a behind-the-scenes person to an in-game character?

Absolutely amazing. Because I'm the biggest Rockstar and GTA fan out there! I've been playing since the very first one. To be a character? It's surreal, man, it's surreal. To hear my voice on its own on West Coast Classics was incredible. But then to end up seeing myself in the game with Dre and Jimmy Iovine and Franklin back and Lamar and all. That was just the most amazing thing. I'm playing through the game, and it's kinda like when you think of something you really love and you savor it and you don't want it to be over, you know?
No doubt. What was that like to be talking about Dre's music and career on West Coast Classics in this way?

Again, a meta experience to be talking about Dre's career on it. It almost feels normal. I got a chance to work with Dre on The Pharmacy show and to be on the radio with him, so it feels like an extension of us working together, but on another level; the magnitude of what is being felt is really cool. I'm hearing about it and getting calls and people are posting stuff, and everybody just seems so happy with every part of it—like not just the music and the gaming part of it, but it also being integrated where you don't just, jump right in and get right through it, you have to work. It's just so exciting that people are taking that experience right now.  
So as we know in The Contract, you're the person who connects Franklin and the player with Dre. Talk a little bit about how you made the collaboration happen with Dre and Rockstar. 

I'd been trying to get Dre to take a look at this thing for a while. Like, "hey Dre, man this is GTA! This thing is pretty bad, it's pretty cool." He's like, "I'm not a gamer," you know. "I don't play the game. That ain't my thing." So he's never been interested in it because that's not something he's ever done as a person, he's just not much of a gamer.
One day I just showed up at his house with a PlayStation and I just hooked it up and I let him see the game being played…and I let him see a real pro playin' it—me! [Laughs] No, but I let him really just see me play the game and he was blown away when he saw how detailed it was and what you could really do. He was like "Holy shit, that's like a whole real metaverse." He didn't understand it, at least from what he remembered of video games. He didn't play them as much as other people, so when he got a chance to really focus in on it, and I showed him things  like the radio station wheel he was like, "Damn this shit is just as cool as real radio." It was just a funny moment and I was like, "Man that's what everybody says!" And so he got into it.  
After seeing Los Santos, after him really seeing it, it didn't take much to convince him. At that point, I was like, man, we should really do something that puts the music in the game. And at the time, he happened to have a bunch of music he was working on, so we connected with Rob Nelson [Rockstar Games Head of Development and Co-Studio Head of Rockstar North], and he hooked it up. Once Dre started sharing stuff and we started getting serious about it, man it just went off: it just seemed like the perfect thing to do. 
GTA Online: The Contract is available right now as a free update to GTA Online on the PlayStation 4, Xbox One Systems, PC, with PS4 and Xbox One versions playable on the PlayStation 5 and Xbox Series hardware via backward compatibility.