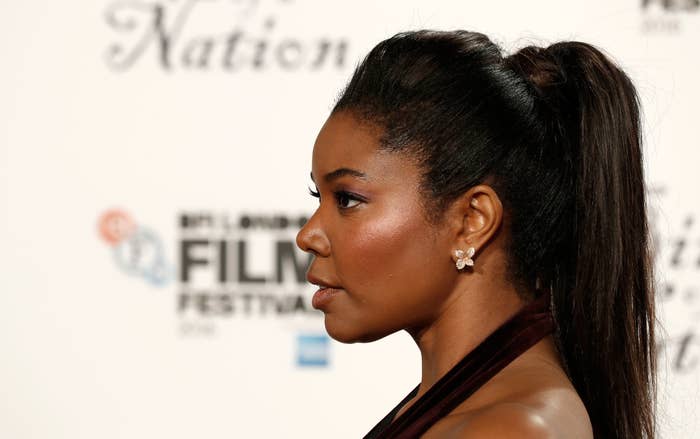 While Gabrielle Union didn't have any lines in The Birth of a Nation, she's gone on record as saying she took the role of a slave who ends up being raped by slaveowners in the Nate Parker movie about the life of Nat Turner because she "related to the experience," adding, "I also wanted to give a voice to my character, who remains silent throughout the film." With Nate Parker's 1999 rape case at the forefront of the discussion of this film, there's no surprise that candlelight vigils in support of rape survivors and all-out boycotts of the film have sprung up since its release on October 7.
In her new Essence cover story, Union is still vocal in the conversation and is supporting those who choose to boycott Birth. "As a rape survivor and as an advocate, I cannot shy away from this responsibility because the conversation got difficult." She continued, "I don't want to put myself above anyone's pain or triggers. Every victim or survivor, I believe you. I support you. I support you if you don't want to see the film. I absolutely understand and respect that. I can't sell the film."
She's not the only woman from the cast who has shown support for those who aren't here for supporting Nate Parker. Aunjanue Ellis, who played Nat Turner's mother, told BuzzFeed she was well aware of the conflicts audiences might have with the film. "You will have black women having to make the choice of, Am I going to be black or am I going to be a woman? What am I doing here? What am I doing? And I think it's a conversation that needs to happen." 
Aja Naomi King, who portrayed Nat Turner's wife, expressed a similar sentiment to the LA Times: "I don't want to diminish anyone's feelings. At the end of the day, seeing the film or not seeing the film is not going to change the world. Changing the world is going to change the world. The film was meant to start a conversation."
Ultimately, it comes down to the box office numbers, which weren't promising on its opening weekend. The film pulled in $7.1 million this past weekend (it's reported that Birth was expected to pull in around $10 million during it's first weekend), although the scores from the black audiences who did see it are favorable. How will these box office returns hinder the Oscar chances for Birth of a Nation? Only time will tell; as of right now, the court of public opinion (or, Rotten Tomatoes) has Birth at a "certified fresh" rating of 78% at the time of this writing.
We'll have to wait and see how this will impact any Oscar hopes for Nate's directorial debut, although for many, Nate's future will already be ignored.