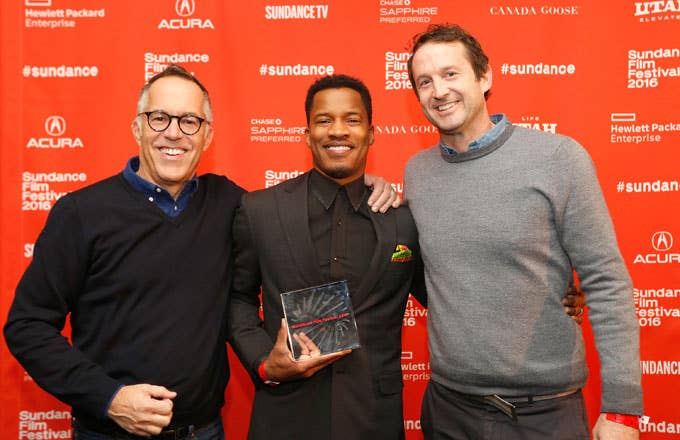 With the confluence of both #BlackLivesMatter and #OscarsSoWhite asserting that America—and specifically Hollywood—doesn't give a damn about black people, there couldn't have been a better time for The Birth of a Nation to premiere at the Sundance Film Festival this past January. Indeed, it seemed like you could hear a collective sigh of relief when the Park City, Utah, audience stopped its hand-wringing to give a standing ovation even before a screening began of relatively unknown star-writer-director Nate Parker's passion project about African-American slave Nat Turner and his famous revolt. 
The Hollywood Reporter review said it was "a film very much in tune with the current state of heightened racial friction." New York magazine raved that "many films about slavery contrast elegance and degradation, playing the comfort of the whites against the degradation of the blacks. But in The Birth of a Nation, you get the sense that everybody's being degraded in some way by the institution of slavery."
"There was this sense of a great black hope, if you will, that would hopefully correct what would happen with this past year and what happened with [the Oscar snub of], Selma, and this continued perceive snub of minorities in Hollywood," Los Angeles Times film critic Justin Chang tells Complex. His own review from the festival, which ran when he was the chief film critic for Variety magazine, claimed that "this artfully modulated but fitfully grueling picture presents both an obvious challenge and a potentially rich commercial prospect for a distributor willing to match Parker's passion with its own."
The story of Birth of a Nation's hype early this year is one of cause and effect. With the hindsight, it's clearer that the cause was #OscarsSoWhite, which reached a fever pitch in January 2016; the effect was Birth being championed as a great movie, and more importantly to Hollywood, as an Oscar contender made by and starring a black man. Amid so much criticism, and so many pointed protests accusing the industry of being prejudiced, Birth of a Nation arrived at Sundance as proof to the contrary. But at the end of the day, the movie, and Nate Parker, were false saviors.
The bidding war for Birth of a Nation was immediate and heated; Hollywood suits wanted to prove they were most "down with the cause," regardless of whether the product in question was the best representation of it. Fox Searchlight prevailed, to the tune of $17.5 million—reportedly one of the biggest sums ever handed out in the festival's history. 
"Bidding for films at Sundance is a hot house, intense environment," says Robert Marich, author of the book, Marketing to Moviegoers: Third Edition. "The executives are in hotel rooms with only their digital devices and not a lot of consultation. It's not a lot of time to vet … You have to make a decision on real short notice. It's a real auction."
But the "obvious challenge" to which critic Chang alluded in his review was probably not what the company had anticipated. While it no doubt had plans to use the parallels between our country's current Civil Rights catastrophe and the film's brutal storylines, it's unlikely it ever thought it would find itself marketing a writer-director who had been charged with rape in college. And, although Parker was acquitted of the crime, news broke in August that Parker's accuser had later been driven to suicide, allegedly by the incident. 
With golden boy Parker's new tarnished reputation, it became nearly impossible to separate his personal life from his work. In turn, Parker is now likely the reason critics and fans feel less guilty admitting that maybe the movie is actually not that great. "People are now saying The Birth of a Nation was once a front-runner and is now relegated to also-ran status if it's lucky," says Chang. "I don't know if I agree with it, although I think there's some probable truth to it."
In liberal-minded Hollywood that there is a sense of duty to champion movies that highlight the plights of the oppressed—just look at best picture Oscar winners like Dances with Wolves, Schindler's List and, the film with which Birth of a Nation is inevitably compared, 12 Years a Slave. A blemish like this could make it easier for Academy voters, especially anyone who felt pressured into voting for the other films because it was the "right" thing to do, to view Parker's film without rose-colored glasses.
"When Sundance happened, people were saying 'if the Oscars were tomorrow …,'" Los Angeles Times' Chang says of Birth of a Nation's meteoric rise. "I like the film. I think Nate Parker is a talented filmmaker. I thought that then. I think that now. But was this an Oscar slam-dunk? No. I saw better movies at that very festival."