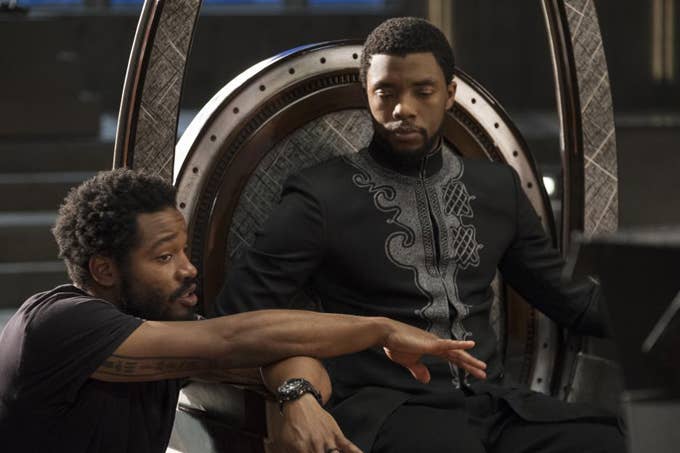 Back in January, I made it known to the world that I'd been to Wakanda and got to take in Black Panther, which is without a doubt sitting amongst the best films Marvel Studios has released in the last decade. What I didn't tell the world was that this was a return visit. In April of 2017, I made my first trek to Wakanda (by way of Atlanta), and if I'm keeping it funky, it wasn't what I expected. Off top, they had Rae Sremmurd's "Black Beatles" playing. Loud. It was unlike any set visit I'd been to, primarily because it was so damn black.
For anyone keeping up with Black Panther news since December of 2015, when Ryan Coogler was officially confirmed to be directing the Marvel film, that shouldn't be a surprise. Coogler's previous feature films (Fruitvale Station and Creed) have dealt with black men searching for their identity and place in the world, but Black Panther is an entirely different animal, with a massive budget for Coogler to work with and increased stakes for Marvel to get this character right on screen. The film takes place in Wakanda, a fictional East African nation, that is rich in vibranium, a fictional metal in the Marvel Comics universe that has been around since 1966 and is not only what makes Captain America's signature shield so strong, but its woven into the fabric of the suit of the Black Panther, making him bulletproof. The role of the Black Panther is to be the protector of the nation of Wakanda, which is hidden from the rest of the world to keep its vibranium from falling into the wrong hands. The king of Wakanda, T'Challa, is also the Black Panther, as his father, T'Chaka, was before him.
While Marvel has visited Africa before (there was a vibranium-themed sub-plot in Avengers: Age of Ultron), Black Panther would be the first real glimpse fans would get inside of Wakanda. I'd been to movie sets before, and it's not like Spider-Man: Homecoming was lily white behind the scenes; it's that you could feel the black excellence emitting from Ryan Coogler's set. From the thumping 808s emitting from the hidden sound system on the set during breaks in shooting to the extras dressed in gorgeous African garb chowing down on lunch on the sidelines, taking in a scene set in the lab of T'Challa's sister, Shuri, deep in the heart of Wakanda.
On one side of the set, there were mannequins set up, dressed in a few pristine Black Panther suits. That lead to a spiral walkway that housed the day's scene, featuring Chadwick Boseman as King T'Challa the Black Panther, his sister Shuri (played by Letitia Wright), Lupita Nyong'o's Nakia, and Okoye, who played by Danai Gurira (of Walking Dead fame). The scene would also feature Daniel Kaluuya, who was in the early buzzing of his recent performance in Get Out, and involved Wright having to deliver some good news to T'Challa before Kaluuya's character, W'Kabi, got real with T'Challa for what he perceived to be an oversight. Upon seeing the film, the scene ended up being one smaller piece of a larger puzzle, but it was awesome to see Coogler at work. Head (and face) full of hair, it felt like we were watching the Jay Z of Film Directing turning the visions in his mind into what's slowly becoming the beginning of the next chapter in the Marvel Studios saga.
With a regular work day allotted to a group of journalists on set to pick up as much as we can from what shaped not only one of the best films from Marvel Studios, ever, but one of its most important, there was no time to waste in regards to soaking up knowledge.
Back to Africa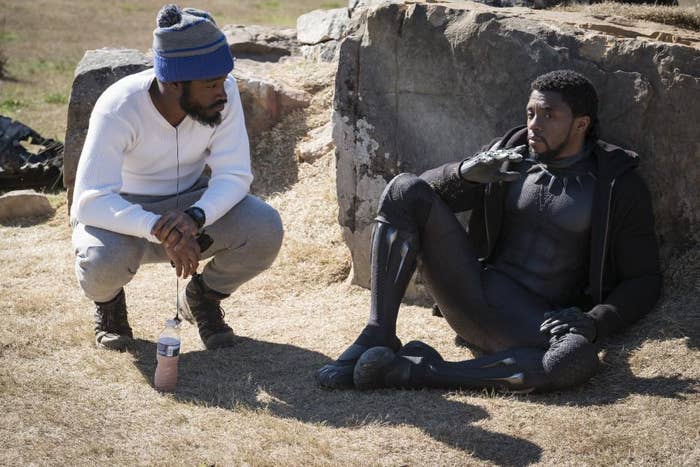 Seeing as Black Panther is very much a comic book-based superhero action film based largely in Africa, the cast and crew had to spoke of attending a massive boot camp that began in November of 2016. It incorporated a number of styles of fighting, including  jiu-jitsu and Capoeira, as well as a litany of African styles of fighting and dance. As Chadwick Boseman explained, "There's been a lot of research in terms of language, rituals, songs, African dance, African dance as it relates to fighting. Sometimes when you see African dance, you're watching them tell a story, for instance, about how they kill the lion or the leopard, or how they beat their enemy. Those movements are, you realize, actually a martial arts form that you're watching as opposed to just a dance, and that form is done to the drum. So a lot of what we begin to break down movement-wise is using the music in the drum to create some bits of the style, of the fighting."
"I think all of that is cultural," Boseman continued, "along with initiations. Some things are being made up for the movie, but they are being pulled from actual rituals, so although Wakanda is a fictitious African country, I think sort of the thought process is it's the root of all of the best things that you know about Africa, so you can pull from any culture you want to."
Pulling off the look and feel of Wakanda called for Ryan Coogler and his team (which includes Hannah Beachler, the production designer who's worked with Coogler since Fruitvale and has put her fantastic eye on everything from Moonlight to LEMONADE) to take a trip to Africa to pick up on subtleties and details that Coogler could grasp from the land, especially since the film was not filmed on location in Africa. Beachler walked us through a room of computer renderings of the different landscapes we'd see in the film, as well as the ships and aircrafts used in Wakanda. (A few of us even got to sneak a peek at one of the crafts the Black Panther flies in, which mimics the look of a panther's head.) Costume designer Ruth Carter (who has worked on everything from Malcolm X to Selma) was also on hand to show us how the Black Panther suit changed from what fans saw in Captain America: Civil War. The main takeaway was that the suit looks drastically different, including the addition of elements from specific African tribes being infused into the patterns in his new suit. She also showed off how Lupita's look as Nakia had manifested itself, from her more covert ops wear to her everyday outfits. From what we saw then, they truly took their time in infusing African heritage into the look of Wakanda and the people who inhabit it.
Their boot camp wasn't just a place to perfect to look and feel of Africa within Marvel's Cinematic Universe, though; there was a lot of bonding that went on there, blossoming into the relationships you see on-screen.
A band of brothers (and sisters)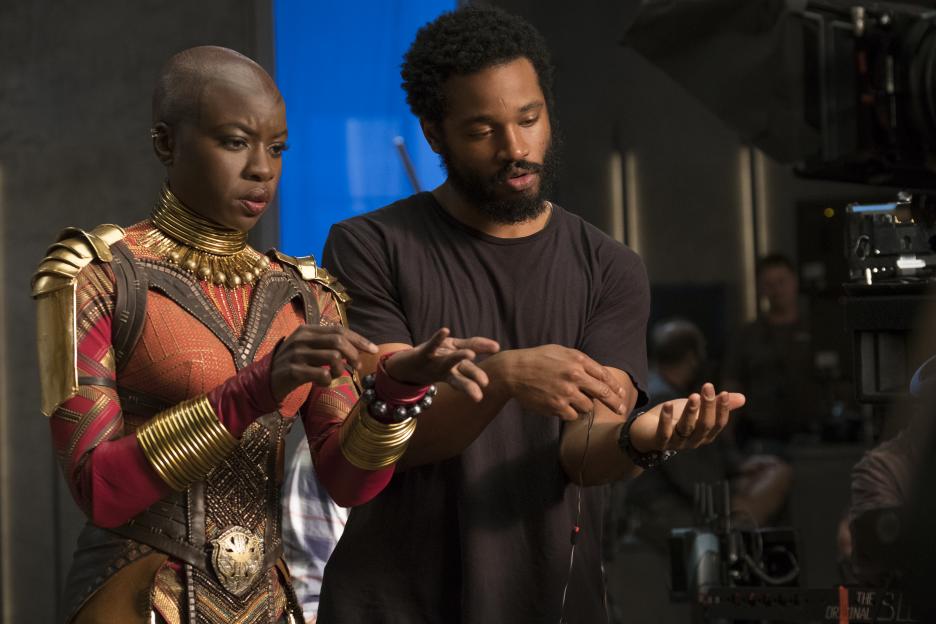 There was a camaraderie between the cast that you could clearly see on set. Everyone was professional, but during breaks in shooting, you could see Lupita sharing jokes with Letitia Wright, who was always vibing to whatever was on Coogler's Lit Wakanda Playlist (which included classics like Mos Def's "Ms. Fat Booty").
Fans got to see it early, from their hilarious #GetOutChallenge video to Nyong'o and Danai Gurira celebrating their birthdays (Danai was born on February 14, Lupita on March 1) with a joint Coming to America-themed party, which Lupita confirmed was her idea.
"Let it be known," Lupita, who was actually finishing up her last day on set, admitted, "it was mine. Coming to America is this iconic film and as we're making this film, we're often just reminded of lines. We are in a fictional African nation, so when you think of what has that been on screen it's Zamunda, so when we decided to have a joint birthday party, Coming to America was the perfect theme."
Wright expounded on the vibe among the cast, which involved a lot of banter on set. "It's been really good. It just helps us to have more chemistry on set, so we call each other, we text each other, we go out for meals, we really bond. We're really together all the time, so that's just natural for us, it just creates adult chemistry." Those bonds only strengthen the dynamic on screen, especially between Boseman's T'Challa and Wright's character, Shuri, who handles bringing the futuristic tech we see the Black Panther using on screen. "It's so much love there. He looks out for her, he protects her, but then just like a little sister would to a big brother, she picks on him, she teases him, but she loves him. She creates a lot of the cool gadgets for her brother, that's how she gets to show her love for him."
An aspirational and inspirational moment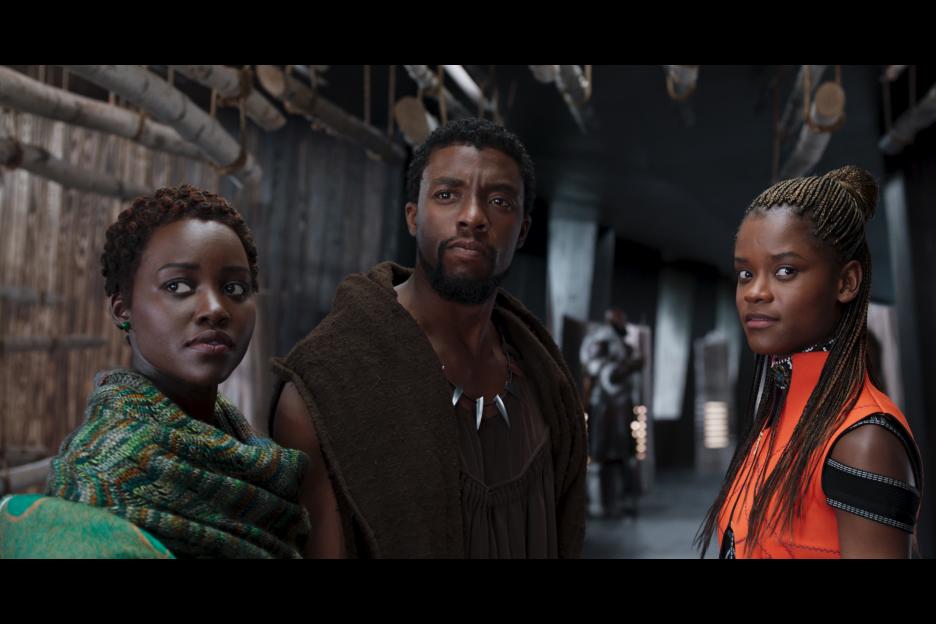 Representation is key