As I set my bags down in the slick hotel I was given access to in Atlanta, I got the sinking feeling that I didn't belong. I'm just a lifelong Marvel stan who went from spending all of his allowance buying comic books to getting paid to write about the movies based on those comic books; there was no point in my life where I thought I'd actually be able to visit a movie set. Last August, I was invited do just that; Sony sent me and a squad of journalists to the A to visit the set of Spider-Man: Homecoming, and I truly didn't know what to expect, although this new venture that Marvel and Sony were embarking on was unexpected, as well as unheard of. They reconciled, an estranged couple who did it for the kids, both their blood children (Spider-Man) and those they've adopted (the millions of fanboys worldwide who were anxious to see Spider-Man come home—pun intended).
Their union kicked off in February 2015, when Marvel announced Spider-Man was joining the Marvel Cinematic Universe for a movie to be released in July 2017. Their deal meant that the movie would be co-produced by Kevin Feige and the team at Marvel alongside Amy Pascal, who was the one behind the Spider-Man film franchise at Sony. Their deal had Sony financing, distributing, owning, and having creative control over the movies, while Marvel helped with the new creative direction. As of now, the speculation is that this deal could only be in place through the already-announced Spider-Man: Homecoming sequel, but who's to say Sony and Marvel won't re-up? Marvel's glowed Spider-Man up already, reinvigorating Sony and their use of the Spider-Man rights.
For those who know, this was far from the first time Spider-Man would be hitting the silver screen: Sony had Tobey Maguire under the mask for Sam Raimi's trilogy, bringing us two amazing Spider-Man films (Spider-Man and Spider-Man 2) and one meh film (2007's Spider-Man 3). Five years later, they rebooted the entire Spider-Man universe with Andrew Garfield, with a so-so Amazing Spider-Man in 2012, followed by a wretched Amazing Spider-Man 2 two years later. Plans for the third film were scrapped after that 2014 sequel, and things looked grim for the Spider-Man franchise. That is, until whenever Marvel and Sony struck their deal to make Spider-Man great again (no Cheeto). 
"Truthfully," said Amy Pascal during a press conference on the Spider-Man: Homecoming set, "everybody did it because they wanted Spider-Man to be great. Truly, it was because Spider-Man is great, and the character is great; people love him—that's for Disney, Marvel, and certainly for Sony."
The first stop was getting a real Spider-Man, who the world was introduced to in Captain America: Civil War. Back when Holland won the role, we didn't know who the f*ck this guy was, but after Jon Bernthal—aka Marvel's Frank Castle—told us that he "saw him go through the process of trying to win that role. He fought for it. He just went out and got it. That's not an easy feat," and then I saw how amazing Holland's Spider-Man was in Civil War? I was here for him, especially since I'm a comic book fan, and love seeing the teenager with the corny banter flying while he kicks all of the ass.
It's one of the things that Holland himself wanted to make sure was still included in this new iteration of the classic Peter Parker/Spider-Man story. "We've seen the Norse god, we've seen the billionaire, we've seen the soldier, now we get to see the kid. One of the most important themes of the movie is: what would a 15-year- old boy do with superpowers?" Holland expanded on his philosophy on the current Spider-Man while taking a break from shooting a scene that ended up in the second trailer, where Spider-Man is confronting Adrian Toomes, aka the Vulture (played by Michael Keaton), in what appeared to be various parts of Vulture's dark lair.
In that scene, Spider-Man's rocking what feels like a bootleg Spider-Man suit, far from the hi-tech gear he got from Stark and rocked in Civil War, but during our Q&A, Holland was coy about why Spider-Man was so dressed down: "There's many incarnations of the suit in the film so this is just one of the different ones throughout the movie." We do know that Peter gets to push the new tech from the suit to the limits. Holland describes one sequence in the film where Peter "can sort of alter what he sees and how he sees things. It's almost like the first time you play a video game," he continues, "and the controls are all funny. It's really funny seeing him look like a badass, but inside panic and really not know what to do." AKA, exactly what I need from my Spider-Man.
Soon after Holland blesses us with his presence, Michael Keaton walks in. Having been a proper stan for his Batman film from 1989, it's interesting to see him become a villain in this new age of superhero movies, although as he tells it, his Toomes isn't your run-of-the-mill supervillain, saying Toomes was "somewhat of a victim. He [feels] like a victim, and some of it is justified, actually. He believes that there is an upper echelon of society and people who are getting away with a lot and have everything and there is a whole lot of folks who are working hard and don't have much. Does that sound familiar to anybody given the political climate?" Given that this was August 2016, this wouldn't be the first time Keaton referenced the 2016 presidential race, and he had some bars for Trump. When Keaton was asked about his reported reluctance to work in another superhero film, he dropped a stinging Trump burn: "You're like Donald Trump, 'That's not true, but I'm gonna say it anyway.'"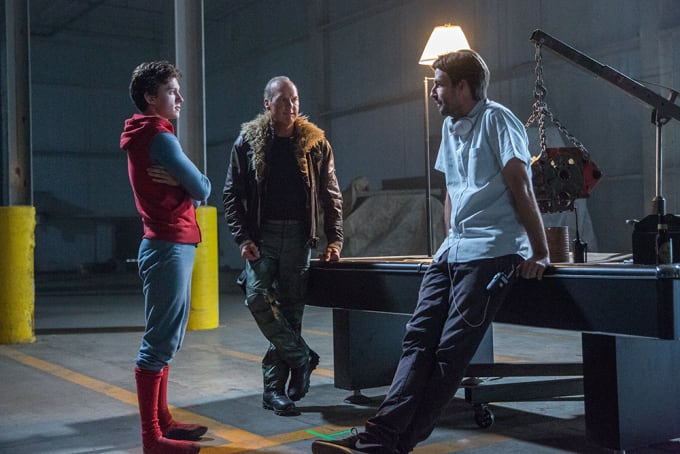 Political Cheetos aside, many people noticed in the second trailer that the words "Damage Control" were spotted on a new report; for those who aren't up on Damage Control, they've been around in the Marvel world since the late-1980s as a private company tasked with cleaning up the messes from superhero battles. Keaton does confirm that Toomes was a salvage guy at one point, and that he resents both Tony Stark and Damage Control, saying that Toomes is "a working guy, built this business, this company, and works hard, and they took it from him."
One of the most interesting bits from both trailers has been an epic battle on the Staten Island Ferry between Spider-Man versus Vulture. While Spider-Man has everything sorted out initially, Vulture sweeps in with a BFG and slices the ferry in half, forcing Spider-Man to throw all kinds of webs up to bring the ferry back together. While we were in Atlanta, we got to visit Pinewood Atlanta Studios to see just how big Marvel is willing to go.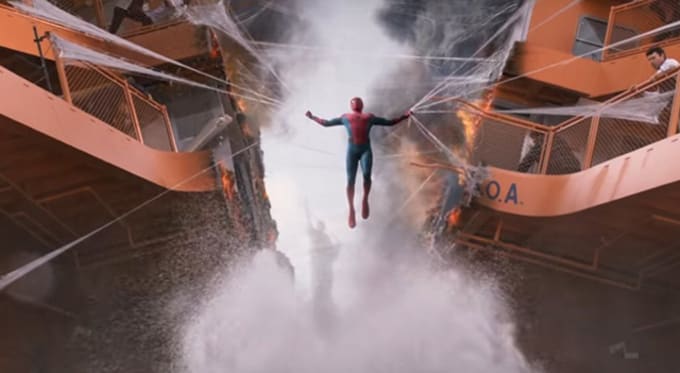 That's right, instead of hooking up a CGI rendering of the ferry, they created a huge replica of the Staten Island Ferry, then figured out how to slice in half for this particular scene. It wasn't just a huge vessel, either; the signage was Marvel-centric, with references to different Stark companies and more adorning the multi-leveled ship. The area was surrounded by massive green screens, which are no doubt being used for the filming of Avengers: Infinity War and Black Panther. It's a serious facility that Marvel Studios has turned into a superhero playground.
All of this is being handled by Jon Watts, the 35-year-old Colorado native who'd only done two films prior to being put into the driver's seat. It was his 2015 feature Cop Car (which he wrote, directed, and produced) that had Sony intrigued, specifically on how he brought the children in that film to life. Watts said that he "wanted to make a high school film," and while he loved Sam Raimi's Spider-Man films, he points out how Raimi's Parker was only in high school "for like ten minutes." Watts was also just happy to have Spider-Man swing into Marvel's Cinematic Universe.
"The other movies have shown what I describe as the penthouse level of the Marvel world," Watts says, "like what it's like to be Thor or to be Iron Man. But what's great about Spiderman is that he's a regular kid. By showing his story, you also get to show what the ground level is like in a world where the Avengers exist, which is already, I think, a great premise for a movie."
Watts also mentioned that, while he was visiting the Civil War set, he kept thinking a film crew was going to start recording him, shouting "JUST KIDDING!" When I think back to the time before we saw Spider-Man in his first Civil War trailer, I think I had the same batch of feels. Being a comic book fan, I'm here for all of Marvel's properties being under one umbrella, or at the very least, Marvel having Spider-Man, who's one of their signature characters, back in the fold (even if it's only for a limited time). It's one of those things that I never thought would be possible, but after trekking down to Atlanta and getting the full scoop on one of this summer's most anticipated blockbusters, I'm more excited than ever before.
Spider-Man: Homecoming hits theaters on July 7, 2017.