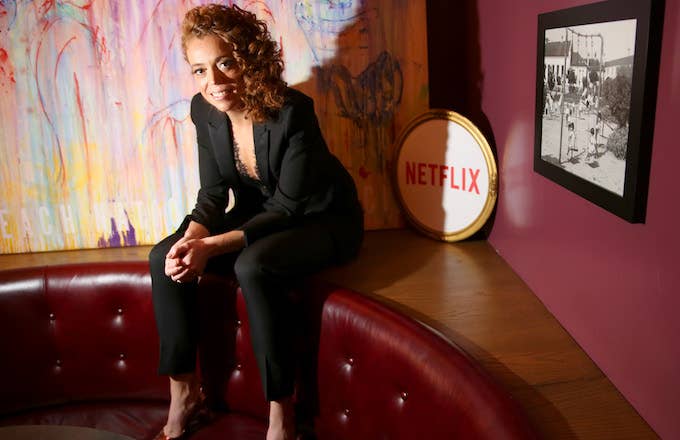 Comedian Michelle Wolf already jumped to her own defense via Twitter over her Sarah Huckabee Sanders jokes from Saturday's White House Correspondents' Dinner. Some people think Wolf was targeting Sanders' physical appearance, and others just thought she was hilarious.
At the dinner, Wolf joked, "I'm never really sure what to call Sarah Huckabee Sanders. Is it Sarah Sanders, Sarah Huckabee Sanders? Is it Cousin Huckabee? Is it Auntie Huckabee Sanders? Like, what's Uncle Tom but for white women who disappoint other white women?" Wolf continued, "I actually really like Sarah. I think she's very resourceful. She burns facts and then she uses that ash to create a perfect smoky eye. Maybe she's born with it, maybe it's lies. It's probably lies."
Some believe her line about Sanders' smoky eye is body-shaming and some see her words as pure comedy.
Wolf responded in less than 24 hours after the dinner to explain her position to the critics.
"Hey mags! All these jokes were about her despicable behavior. Sounds like you have some thoughts about her looks though?" she responded in a tweet to the New York Times' Maggie Haberman. Haberman said the jokes double as "intense criticism" of Sanders's physical appearance.
In response to criticism from MSNBC's Mika Brzezinski, Wolf tweeted, "Why are you guys making this about Sarah's looks? I said she burns facts and uses the ash to create a perfect smoky eye. I complimented her eye makeup and her ingenuity of materials."
Former press secretary Sean Spicer butted in to call the entire event a disgrace. Wolf didn't pay him too much mind.