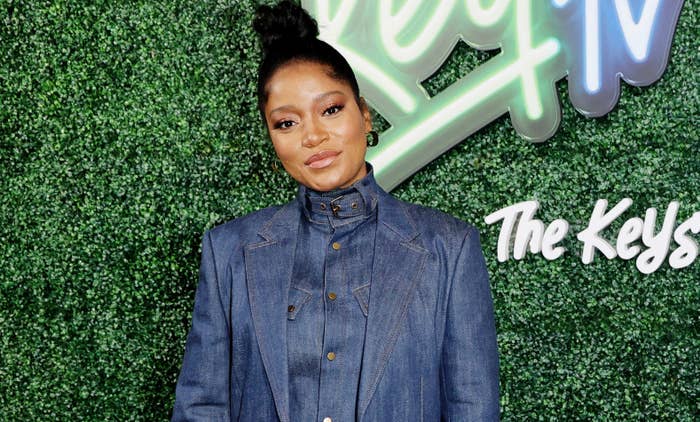 Keke Palmer is adding yet another job title to her résumé—podcast host.
The actress and multi-hyphenate entrepreneur is launching a new podcast series titled Baby, This Is Keke Palmer on Amazon Music this week. Palmer has been an actor and performer for nearly two decades, and in recent years she has also become a pop culture icon. She has cemented herself as more than just an actress—she is a full-on entertainer whose off-screen antics usually turn into viral memes.
Palmer has been in the spotlight since she was a child and has delved into everything from singing, dancing, hosting talk shows, voice-over acting, and more. This may also arguably be the biggest year of her career after she starred in two of the summer's biggest films, Jordan Peele's Nope and Disney's Lightyear, as well as launching her own projects. Aside from the podcast, she also started the digital platform KeyTV with the goal of opening doors for young creators looking to get their start in the entertainment industry. 
On Baby, This Is Keke Palmer, a title derived from one of her most legendary memes, Palmer will examine the questions that keep her up at night alongside her mother, Sharon, and a special guest with expertise in the topics she's exploring. On the first episode, Palmer speaks openly about OnlyFans and pornography with her mom and Blac Chyna. Fans should expect a rawer, more unfiltered version of Palmer on this podcast, but with the same level of charm and authenticity audiences have come to love her for. "Nothing that I do, I don't ever do it just because," Palmer tells Complex. "When the opportunity came for me to do a podcast, I only entertained the conversation and went forward with doing one because I genuinely felt like it was another way that I could communicate with my audience and where I could also learn and explore myself."
There have been talks about her starring in the upcoming Sister Act 3: Kicking the Habit alongside Whoopi Goldberg and she was set to star in Aziz Ansari's feature directorial debut Being Mortal (the film is currently on hold after Searchlight Pictures suspended production WHEN a staffer filed a complaint against Bill Murray). Based on her talent alone, Palmer should always have acting projects on her docket. But her talent isn't limited to just acting. However, having her hand in many projects isn't easy to maneuver. "I sometimes do one thing less, one thing more. I don't think it's always balanced. I've just come over the years to be comfortable with that, and OK with that," Palmer says. "I'm just happy to be doing things in the industry that has the craft that I love."
Before her 30th birthday, she has accomplished more than most people would in three lifetimes—and the best part? She's just getting started. Complex hopped on a call with Palmer ahead of her Baby, This Is Keke Palmer podcast release and she talked about her journey, being a pop culture expert, and what this year has meant for her career. Read the interview, edited for length and clarity below, and listen to the podcast's first episode available now on Amazon Music.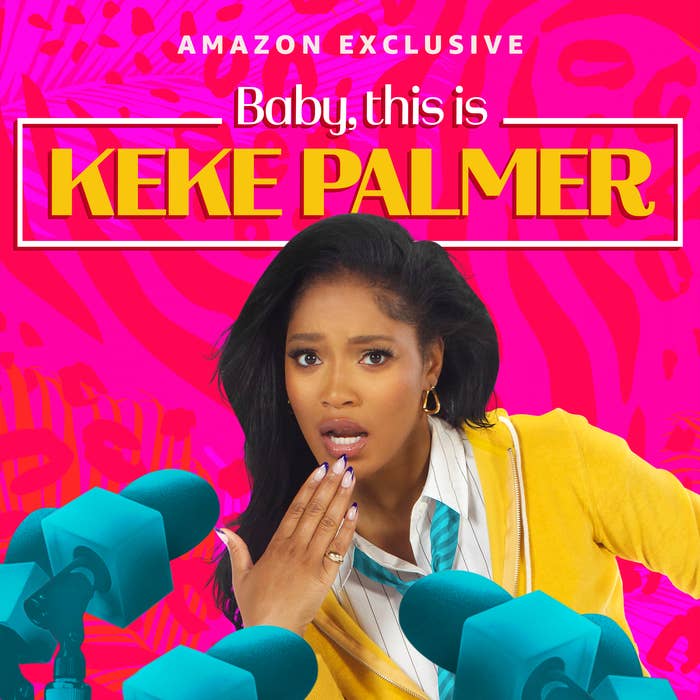 We have to talk about this name. Baby, This Is Keke Palmer obviously came from the internet. Can you talk about choosing this name for the podcast?

Yes. I felt like, first of all, yes, the meme was so iconic to my brand in terms of just the moment. And it's a subculture of its own, the identity of that meme. If you know, you know. And I think that aspect of it, I was thinking about running through the names of what would I want this show to be about? And I think I'm such a broad person that it was hard to just figure out what would I name something that's not about one thing? It's not just about relationships, it's not just about the entertainment industry. It's about literally all the things that I'm interested in, which are so broad. And I was like, "You know what? Maybe it's just Baby, This Is Keke Palmer," because baby, this is Keke Palmer, this is what it is being in my world, being in my mind, being in my head. This is how I see the world, how I perceive things, and pretty much baby, this is Keke Palmer, like you've never seen me before. And so it just seemed perfect.
Everything you do or say goes viral. You're a magnet to going viral. I also have heard you talk about things like Titanic in such expert-level ways. You being a pop culture icon yourself but also an expert in pop culture, how do those two things come to play in the podcast?

Oh my gosh. Yeah. 100 percent. I think they totally do. We did a show the other day where we were talking about sitcoms, multi-cam sitcoms and how television has changed and how things are overly nuanced now, and what that means for us as a society as a whole. And not even just the fact that things are overly nuanced, but the way in which we want to express that nuance is filtered down to this one particular perspective that usually has no space for humor, sometimes. It almost has to be so serious. And so again, linear, when a lot of times pain, struggle, and heartache are more reminiscent of what we would see in a multi-cam sitcom where there's drama and there's horrible shit going down, but somehow we find the humor in it. We find the humor in the reality that this is our existence.
And so I think things, conversations like that, conversations around just memes. I always love to talk about memes and breaking down memes and what does it really mean when we all connect to something, one particular thing? What does it say about us? How do we unpack that? You know what I mean? Or even people like Tom from Myspace, I think one of my biggest things that I want to do is speak to Tom because he created something that changed our generation forever and now he's totally outside of it. 
Exploring what makes our generation our generation, speaking to experts. I think that's a thing that's really exciting to me as well. I'm very curious. I like to talk to entertainers, but I think there's a lot that I know in that space and you expect that, but the part that I'm most interested in speaking to people that know more than me about any other subject. That I can pick their brain and ask them the kind of questions that I wouldn't really get answers to anywhere else. That's exciting for me.
Certain celebrities don't open up a lot, and don't do interviews. Getting someone like [Blac Chyna] to feel relaxed and comfortable has to do a lot with you being a celebrity yourself and also you being you—someone that people feel comfortable with or uplifted by. Do you think that trust level makes them open up more?

I do think that that can be the case, especially when someone feels like maybe you have had a similar experience to them. But even still, celebrities are just people individually. So just because you're a celebrity and somebody else is a celebrity doesn't necessarily mean they're going to want to talk to you. I do think that one thing that I do find that is interesting about my situation is most people have seen me since I was really young, and I do think that that does bring a certain level of comfortability that I appreciate because they feel like they've grown up with me or they watched me grow up. And so there is this already, this familial thing that I don't take for granted at all.
You're launching KeyTV and you're doing this podcast and then you're also acting, hosting, and doing so many other things. How do you manage to balance it all and make sure that you're not doing one thing less or doing one thing more?

I think I do sometimes do one thing less, one thing more. I don't think it's always balanced. I've just come over the years to be comfortable with that, and OK with that. I'm an entertainer. I'm multifaceted and sometimes I'm doing more hosting, sometimes I'm doing more narrative work, sometimes I'm doing more digital and sometimes maybe I'm doing more producing and more stuff behind the scenes. 
So more than anything, I'm just happy to be doing things in the industry that has the craft that I love, just entertainment, and storytelling. So no matter what aspect of it that I'm doing, I'm not too intense with myself on that. I just want to be doing something in this space.
That's awesome. Can you talk a little bit about KeyTV and what you hope to create out of this platform?

Yeah, so KeyTV, I hope to create obviously great content, give my audience some new material, some stuff that's original that's also from them, from the voices that exist in our time, but don't always have access to the kind of platform I've been able to attain over the last 20 years. So giving those voices exposure is really exciting to me. Then also creating a space where they can be supported and that the industry can be democratized where there's more access and there's more resources and that's told through the story of what you see.
I think KeyTV, as much as we want to show narrative shows, we also want to show what happens behind the scenes, how things get made, what those conversations look like. What these different roles are, the different roles you can have outside of just being the talent on screen. What does it mean to be a producer? What does it mean to be a director? What does it mean to be a DP? What does it mean to be a key grip? Exposing the generation to all those great fields that exist in production that are just as important as being a talent. That really excites me because I just think the reason why people think that there's only one or two spots that they do or jobs they can have are because they don't know what's out there.
I feel this way about digital as a whole, because digital for me was such a creative freedom and I was able to really lock in with my audience and be able to just activate from there. And it changed my whole life and my career. I just want to continue to expose the next generations to those things and support the current ones with being able to get their voice out there and make their own name for themselves, handing them the keys and the tools so that they don't have to go through the same doors or have some of the same trials and tribulations that many of us that started out traditional had to.
What kind of roles are you seeking for the future, acting-wise?

Man, I just want to do great stuff, stuff that I enjoy. I think I love to do comedy. I've really been having a lot of fun with that, but that doesn't mean I don't love drama and there's not a place for that in my life. I think it's just always about the material, what the part is saying and draws me to it that creates the interest. 
Not only are you doing this podcast and KeyTV, but you've also had perhaps one of the greatest years of your acting career. Can you tell me a little bit about what this year has meant for you?

This year has just meant a full-circle thing. Being an entertainer and starting so young as a kid, your career does happen two times where you've established yourself as a child, and then people don't care and people forget. And you have to re-establish yourself as an adult. For me, that was that full circle moment that happened this year where some people were reintroduced to me, and some people were completely newly introduced to me and some people were like, "Oh my gosh, I'm so happy to have seen her evolve to this point."
So it's been an incredible journey and it's just more so a testament to this—I don't want to say this industry because really any industry—but that things take time and that you're going to continue to grow and that as long as you stay focused, there's really not anything you can't do or anything you won't accomplish.

You are the creator of your story and you write your own narrative. Because I never stopped, even when things got hard, when I was making my transition from being a kid to evolving as an adult in this business, I never gave up on myself. I always believed that. I always knew what I wanted to do and what I wanted to say or that I had something to say, better yet. So I think for me it felt very much so full circle and a testimony.