Kanye West and Julia Fox are already 2022's most talked-about couple. In less than a month, the couple ignited a sense of curiosity and interest in people we haven't seen for a celebrity couple in quite some time. The pair, who Fox has nicknamed "JuliYe," met at a New Year's Eve party in Miami and they have been inseparable ever since. In less than a month, they have been spotted going on dates in New York, California, and Paris, and fans are being invited to watch along as their relationship develops right in front of our eyes. West is fresh off his marriage to Kim Kardashian, while Fox welcomed a son with Peter Artemiev just last year. But contrary to popular belief, this relationship seems like more than just a rebound for them both. KimYe fans were shocked to learn that the iconic couple were going their separate ways after nearly a decade of marriage, and he was still trying to make their marriage work in December. Fast forward to a month later, the rapper seems to have moved on now that he has entered this new relationship. 
Fox has been open about their time together from the start, both through conversations with Interview magazine and on her Forbidden Fruit podcast. The couple had one of their first dates photographed by the magazine so fans have been included in their relationship since its inception. While she was mostly known for her Uncut Gems fame, the actress' affiliation with the Yeezy designer has increased her popularity, but she has made it clear that she's not dating him for clout or for money. She's just in it for the ride. West fans know that he goes above and beyond for the women in his life, and tends to mold and shape a lot of what they do, what they wear, and how they look, and his experience with Fox hasn't been any different. So much has gone down between them in such little time, and we've put together a rundown of all that has happened with Kanye West and Julia Fox since they met at the start of the year.
Date: Dec. 31

West surprised everybody when he made a public plea for his ex-wife to come back to him at a show in early December. Kardashian responded by filing documents in court that would make her "officially single," thus marking the end of the couple formerly known as KimYe, and kicking off West's life as a single, divorced dad. While some fans were rooting for them to reconcile, the start of 2022 felt like a full-on reset button for West. He threw a surprise and private "New Year's Eve Black Party" in Miami's GC Sobe Lounge on Dec. 31 with performances from him and Future, and was hosted by Justin LaBoy. Fox attended the party and that's how they met. While most people only get a hangover after celebrating NYE, the rapper found himself a new girl. West and Fox were then spotted on a date at Carbone in Miami on Jan. 1. According to TMZ, Ye and Fox were on a double date with N.O.R.E and his wife, Neri Santiago, and a source told the outlet at the time that their date was "nothing serious."
They flew out to New York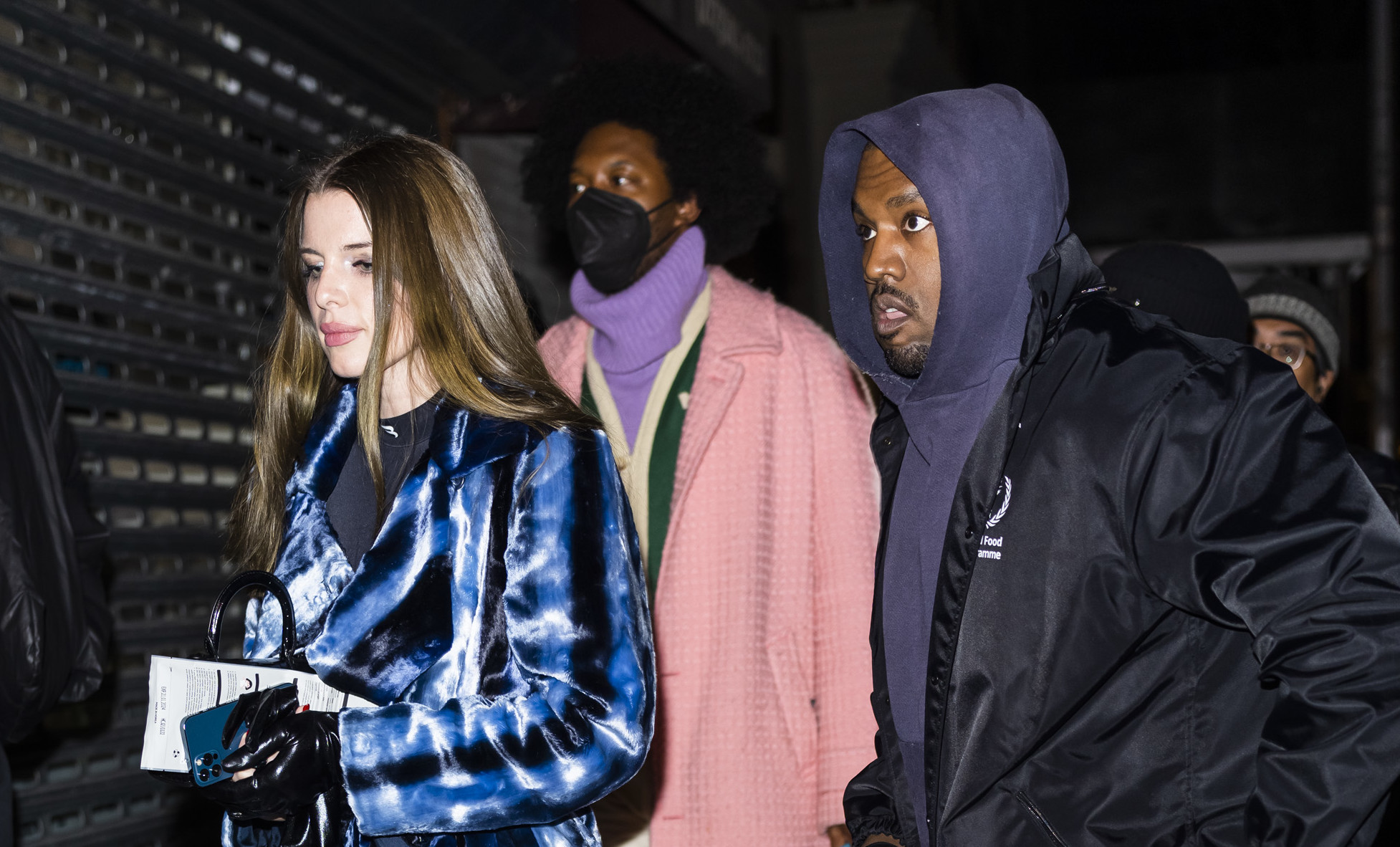 Date: Jan. 6
The aspect of privacy continued to go out the window after Fox opened up about her romance with West to Interview magazine less than a week after meeting him. Just days after she and Ye were spotted on multiple dates, she told them all about the "instant connection" she felt with her new flame as soon as they met. "His energy is so fun to be around. He had me and my friends laughing, dancing, and smiling all night," the model said. "We decided to keep the energy going and fly back to New York City to see Slave Play. Ye's flight landed at six and the play was at seven and he was there ON TIME. I was impressed. After the play we chose to do dinner at Carbone which is one of my favorite restaurants. Obviously."
The pair also invited the magazine along for the date, and they were photographed sharing intimate moments together, as she tried on the new clothes he had gotten for her. "I mean, I'm still in shock. Ye had an entire hotel suite full of clothes," she said. "It was every girl's dream come true. It felt like a real Cinderella moment. I don't know how he did it, or how he got all of it there in time. But I was so surprised. Like, who does things like this on a second date? Or any date!" At the time, Fox expressed her openness to experiencing and enjoying the relationship as it progresses. "I don't know where things are headed but if this is any indication of the future I'm loving the ride," she said.
Kim Kardashian is reportedly "happy" for the new couple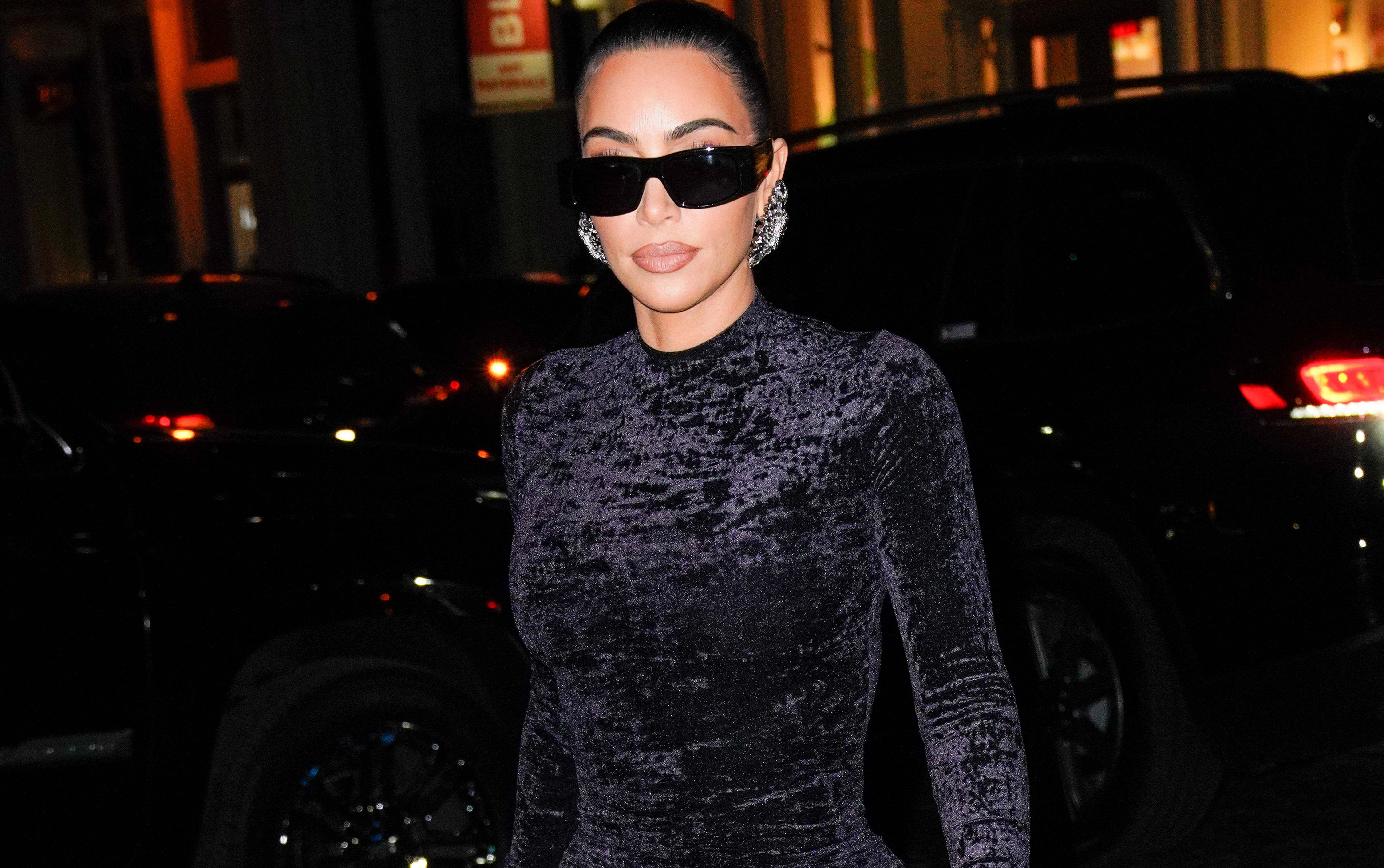 Fox continued to shed light on their​​ romance on her podcast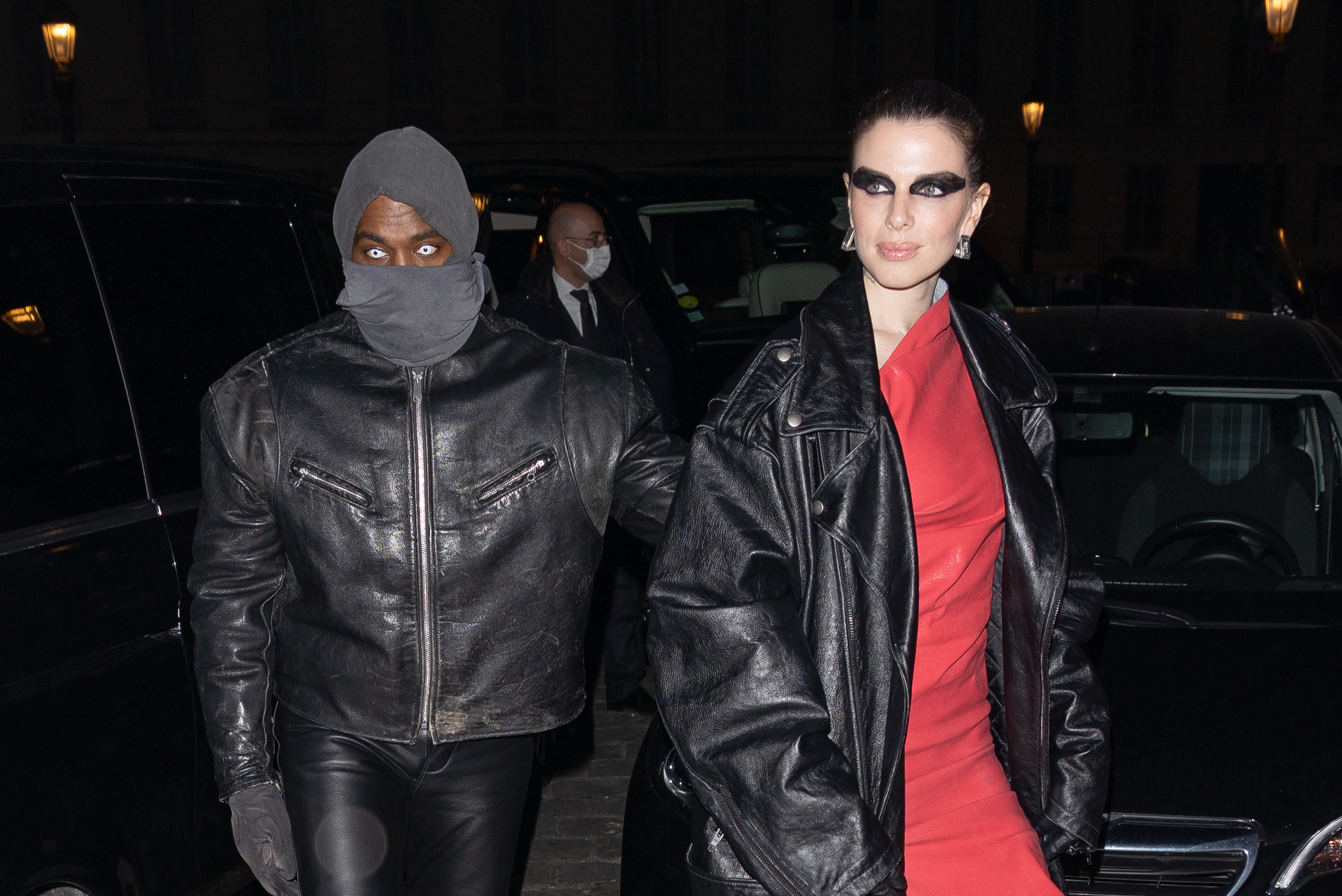 Date: Jan. 15
The actress told the magazine she would be calling them once a week to give them updates on her date nights with West and said it would be called "Fox News." This time around, the couple posed for another set of photos and she talked about the night they had with Madonna, Antonio Brown, Floyd Mayweather. She also opened up about how much she has transformed and how her life has changed since she met Ye, adding that she felt she was "packing up" her old life when the fashion designer got rid of her old clothes. "After meeting him, a couple days later, all my shit was in boxes, gone. It was so cathartic. It wasn't like I was just packing up my old clothes, it was like I was packing up my old life," Fox said. "I was like making that very conscious decision to really put everything in the box. To let go of the past."
The actress said this experience was new to her because she's used to being the one in charge and she feels like meeting the music mogul was a "reward" for her for the things she has endured. "I'm really surrendering. For someone like me who's such a control freak and always so used to taking care of myself, to just let go and be taken care of is foreign at this point in life. I've been the primary caretaker of everyone for so long, so it's a new sensation, but honestly, I think I deserve it," she told the magazine. "Even a month ago, I was so fucking like…not getting along with my son's father, or not having help. It was just me alone. I was so tired and everything was work. I just remember being like, 'I know that there's going to be a reward for this, like this is so fucking miserable that I know that I know something good will come of this if I just hang in there.' And then a few days later there I am with Ye, and it was the most instant natural organic attraction and connection. I just feel really safe with him. It's a redemption story."

Things turned around in a matter of weeks for Fox who, around Christmas time, blasted her baby's father Peter Artemiev for allegedly not taking care of their son. According to Page Six, Fox went on a two-day rant on her Instagram Stories calling Artemiev an absent "dead beat alcoholic drug addict dad." She later apologized for those remarks on her podcast. Things seem to be looking up for Fox, after she said West keeps exceeding her expectations. "You know, I'm so used to being fucked over in relationships, so I keep waiting for him to disappoint me, because he makes very grandiose promises, and it's like, 'How could he ever pull it off with all the other things he has going on,'" Fox told Interview. "But he always does. Last night was a testament to that."
They both were having issues in regards to their kids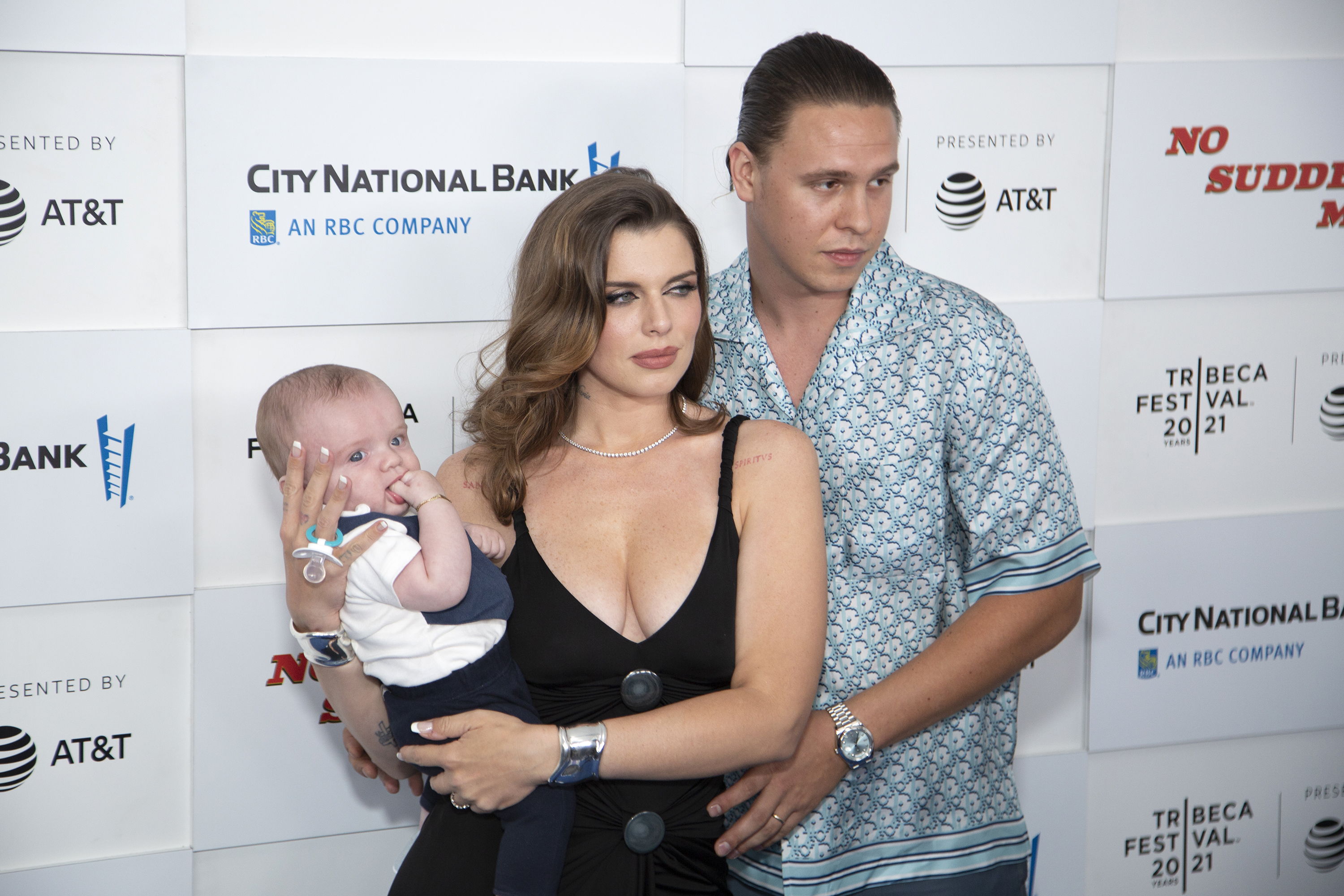 Fox says she's not dating West for money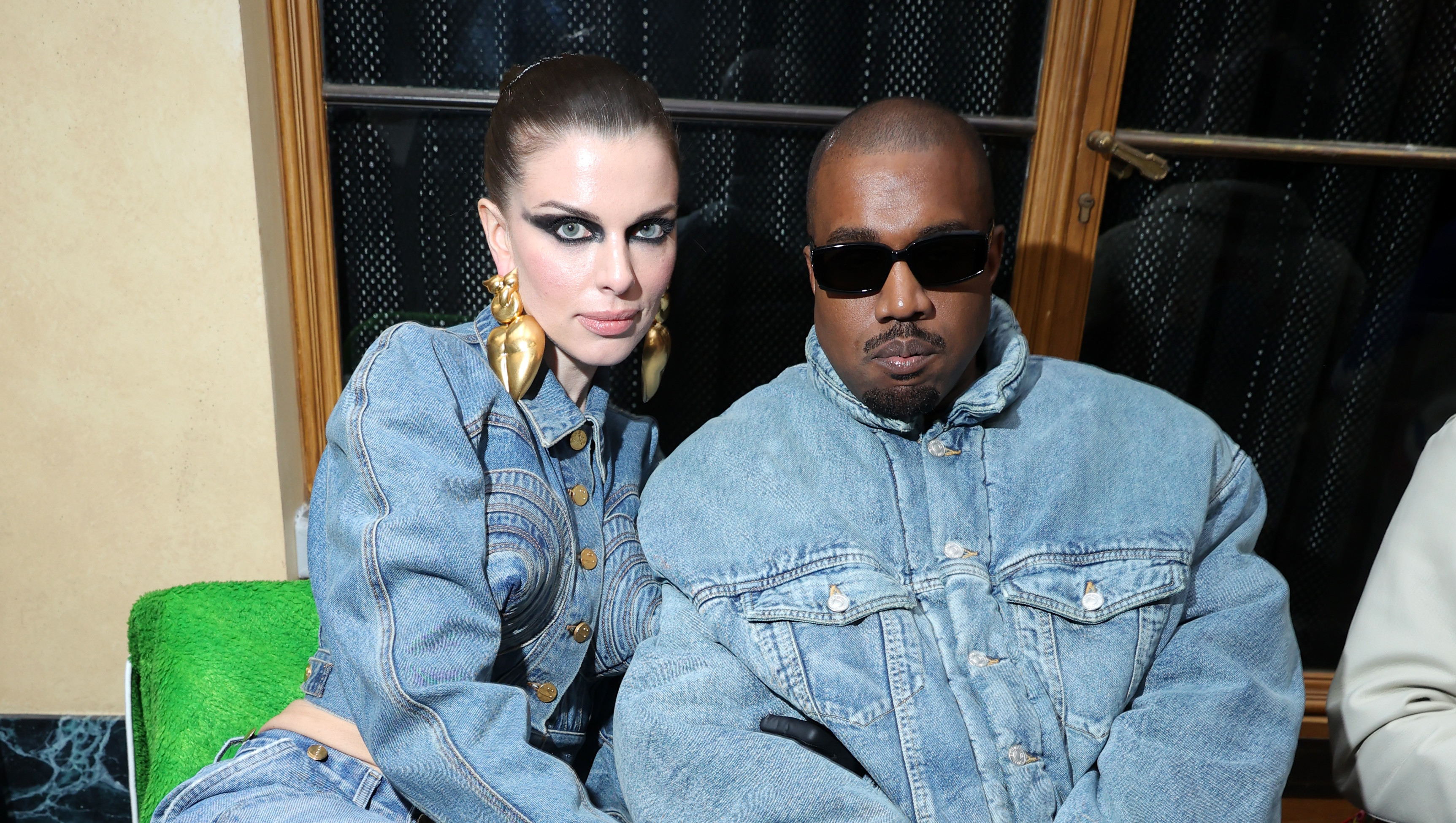 West and Fox make red carpet debut in Paris
Date: Jan. 24
It's not uncommon for popular celebrity couples to get catchy nicknames, like Bennifer, KimYe, Brangelina, etc. What is uncommon, though, is for the celebrities themselves to create them or to use them when referring to themselves. These are usually fan-created or made up by the media, but Fox shared a photo of herself and West from Paris on her Instagram Story and captioned it "JuliYe." It's unclear if she came up with it herself, if Kanye made it up, or if one of the hundreds of fan pages created about them thought of it, but only time will tell if the new nickname will stick throughout the course of the pair's relationship.
Date: Feb. 9
While Fox claimed that the pair was still together, even after deleting photos of them from her Instagram, West's actions began telling a different story. The actress claimed they were in a relationship. "I mean, I call him my boyfriend and he calls me his girlfriend," Fox said during an appearance on the Call Her Daddy podcast. Page Six then claimed that the two were in an "open relationship." It wasn't long before West was spotted out with a model named Chaney Jones at the premiere of his Netflix documentary Jeen-Yuhs, with some claiming she had a resemblance to his ex-wife.
Date: Feb. 2
If you know anything about West, you know that he takes birthdays and holidays seriously. The rapper has been known to go all out for his loved ones to show them he cares through extravagant displays of his love. This time, Fox was the benefactor of West's ability to make the impossible a reality, and the rapper gifter her and her friends five Birkin bags for her 32nd birthday. The rapper was present at the actress' birthday dinner at Lucien in NYC on Feb. 2, and she later took to Instagram to shared photos thanking him for making her day special. 
Date: Feb. 14 
After spending a month and a half together, it looks like JuliYe did not make it to Valentine's Day. A rep for Fox told E! News that she and West are no longer dating, but said they "remain good friends and collaborators but they are no longer together." Fox seemingly confirmed the reports on her Instagram Stories the same day but later deleted the post. After the Daily Mail reported that she had been spotted crying at LAX, Fox cleared up the rumors. "The media would love to paint a picture of a sad lonely woman crying on a plane by myself but it's NOT TRUE," she wrote. "Why not see me for what I am which is a #1 hustler. I came up yall lol and not only that but Kanye and I are on good terms! I have love for him but I wasn't in love with the man Jesus Christ what do you think I am, 12 years old?!"
She shared: "If anything I've been laughing more than before and if I look like shit it's cuz I got out at terminal 1 and ran on foot to terminal 7 cuz I was fkin late for a plane to go see the only men that matter which is my son and my dad. She added that anyone who wants the "full tea" would have to "buy the book when it comes out." Meanwhile, West spent the weekend prior to the romantic holiday coming after his ex's new beau, Pete Davidson, and saying that he wants his family back. On Valentine's Day, he shared photos of a black pickup truck filled with red roses with the words "My vision is krystal klear" written on the side, and tagged Kardashian.