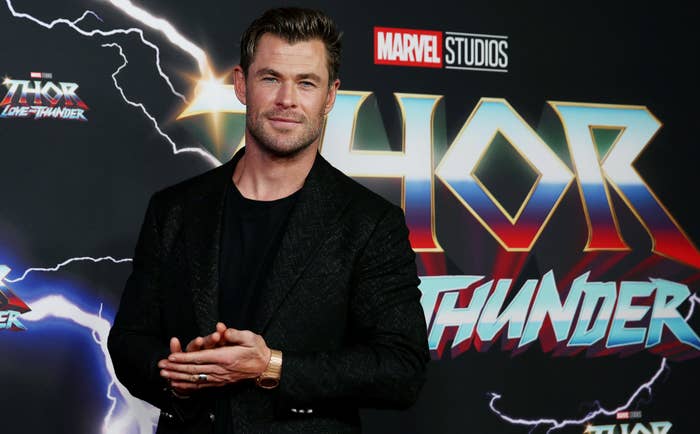 Chris Hemsworth is at his best when he plays Thor. The actor and the superhero are making their return with the standalone Thor: Love and Thunder on Friday, July 8. The film follows a post Avengers: Endgame Thor, whose peace gets disturbed when he has to stop Gorr the God Butcher (Christian Bale) from eliminating all the gods. The superhero recruits his friends Valkyrie (Tessa Thompson), Korg (Taika Waititi), and his ex Jane Foster (Natalie Portman)—who becomes the Mighty Thor—to join his team and put an end to the vicious villain. 
While Love & Thunder has a two-hour run time, there is never a dull moment throughout the film. It is loud, vibrant, and in your face all throughout, and Hemsworth and director Taika Waititi joined forces again on this one, giving their 2017's Ragnarok some intense competition. During his interviews about his latest project, Waititi has been referring to Love & Thunder as being "wild" or "bat shit crazy," and he's not wrong.
"It's the craziest thing [Waititi has] ever done. I think that's what is part of the fun of the journey for the audience is just the twist and the turns it takes," Hemsworth tells Complex. "You think it's going this way, and it turns this way, and the unexpected kind of on-the-edge-of-your-seat sort of nature it has is pretty fantastic."
It's some of the most genuine laugh-out-loud fun you'll have in theaters this year, while also showcasing incredible performances from Hemsworth, Portman, and definitely Bale as Gorr. As much as Thor is a powerful superhero, he is equally hilarious and Hemsworth shines the most in the film's comedic moments. 
We caught up with the actor months ahead of the movie's premiere, and he chatted all about reuniting with Natalie Portman, the surprising cameos, what makes Love & Thunder different than the other movies in the MCU, and more.