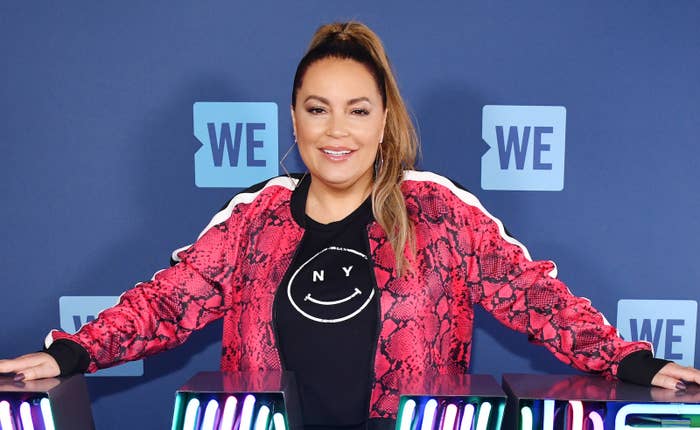 Angie Martinez is joining the iHeartRadio podcast space.
The renowned radio personality is bringing fans her deepest conversations yet with Angie Martinez IRL (In Real Life). The idea for the iHeartRadio podcast sprouted after Martinez suffered a nearly fatal car accident in 2019, leaving her with questions about the meaning of life and a new perspective. 
Martinez, who created and will host IRL, will be sitting down with her famous friends for insightful conversations about the fragility of life and its complexities as well as finding our life's purpose. This season, the conversation will explore legacy, philosophies, and the ways we choose to live, and the following seasons will answer different questions. 
"So we're framing it around life—it's called the Angie Martinez IRL podcast—but it's about life, legacy, mortality, and purpose. Everything that really matters," Martinez tells Complex. "We get so caught up. We're all so busy. We're all chasing things. We're all trying to get money, whatever you're chasing. Whether you're chasing to be the head of your business or run your own business, those are great. We should have goals and there are places to have those conversations about business or finances or hustling. There's plenty of information about that."
She continued: "But if our life was over, if all of our lives were over next month, would any of that matter? What would you really care about? What really are you here for? What really is the thing you want to do while you're here? Let's get to that. I'm curious about that. That's the difference in the conversation."
Season 1 is kicking off with a one-on-one interview with Lauren London, who has kept her interviews at a minimum since the passing of her partner Nipsey Hussle in 2019. The rest of the season will also feature conversations with Mary J. Blige, Joe Budden, and more. Martinez has made a name for herself as a radio personality, currently hosting The Angie Martinez Show on Power 105.1, and has interviewed some of the biggest names in the game during her decades-long career. Her resumé includes conversations with J. Cole, Cardi B, Jay-Z, Tupac, The Notorious B.I.G., and more, and through her work, Martinez has become a trusted source in the media space for both fans and celebrities.
The first episode of Angie Martinez IRL debuts later this month, with a total of six episodes that will arrive weekly. Check out the IRL trailer and our conversation, lightly edited for clarity, with the radio host below.
Can you tell me a little bit about the inspiration behind IRL?
Angie Martinez: I've been through a lot in my life. I've experienced a lot. I still love what I do regularly. I love talking to artists. I love talking about music and all those things, but I just wanted to do more. There are conversations I want to have that I wasn't necessarily having. I've had a challenging couple of years as the whole country has. Personally, I was in a bad car accident a few years ago, but then COVID, and just the way the world was, I was feeling all of these ideas about life and what's important and all the weird things we do. Trying to navigate through that and wondering about having these deeper conversations with artists or people that have interesting stories. It's not just artists, honestly.
The first batch is really about that: Life, mortality, what do we do while we're here? What do we really care about? I think we get so caught up. Everybody has a podcast, everybody has a platform. Everybody's trying to get numbers. Everybody's trying to do something. I really wanted to create something that was safe for people to tell their stories, a safe place. A place where it's not agenda-driven. It's just an opportunity to share some experiences and share some stories in a way that's an offering to folks.
For sure.
AM: Because we all go through shit, right? So where is the platform where people can feel comfortable sharing those things and feel safe? Their stories are not going to be exploited? But also be able to share, because people need it. How we all cope, it's necessary to share that information because people are struggling out here in all types of different ways and it's not always serious and heavy. It's just about real life. It's just about the things that we go through, all the challenges that we all have, and being able to share our stories with each other.
Like everybody else, I was in my own head for a while, while we were all locked down and thinking about what was important in life and what were we wasting time on? We all had to sit down. That shifts everybody. That's a big shift. So a lot of the questions and a lot of things I was thinking about at that time are some of the conversations we're going to hear on this podcast.
People did a lot of self-reflection and thinking about what they're doing in their current life, what they want to fix, or what they want to do better. You had the car accident, and moments like those really make you shift how you view the world and how you view yourself and what you're doing and what you're not doing.
AM: Yeah. It's not even so much like, "I've got it all figured out." Definitely not. This is not that "I have figured it all out" podcast. Let us all talk about the shit that we really think about and how we feel and that we struggle with, or that we learned and we want to tell everybody, like, "Yo, I figured this out." 
It's just a place to share ideas, thoughts, and experiences. In a way, hopefully, what I'm trying to create is a safe space and in a way that people could really be vulnerable and really offer real-life experiences and some real-life anecdotes.