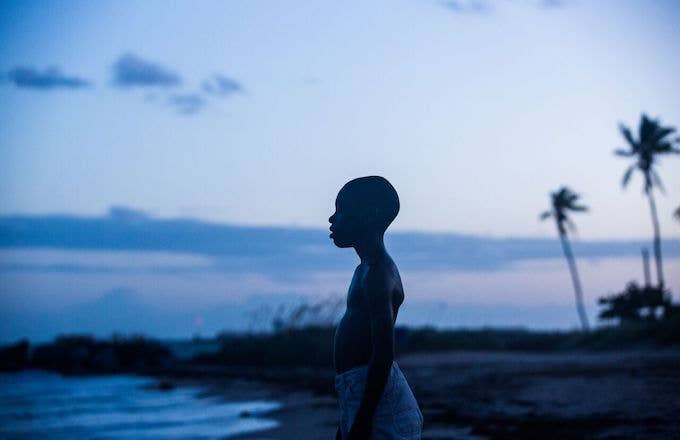 There's beauty in the understated. There's beauty in the subtle. There's beauty in the unexpected, and it's absolutely beautiful when this magnificent confluence amounts to history.
That's what the 89th Academy Awards will be remembered as: a moment in history. Moonlight, positioned as the David to La La Land's Goliath, won three Oscars last night—the big award, included. Moonlight became both the first film with an all-black cast and the first LGBTQ-focused film to claim Best Picture amid a surreal disarray that, almost certainly, will overshadow this masterpiece's historic accomplishments. Along with Best Picture, Moonlight won Best Adapted Screenplay and Mahershala Ali (who, like on-screen better-half Janelle Monae, appeared in two Best Picture nominees) began the ceremony by winning Best Supporting Actor. Adding to the history were Viola Davis, who won Best Supporting Actress for her performance in Fences, and Ezra Edelman, whose O.J.: Made in America took home the award for Best Documentary Feature. It marked the first time the Oscars telecast featured more than three black winners, and it came 15 years after Halle Berry and Denzel Washington's historic Oscar wins engraved the first time two black performers won the top acting awards into the record books. And standing atop this annual celebration of Hollywood's best is Moonlight, a film that couldn't be more anti-Hollywood.
As the story of a closeted black man wrestling with his sexuality across three phases of life in Miami, Moonlight is devoid of any Oscar bait. As the deserved Best Picture winner, it defeated Hollywood's self-congratulatory machine on the strength of perfectly orchestrated subtlety. Moonlight's overarching victory is one for the underserved communities who have spent years awaiting its arrival. But each of its three Oscars are a testament to its subtlety, which is its reigning accomplishment.
Moonlight's greatest strengths lie in its nuances: the things that go unsaid; the things implied. Because film is a visual medium, it's the actor's responsibility to pull this off. Acting is more than the lines uttered, it's how they're delivered and the mannerisms that accompany that delivery. It's the body language and the little distinctions that truly animate a performance, and Mahershala Ali's mastery of these moving parts are what made him the first Muslim actor to win an Oscar. As Juan, he becomes Chiron's (played at this stage by Alex Hibbert) surrogate father after finding him in an abandoned apartment. From their first meeting, it's clear that Juan is the first person to be genuinely kind to Chiron. Ali sells this, almost effortlessly, through the kindness in his eyes. Through the warmth in his smile and his ability to be gentle with a child he immediately recognizes as fragile. As a drug dealer who presumably had to utilize ruthlessness at some point during his criminal career, Ali makes Juan patently humane above that. Flaws and all, Juan is good-hearted and willing to nurture someone who had never been shown love before. Ali's restraint, easy laughter, and brilliance are guided by Moonlight's vivid writing.​
Writer and director Barry Jenkins adapted Moonlight from playwright Tarell Alvin McCraney's In Moonlight Black Boys Look Blue. Because the film is so rich in subtlety, its script is remarkably detailed, framing scenes from mood to music—one of Moonlight's most resonant elements. There's the To Pimp a Butterfly homage at its beginning. There's Goodie Mob's "Cell Therapy" signaling how institutionalization transformed Chiron from shy teen to "Black," a drug dealer imagined in Juan's image. And there's the chopped and screwed version of "Classic Man," Jidenna's augmented vocals speaking to Chiron's hetero facade. But the most poignant and arresting is Barbara Lewis's lowrider oldies classic, "Hello Stranger," from the diner scene where Chiron and Kevin (now played by André Holland) reunite. 
The skittering hi-hats, the wistful swing, and the lyrics—in tandem with Trevante Rhodes and Holland's body language—say everything Chiron and Kevin are unable to. And the reality is that they don't need to, because the scene's beauty is in the music and action, all of which are woven into the script.
"The reason that song is in the film is because it's written in the script—the lyrics are literally written into the script—and on set when we filmed that scene, we actually played the song out loud during the takes, which you're never supposed to do because you can't guarantee you're gonna clear the rights of the song," Jenkins told Complex last year. The scene's muted genius flows right into the film's ending. Its final moments are simple, and the script's last page, all action, is downright lyrical. 
Historically, Moonlight, made with zero regard for the flashing lights and white microscope of Hollywood, would only be granted the opportunity to be runner-up. Its Best Picture win feels monumental, because Moonlight stands in such stark contrast to the begrudgingly favored La La Land: a film about white jazz in Hollywood—a film made by Hollywood, for Hollywood. The Academy doesn't do right by black cinema, but Moonlight's subdued genius was pitted against Hollywood's iron curtain of institutional racism and overcame it. This development happened across a traditionally hard racial line, just when everyone who knew better was well on their way to writing the Academy's promises to recognize diversity off, and especially after La La Land was erroneously announced as the Best Picture winner. The conclusion of the 89th Academy Awards was chaos, a typical Hollywood ending. And still, Moonlight—the calm in face of the storm—emerged as the rightful winner.
That's something that rarely happens for minorities in Hollywood. Typically, the Academy gets it wrong. But for one night, the perennially outshined beamed through the madness. Moonlight's Oscar victories (the big one, most importantly) should show every black creator that their stories, wherever they lie within the experience's spectrum, deserve the highest recognition. It says that we can not only defy history, but create it.