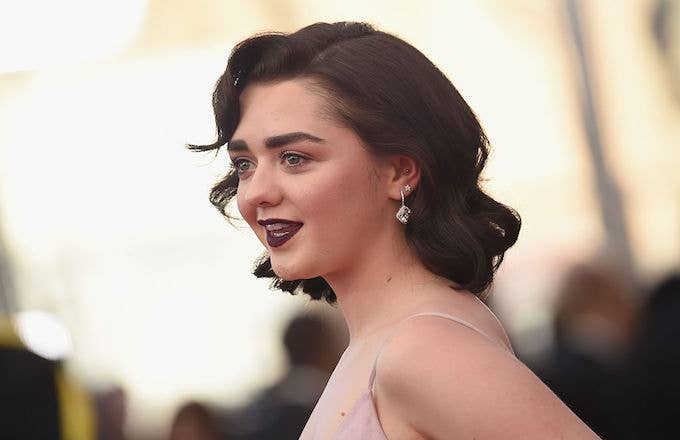 Game of Thrones star Maisie Williams was only 14 when the show first aired seven seasons ago, and even though she's grateful for that experience, she is more than ready to move on.
"I'm really excited for Game of Thrones to finish and there's going to be time for me to do whatever I want," Williams recently told BBC Newsbeat. "That's just incredibly exciting and it will be nice to pick roles that I want to do."
Williams is now 20 years old and looking forward to working on projects that are totally different from the fantasy world of Game of Thrones. As the show heads into its last season—even though it hasn't started filming yet and no one knows when it will air—Williams has begun looking to other opportunities. She has just started her own production company, and wants to get more involved in indie movies.
She recently appeared at the British Independent Film Awards to announce the nominees, and it was a kind of wake up call for her, she says. "Coming back here and listening to all the films nominated and getting back into watching independent films just makes me realize how much I miss it," Maisie said. "It's the only place I've ever really wanted to be to be honest."
But Game of Thrones, which is the show largely responsible for catapulting her fame, has been a huge hit worldwide and the cast has become like a family to her. For example: Sophie Turner, who plays Williams's sister on the HBO show, has become her best friend.
"On one hand it's really nerve wracking to know that I won't have that support blanket and safety net, but on the other hand I'm free," the actress said.
While she has a mind for independent movies, her next role on the big screen is not so small. She will appear in next year's X-Men: The New Mutants. Regardless, she is looking forward to this new chapter in her acting career.
"I can show the world what sort of actress I want to be and shape my career a little bit," Williams said.
And she also seems to have a pretty good idea of what the shape of her career might look like.
"I'd love to do a British independent film, I'd love to make it and I'd love to be in it. There are a couple of directors that I'd love to work with - Dexter Fletcher being one," Williams said. "I'd like to just do some work… for Britain."