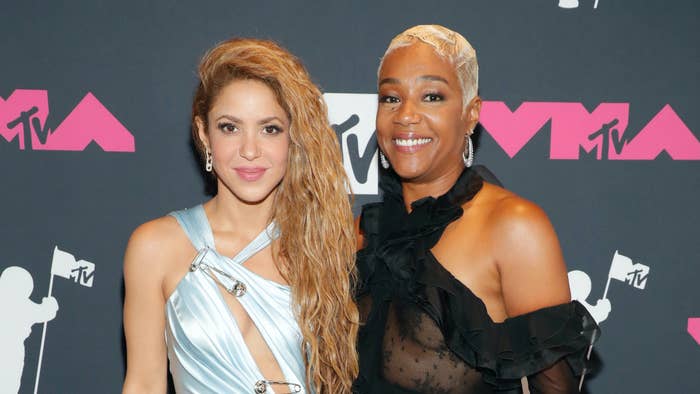 It's clear Tiffany Haddish is a huge Shakira fan.
The 43-year-old comedian went viral this week when she was filmed chasing Shakira down at the 2023 MTV Video Music Awards. A video shared by the @NowWutDotCom Instagram account showed Haddish at the Prudential Center in Newark, New Jersey, as she fails to catch the pop singer's attention. Shakira was seen making her way through a crowd and snapping a few photos with fans as Haddish repeatedly shouted, "Shakira! Shakira!" — an apparent reference to the artist's 2005 hit "Hips Don't Lie" featuring Wyclef Jean.
Shakira continued to walk forward without ever looking back at Haddish. Some Instagram users were convinced Shikira simply didn't hear Haddish, while others believed the Grammy winner was intentionally ignoring the shouts.
"I got 2nd hand embarrassment from watching this lol," one person wrote.
"Embarrassing bruh," another commented, "She is almost literally chasing her down."
"Nah, this is F'd up and madd nasty for her not to turn around at all," one user added, referring to Shakira.
Haddish eventually caught up to Shikira, who had paused for a few moments to take a picture with another attendee. The Girls Trip star then decided to photobomb Shakira from behind but was seemingly ignored — once again.
Other photos from the night showed Haddish pulling a similar stunt throughout the night. One snap showed Haddish crashing Shakira's photo with Karol G, while another showed her photobombing the singer on the red carpet. It's unclear how long Haddish had been chasing Shakira, but her efforts eventually paid off, as they snapped a few pictures together at the end of the night.
Shakira was at the ceremony to receive the highly coveted Video Vanguard Award. The Colombian singer treated the audience to a medley of hits, including "She Wolf," "Whenever, Wherever," "Te Felicito," and the aforementioned "Hips Don't Lie." After the performance, Wyclef presented Shakira with the Vanguard trophy.
"Thank you, MTV. Thank you for being such a big part of my career since I was only 18 years old," she said in her speech. "I want to thank my parents and my kids, Milan and Sasha, who are here. Thank you so much for cheering me up and making me feel that 'Mama can do it all'… Especially I want to share this award with my fans, who always, always support me through thick and thin. Thank you so much for being my army and helping me fight all my battles. Este es para mi gente."