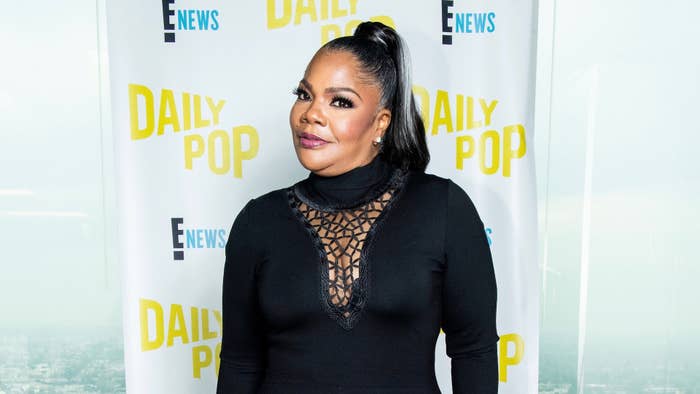 Mo'Nique has shared more details about her highly publicized beef with some of Hollywood's biggest players.
During a recent appearance on Turnt Out with TS Madison, the 54-year-old actress/comedian was asked about her years-long claims about being "blackballed." Mo'Nique previously called out Tyler Perry, Oprah Winfrey, and Lee Daniels alleging they tarnished her career after she declined to participate in the Precious awards campaign. 
She explained to Madison that after a decade of drama, Perry eventually agreed to give her a call in an effort to bury the hatchet. Mo'Nique said it was at that time Perry expressed regret for how he treated her and confirmed he had every intention to publicly apologize. The actress said she recorded that conversation, and Madison claimed she had heard it.
"Mo'Nique is telling the truth," the host said.
The actress went on to say that she had played the audio for people like Kevin Hart and the Rev. Al Sharpton, who allegedly asked Perry to contact Mo'Nique once again. She said Perry initially refused to do so, but eventually told one her friends he would speak with her on two conditions: her husband/manager could not be involved and she had to apologize to him and Oprah over the "blackball" claims.
"Now that was recent," Mo'Nique said. "So, as I sit here with you, and you say, 'Wait a minute. I heard that man say he was wrong and was going to apologize.' Well that's turned into, 'I'll meet with you—not with your husband—and now you have to apologize to me.' How does that happen? I'll tell you how."
Mo'Nique then looked directly into the camera and broke down Hollywood's history of targeting Black women who aren't afraid to stand up for themselves.
"Oftentimes when it comes to a Black woman speaking up and speaking out, it goes unheard until she dies. Then once she dies, then we go back and say, 'Well, she was right,' and 'let's make a movie about it.'" she explained. "See, I can give you their names: Eartha Kitt. I can give you their names: Hazel Scott. I can give you their names: Fannie Lou Hamer. I can give you their names: Hattie McDaniel. All of those women took a stand, and all of those women left here heartbroken, unhealthy, looking at a community saying, 'Y'all know I'm right, but why won't anybody say anything?'"
The beef between Mo'Nique and Perry stems from her refusal to promote Precious, which was not in her contract to do. Her role earned her the award for Best Supporting Actress at the 2009 Oscars. Mo'Nique told Madison she refused to campaign for a couple of reasons: first, she wasn't going to sacrifice family time for festivals and press junkets; and second, she wasn't contractually obligated to do so. She explained she agreed to star in the Lee-directed Precious for just $50,000 because it was a small independent movie. However, after the project received rave reviews at the Sundance Film Festival, Perry and Oprah signed on as executive producers, which gave the movie a significant boost. 
Mo'Nique said the team behind Precious urged her to campaign for the film, but she made it clear she wouldn't do it for free.
"What I was not going to do was to make Hollywood the priority," she said, before recalling her and Perry's conversation at the Neighborhood Awards. "… I said [to Perry] I'm not in the business of working for free. So we had a mutual agreement. No problem. We got up, we hugged, everything was good. When they knew that I was not going to be the actress or be the one that say, 'Because it's them, I gotta do it.' No. I don't care who it is … Now comes the blackball."
Mo'Nique said she began hearing reports that she was "difficult to work with," and Perry even went so far as to bad-mouth her to director David E. Talbert. Though she said she never heard Oprah say anything bad about her, she pointed out that that media mogul chose to stay silent throughout the ordeal. However, she insists she currently has no hate for Perry, Oprah, or Lee.
"Let me be clear: I love those people. We love those people, my husband and I love [them]. They're our brothers and sisters," she said. "And, as my husband always says, 'Momma, we ain't calling nobody out, we're simply calling them up to say, listen let's make our community better by making it right, not running and hiding by what you consider is your power."
You can check out the full interview above.
Popular blog ATLien posted an alleged copy of the audio between Perry, and Mo'Nique which can be heard below: