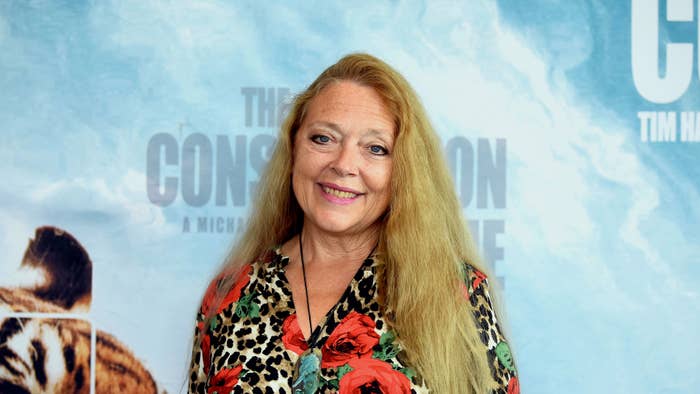 Carole Baskin's presumed-dead husband was supposedly found alive, and it took more than a year for most people on social media to find out.
Per the New York Post, the revelation was made known in late 2021, when Baskin gave an interview to UK talk show This Morning. The 61-year-old animal rights activist shared her thoughts on Tiger King Season 2, which revisited the mysterious disappearance of her first husband, millionaire Don Lewis.
In Season 1, series centerpiece Joe Exotic relentlessly accused Carole of murdering Lewis, who was reported missing on Aug. 19, 1997 and declared legally dead in 2002. Though Baskin has consistently denied the claims, many viewers remain convinced that she was somehow involved in Lewis' death. Baskin addressed the allegations during her sit-down with This Morning, claiming Tiger King's second season cleared her name.
"One of the really exciting things that came out of Tiger King 2 is that they produced a letter from Homeland Security and it says that a special agent in charge with the FBI at Homeland Security reached out to the sheriff's detective George [Jorge] Fernandez. Which means this had to have happened after 2002, because Homeland Security wasn't even around until 2002," Baskin told the hosts. "I don't know how it is that Homeland Security says he's alive and well in Costa Rica, but I'm glad to hear it. I didn't think he was capable of supporting himself. He took about a million dollars down to Costa Rica, I had agreed to let him do that so he could prove to himself that he could make a living."
Carole and her husband Howard Baskin addressed the topic in a 2021 blog post, where they shared a photo of a purported DHS document that states "Lewis is currently alive and well in Costa Rica." She claimed she was unaware of the DHS' supposed findings until after Tiger King Season 2 premiered.
"Also noteworthy is the document they display from Homeland Security, which was not formed as an agency until 2002, five years after Don Lewis' disappearance, saying they had information that Don Lewis was alive in Costa Rica," she wrote in the blog. "Why is this just appearing?"
DHS has not publicly confirmed the document's authenticity.
See a variety of reactions to the resurfaced clip below.