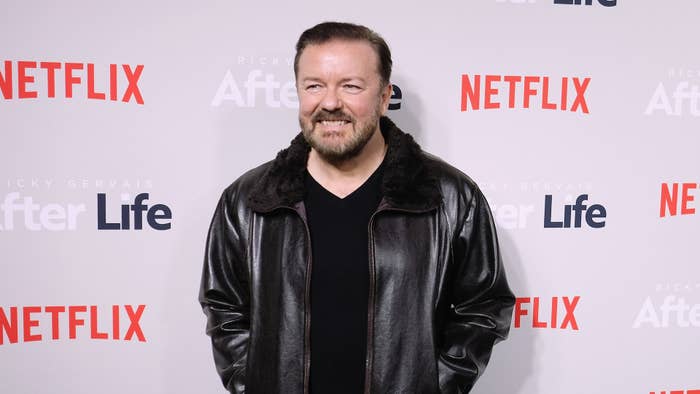 In wake of the COVID-19 pandemic, Ricky Gervais had some things that he needed to get off his chest, and The Sun gave him the freedom to speak his mind. 
Gervais first directed his attention at people who previously complained about health care workers before turning the spotlight on those celebrities who have publicly struggled with staying at home. 
"After this is over I never want to hear people moaning about the welfare state again, I never want to hear people moaning about nurses again. Or porters," he said. "These people are doing 14-hour shifts and not complaining. Wearing masks, and being left with sores, after risking their own health and their families' health selflessly. But then I see someone complaining about being in a mansion with a swimming pool. And, you know, honestly, I just don't want to hear it."
Last week, Ellen DeGeneres removed a YouTube video where she jokingly compared being quarantined to being in jail. "One thing that I've learned from being in quarantine is that people — this is like being in jail, is what it is," DeGeneres said. "It's mostly because I've been wearing the same clothes for 10 days and everyone in here is gay." The "joke" didn't go over so well. 
Sam Smith took down an Instagram post in which they attempted to illustrate the "stages of a quarantine meltdown," which ranged from boredom to tears. 
Gervais explained that his issue with celebrities complaining over the shutdown stems from being humbled by his upbringing with his parents who were both hard-working individuals. "Men worked hard, but women worked miracles," he said. "Because when my dad finished his work that was his own time. But my mum didn't stop working, women didn't stop working. Carers didn't stop working, all the women in my family were carers in some respect." 
Gervais said that he learned through his mother that despite doing everything she could for him, "the best things were free," including healthcare, which still doesn't apply in the United States. "I had no money growing up, I didn't have any until I was 40. But I still had everything," he recalled. "My mum, she gardened, she grew, she cooked, she sewed, she knitted, she decorated, she did everything she could. And she gave me everything I wanted except money. I also realised growing up that all the best things were free — friends, nature, learning and healthcare."