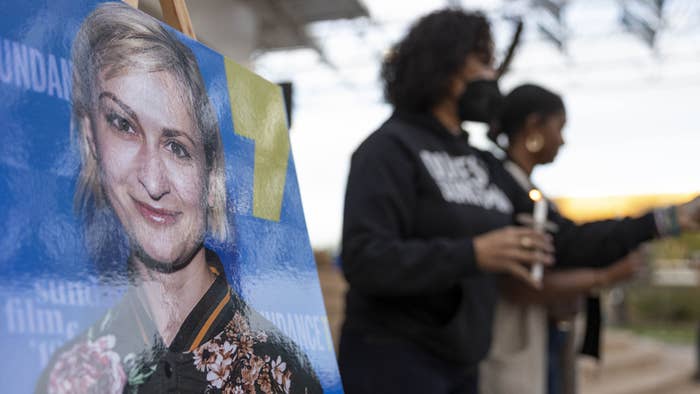 Halyna Hutchins' father spoke out for the first time since the death of his daughter.
"We still can't believe Halyna is dead and her mother is going out of her mind with grief," Anatoly Androsovych told British tabloid  The Sun. Even though Hutchins was struck by live ammo inside a prop gun fired by Alec Baldwin, Androsovych doesn't blame the actor for her death, saying, "But I don't hold Alec Baldwin responsible — it is the responsibility of the props people who handle the guns." 
Deadline reports that a crew member complained of "poor gun safety" on the set. There was also allegedly a separate incident just "days before" where a prop gun mishap led to "two misfires in a closed cabin." 
Meanwhile, Baldwin was spotted in New Mexico having an emotional meeting with Hutchins' husband Matthew and her 9-year-old son. He told CBS News that Baldwin has been "very supportive" since her passing.
Matthew has since shared a series of photos on Instagram Saturday, simply captioned, "We miss you, Halyna!" 
He also tweeted a statement:
"Halyna inspired us all with her passion and vision, and her legacy is too meaningful to encapsulate in words," he wrote. "Our loss is enormous, and we ask that the media please respect my family's privacy as we process our grief. We thank everyone for sharing images and stories of her life."
Rust director Joel Souza, who was also injured, was discharged from the hospital on Saturday. 
"There are no words to convey my shock and sadness regarding the tragic accident that took the life of Halyna Hutchins, a wife, mother, and deeply admired colleague of ours," Baldwin said in a statement via Twitter. "I'm fully cooperating with the police investigation to address how this tragedy occurred and I am in touch with her husband, offering my support to him and his family. My heart is broken for her husband, their son, and all who knew and loved Halyna."