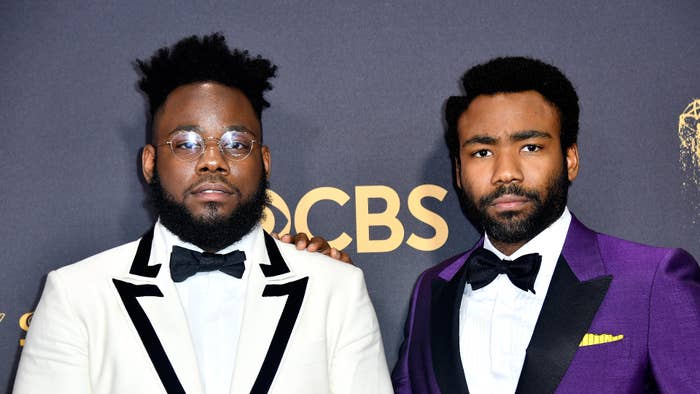 UPDATED 9/15, 4 p.m. ET: Donald and Stephen Glover's Lando is pivoting from a Disney+ series to the big screen.
Variety reports the project, which is based on the Star Wars character Lando Calrissian, is now being developed as a theatrical feature film by Disney-owned Lucasfilm.
The news arrives a day after Stephen teased that Lando was shifting gears during an appearance on the Pablo Torre Finds Out show.
"It's not even a show…the idea right now is to do a movie," Glover shared. "Right now, because of the strike, it's kind of like telephone, all of the information."
See original story below.
Donald Glover and his brother Stephen will write the scripts for an upcoming Disney+ series centered around Star Wars character Lando Calrissian.
Haunted Mansion director Justin Simien was previously tapped to write Lando, but left the project last summer to focus entirely on the star-studded feature based on the theme park attraction of the same name, according to Jeff Sneider for Above the Line. The Glover news was subsequently reported by Variety and Deadline.
"This is me finding out rn," Simien wrote on his Instagram Stories on Thursday night.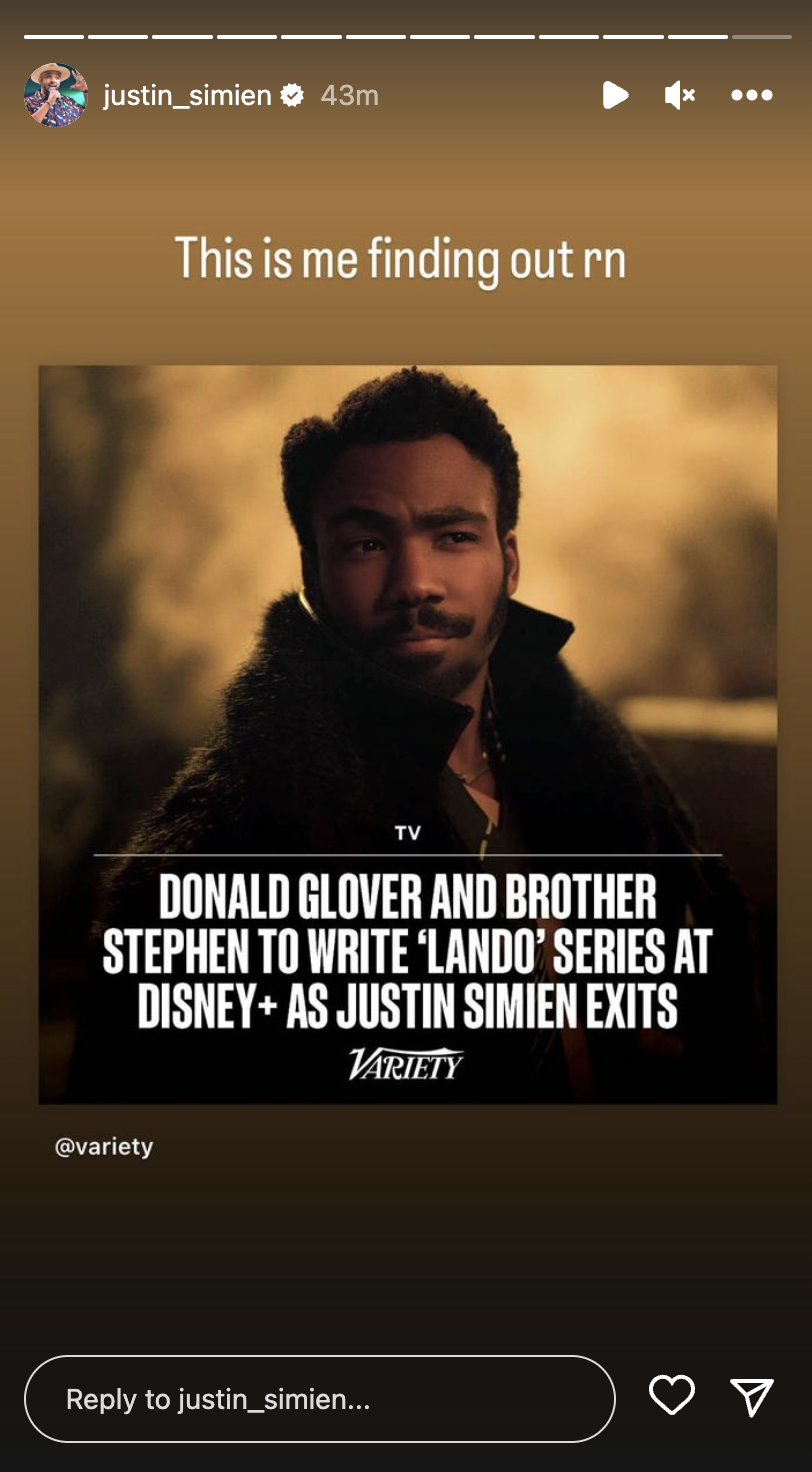 The Hollywood Reporter published an extensive interview with Simien on Thursday where the filmmaker claimed he was still attached to the Lando show, but wasn't absolutely sure.
"I am attached, I think, but I don't really know. [Laughs] The last thing I was told was that they loved it but needed to put a pin in it until they could figure out everybody's availability," the Dear White People creator said. "I haven't investigated further, but I'm not an idiot. I'm not alone in that experience."
Simien continued, "But I can't help but wonder, 'Am I too Black? Am I too queer? And people just don't want to say that?' Because it seems like I develop things with these companies and they just never happen for reasons unknown."
Variety reports the Glover brothers—who have collaborated extensively on Atlanta as well as Swarm and Guava Island—struck a deal prior to the start of the writers' strike.
The Lando Calrissian character was popularized by Billy Dee Williams in The Empire Strikes Back and Return of the Jedi before reprising the role over three decades later in The Rise of Skywalker. Glover assumed the role in the 2018 prequel Solo: A Star Wars Story—and, memorably, SNL—and seemed open to the idea of a return last year.
"I mean, I would love to play Lando again," Glover said in a GQ video. "It's a fun time to be him. It just needs to be the right way to do it. I'm all about, like, now it's like time is precious. I think everybody—like the past couple of years, this pandemic shit—really had people experience time in a way where they're like, 'Well … I should be around oranges!' People kind of realize their time is valuable. You only get so much."
News of the Glovers' creative involvement in Lando series comes after Disney CEO Bob Iger stated that the company intends on scaling back on Marvel and Star Wars projects due to a "diluted focus and attention" among audiences and decision-makers.
With three "confirmed" marquee movies and several shows already in the Star Wars pipeline, it seemed uncertain Disney would invest in Lando.
But when the Glover brothers call, you have to pick up.