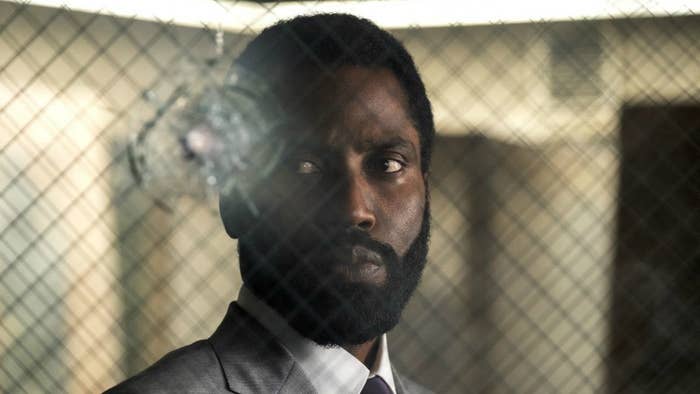 Warner Bros. has made a number of changes to its release date calendar. 
The studio announced Friday that Christopher Nolan's sci-fi thriller Tenet will now set to hit theaters on July 31. The film was originally scheduled to premiere on July 17; however, Deadline reports Warner Bros. will instead screen Nolan's Inception on that day in celebration of its 10-year anniversary.
"We're especially thrilled, in this complex and rapidly changing environment, to be bringing Christopher Nolan's 'Tenet,' a global tentpole of jaw-dropping size, scope and scale, to theaters around the world on July 31," Toby Emmerich, the chairman of Warner Bros. Pictures Group, said in a statement to Deadline. "It's been longer than any of us could've imagined since we've seen a movie on the big screen, and to acknowledge Chris' fans as we count down to 'Tenet''s opening day, we are also excited to offer his masterpiece 'Inception' in theaters for its 10th anniversary on July 17."
The group that Warner Bros. is partnering with to re-release Inception, NATO, also issued a statement in regards to the occasion.
"We are excited that our partners at Warner Bros. will offer a new generation of film fans the opportunity to enjoy Inception the way it was originally intended to be seen – on the big screen. Over these last months, we have been keeping Warner Bros. closely informed of our work towards reopening our theatres in accordance with governmental health and safety requirements, and we are looking forward to audiences enjoying Tenet in our theatres all around the world on July 31st."
Warner Bros. also confirmed Wonder Woman 1984 will be moved from Aug. 14 to Oct. 2, while the Matrix 4, which is expected to resume production sometime next month, is slated to premiere April 1, 2022, nearly one year after its initial release date. 
Legendary's Godzilla vs. Kong won't hit theater's in 2020 as expected; it will instead arrive on the Matrix 4's original premiere date, May 21, 2021. The live-action hybrid Tom & Jerry film has been moved from this year's Christmas week to March 5, 2021.
The announcements come at a time when New York City theaters have yet to be officially reopened, with the city entering Phase One of their reopening plans.