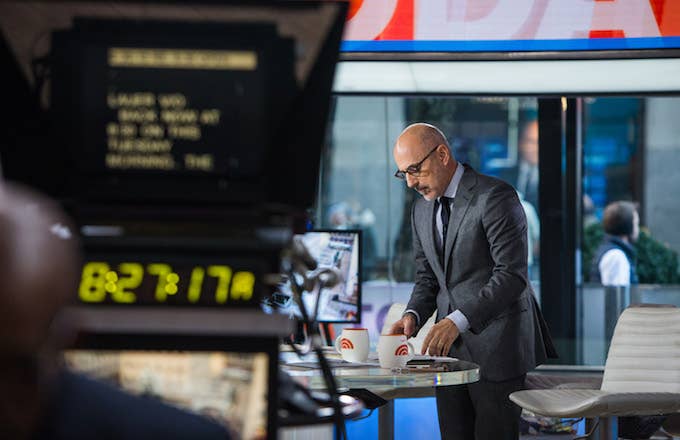 Despite being fired from The Today Show after multiple accusations of sexual harassment, Matt Lauer is reportedly still attempting to exert control over the show he spent more than 20 years hosting.
According to Page Six, Lauer contacted a producer on the show to let them know he didn't agree with their music choice in a segment. Unsurprisingly, their source says Today Show staff were less than thrilled to hear from a man who reportedly exposed himself to coworkers and had a secret button on his desk that locked the door to his office without them knowing.
Lauer has since been replaced by longtime Today Show 4th hour host Hoda Kotb and will not be receiving settlement money from NBC despite having $30 million left on his deal. Page Six reported that Kotb will be paid $7 million per year, far less than Lauer's $25 million annual salary. Lauer contacted Kotb after she was named his replacement. Kotb told E! News he "had some nice words" in his message and that "It meant the world to me to hear from him."
Lauer is one of many prominent male media personalities who has recently lost their job and faced public scrutiny over allegations of sexual misconduct.
In a statement following the misconduct allegations, Lauer wrote that, "Repairing the damage will take a lot of time and soul searching and I'm committed to beginning that effort. It is now my full time job."
Clearly, he isn't devoting enough effort to it if he still has time to try and meddle with his old show.