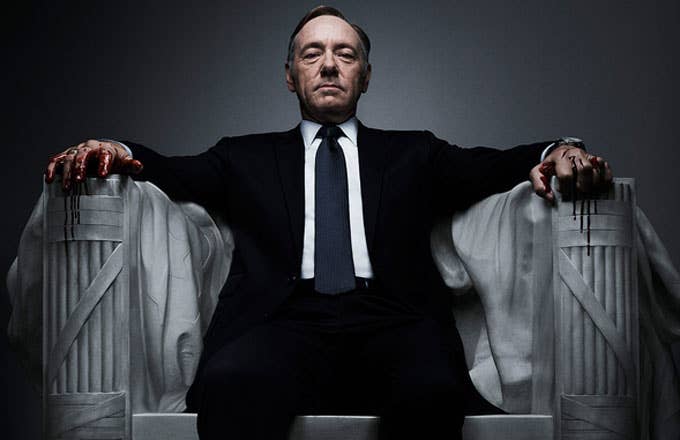 UPDATED 10/31/17 3:08 p.m. ET: Netflix has now suspended production on the final season of House of Cards "indefinitely." In a joint statement to Deadline Tuesday, Netflix and MRC announced the decision was made to give them time to "review the current situation" and address cast and crew concerns.​
The Intentional Academy of Television Arts and Sciences also announced their decision to withdraw Kevin Spacey's International Emmy Founders Award.
See original story from 10/30/17 below.
Netflix will reportedly be pulling the plug on House of Cards following the conclusion of its upcoming sixth season. Though they didn't confirm it (and though the decision to make the upcoming season the last was made months ago) the timing of the announcement is almost certainly not a coincidence, as it comes less than 24 hours after accusations against the show's star, Kevin Spacey, were aired by fellow actor Anthony Rapp. Rapp says that a 26-year-old Spacey made sexual advances on him in 1986 when he was just 14.
After those accusations were made public Spacey sent out this two-paragraph apology that does not appear to have been well received:
On Monday GLAAD (as well as several gay activists) criticized the statement, pointing out that Spacey is trying to deflect the sexual misconduct accusations by coming out.
On Monday, Netflix released their own statement on the sexual assault allegations against the show's star (who's also an executive producer). 
Media Rights Capital and Netflix are deeply troubled by last night's news concerning Kevin Spacey. In response to last night's revelations, executives from both of our companies arrived in Baltimore this afternoon to meet with our cast and crew to ensure that they continue to feel safe and supported. As previously scheduled, Kevin Spacey is not working on set at this time.
In an era before they started buying everything that caught their eye, House of Cards helped Netflix really announce its presence when it came to original programming after it debuted more than four-and-a-half years ago. Since 2013, the show has snagged 33 Primetime Emmy award nominations, in addition to eight Golden Globe noms.
Production of season 6 began earlier this October. The final season will be aired in 2018.
If you or someone you know has been affected by sexual assault, call 800.656.HOPE (4673) for confidential help 24/7.