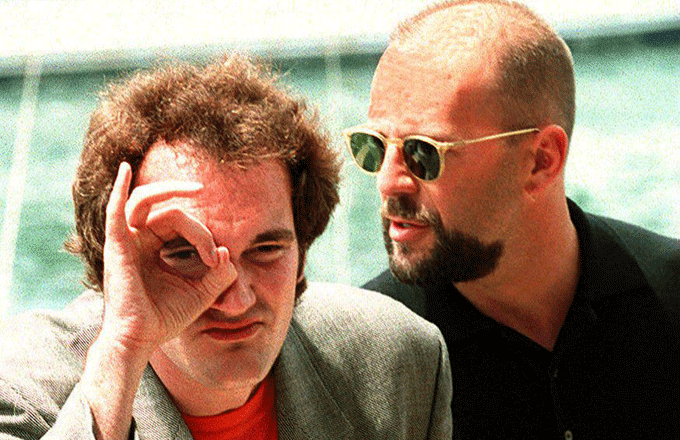 In an alternate universe, Bruce Willis was Bill in Kill Bill because David Carradine and Warren Beatty passed on the opportunity. Uh, is that something that needs more context? Oh, okay. Well, here you go. 
Kill Bill writer/director Quentin Tarantino was on an episode of Cinema Blend's Reel Blend Podcast Thursday, and talked about the actors he had in mind to portray Bill in both Kill Bill movies. Obviously, David Carradine ended up getting the part, but Tarantino made it clear to all the hypothetical casting fans out there that it was originally intended for Beatty, and that he also thought that at one point Willis could be the man for the job, since he wanted to work with him so badly after they teamed up for Pulp Fiction. 
"I wrote [the character of] Bill for Warren Beatty and it ended up not working out," Tarantino said, according to Cinema Blend. "And then I cast David Carradine, and kind of rewrote it for David Carradine. Bruce [Willis] would have been my third choice… When I read the original version of Kill Bill, it kind of cracks me up now, because it's the Warren Beatty version."
Had Tarantino gone through with casting Willis, and who the hell knows how close that really was, then he says he would have only had to make subtle changes to the character, perhaps by making Bill a tad more rustic. 
"When I look at that original version, you know, Bill was a little bit more of an evil James Bond type," Tarantino added. "Okay? Rather than the Bondian villain, he was more like an evil Bond. And he kind of had this, he had a Warren Beatty kind of quality about him. And frankly, to tell you the truth, I probably wouldn't have to had rewritten it that much if I had cast Bruce in it. Bruce could have actually played that evil James Bond kind of character and I would have just leaned into his personality maybe just a little bit more. A little less Cristal. A little bit more Coors, all right. A little less champagne, a little more beer."
Speaking of Pulp Fiction, the podcast also revealed Tarantino's take on whether or not Vincent (played by John Travolta) intentionally shot Marvin in the face in the 1994 Oscar-winning film. For background, this theory was voiced by Samuel L. Jackson while on the press tour for Spider-Man: Far From Home. As Jackson suggested, Vincent deliberately shoots Marvin as payback for not alerting him and his partner-in-crime, Jules (played by Jackson), that someone was hiding in the apartment with a gun.
To jog your memory:
All Tarantino had to say about this was that, if he leaves something open, it's intentional. 
"Well, look, in my movies, if I want you to know, I tell you," he said. "And if I leave it open, I'm leaving it open for you. So I could tell you what I think. But if I tell you what I think, then that is the way it is. And I've got no problem with Sam's version of it. And I have no problem with anybody else who has that version of it. But I don't want to tell you what to think. I actually liked, I like the fact that both… I love any scenario where both ways almost equally work."
Go listen to the whole episode over at Cinema Blend.