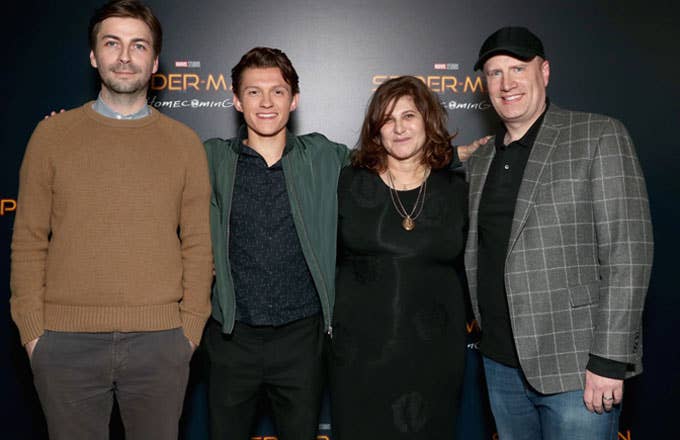 It was all good just a month ago. On July 4th weekend, Spider-Man: Far From Home dropped to both huge bags of cash at the box office and critical acclaim, with a majority wondering if it had unseated Homecoming and Tobey's Spider-Man 2 as the best Spider-film to date, and wondering if Tobey himself had to take the L as GOAT Peter Parker to Tom Holland. With an end credits scene that all but blew Peter Parker's world up, the hype to see where a third film went and how it fit into the larger context of the MCU was inherent. Now, several weeks later, that future is in jeopardy.
It was reported earlier today by Deadline that the deal Marvel and Sony reached years ago to reboot the character together while allowing him to join the MCU has just imploded. "Sources said there are two more Spider-Man films in the works that are meant to have director Jon Watts and Tom Holland front and center," Deadline wrote. "Unless something dramatic happens, Feige won't be the lead creative producer of those pictures." Apparently Marvel and their (and all of Hollywood's) mega-lord Disney had some crazy asks that Sony denied. BUT, Feige and Marvel's output these last 11 years has been a testament of quality control and a tightly plotted vision. Even with Tom staying on as well as Jon Watts, who directed both movies (and co-wrote Homecoming), the prospects of Spidey 3 being on par with its predeccessors just got a lot less promising. Below, Chopz and Frazier, who were both very big on Far From Home, break down the first impression implications if this split holds.
Frazier: Uh, what the fuck? We just had a nice vacation with Mom and Dad and now they sit us down to tell us they're getting a divorce? This is a confounding development. Obviously this partnership between Marvel and Sony always had the opportunity to be volatile but if anything quells tensions, it's money. And money usually cements a formula in the bid to make more money. Homecoming and Far From Home both made a zillion dollars BUT more importantly, are considered co-contenders for best Spider-Man movie of all time. And now Sony thinks they can toss Kevin out like Jazzy Jeff and do two more without him??
Chopz: Wow, this seems bad. The entire last Spider-Man film was building up Tom to be the MCU's next Ironman. He is the BIGGEST draw to the MCU in a post-Endgame world. If this news is indeed true, it's such a big L for the MCU. Money really ruins everything, but I hope that this is only a public play to get everyone on the same page. They've gone so far with Spider-Man in the universe only to have him pulled out after two solo films???? That can't be right. They better figure this shit out.
Frazier: The entire premise of Far From Home was building Peter up as the MCU's earthbound heir. Phase 4 is focused on fertilizing new ground with a bunch of people your casual blockbuster-lover doesn't even know yet, like The Eternals. Sure, Thor, the Guardians, and—to a lesser hype extent—Doctor Strange, are still in the cut but Marvel's intentions were very clear in FFH. And yet, in Hall H this past July, there were no placeholder spots for a Spidey 3. Soooo maybe these talks have been souring for awhile now. But the question remains: With heavy-hitters like Captain America and Iron Man out-of-action, are we as excited for the MCU's future if it doesn't have arguably the best Spider-Man to ever wear the mask front-and-center?
Chopz: Duh, no, it's not even as close to exciting if Spider-Man is out of the MCU. He is the anchor for this next phase of the series, even with Hemsworth confirmed to come back as Thor. It's cool that they're expanding more to TV on the Disney + service, but they last 10 years of the MCU have been built around stars. Tony Stark and Cap carried the MCU, with Spidey taking the torch in recent years. I just don't understand how this makes sense for anyone involved. Sony must be feeling themselves over those Venom numbers, despite that movie being trash.
Frazier: Well let's dig into it. The word is that Marvel/Disney came to the table like Suge proposing a 50-50 co-financing split between the studios, which Sony promptly turned down. Reports of these failed talks leaking could be a bid by either Marvel/Disney or Sony to bring the other party back to the table. BUT if that doesn't happen...what do the proposed two more Spidey movies look like. Are Jon Watts and Tom Holland reassurance enough that the quality control can be maintained? Feige doesn't have a story credit on either film but it's long been considered a given that his executive producer hand is a crucial guiding force in both tone and story. Then again, Amy Pascal is no herb either. Speaking of Venom, Spidey can technically freely crossover now for a Tom vs Tom showdown. Is that more exciting than seeing him link up with say, the Fantastic Four, the X-Men and/or Daredevil? Is there any way this works out for Sony?
Chopz: No, they're fucked if this is true.
Frazier: Welp, that settles it! Dear Amy Pascal, Tom Rothman, Tony Vinciquerra, Kevin Feige, Bob Iger and whoever else: put the ego aside and please smarten up. We all remember how a Spider-Man 3 went the last time a creative team lost sight of the vision...