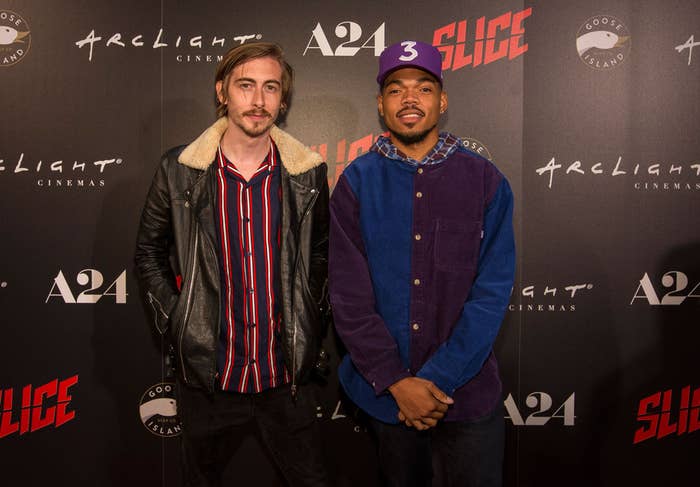 Slice is bigger than Chance The Rapper. He's the biggest name on the call sheet (depending on your reverence towards Chris Parnell at least, of which mine is very high) and the film is the feature-length directorial debut from his friend and frequent music video collaborator Austin Vesely. But it's important to note from the outset that both the plot and the film itself has much grander ambitions than just being a vanity vehicle for an A-list rapper. To be honest, that might've been an easier task to accomplish.
We've known pretty much since word of the film began to spread that it was going to be on some other shit: Chance the Rapper, werewolf, and pizza boy murder spree were always there when all we had to go off was a two sentence premise. But when a trailer finally dropped a month ago, it was immediately evident that this project was going to live and die by tone. Slice is a veritable pastiche of genre classics, more of a homage to various influences than any direct ode. But above all it's a love letter to horror camp.
Set in the fictional town of Kingfisher where humans co-exist with the undead, and re-election campaign commercials boast about there having been no werewolf incidents in years, Vesely has created a lived-in universe with its own rules and standards, inhabited by characters who react matter-of-factly to the supernatural, and trade glib, dry banter. It's the 31-flavor quirkiness of Twin Peaks' inhabitants meets the Hellmouth vibe of Sunnydale, where the abnormal was common and the monsters were sometimes heroes.
It's a lot to unpack and present and a delicate tone to balance, doubled by this being a debut feature, tripled when you factor in budget constraints. Not all of it works, even when you consider that this is a movie to be judged more for its style than its plot. Yes, the plot: [Mild spoilers if you're soft and consider a premise summary a spoiler] murdered pizza delivery boys found in the "ghost" side of town (ghost town) threaten to break the uneasy peace Kingfisher has coasted on for years. Mayor Chris Parnell wants it solved to cinch a re-election; a hardboiled cop and his doofus partner are on the case; an intrepid reporter is eager to uncover the real truth; a badass Zazie Beetz is a heroine out for vengeance. And on the outskirts, motoring through scenes in the background is Chance the Werewolf, who everyone likes for the murders less so out of motive than they do prejudice. There's also a ghost rights movement comprised of busybodies, Paul Scheer as the beleaguered pizza shop owner, a cameo from Hannibal Buress, and Joe Keery as Jimmy Olsen, a role that would certainly be beefed up had this not been filmed before Stranger Things became a phenomenon.
Again, even with the caveat that 80s-90s cult classic intentional camp is exactly what Vesely is shooting for, it isn't a slam dunk. Some line readings are hilarious, some fall flat. A wholly committed Tim Decker washes everyone he shares the screen with—his scene explaining why he hates werewolves got the biggest laugh at Brooklyn Alamo's Monday night screening. But for every character like his grizzled cop, or a janitor lurking in the Perfect Pizza basement, or Scheer's ghostly right-hand-man who only speaks in apocalyptic portents of doom we get characters like his other two employees who feel like Saved by the Bell extras, or Y'Lan Noel's drug kingpin who feels like he thought he was starring in Undercover Brother 2 instead.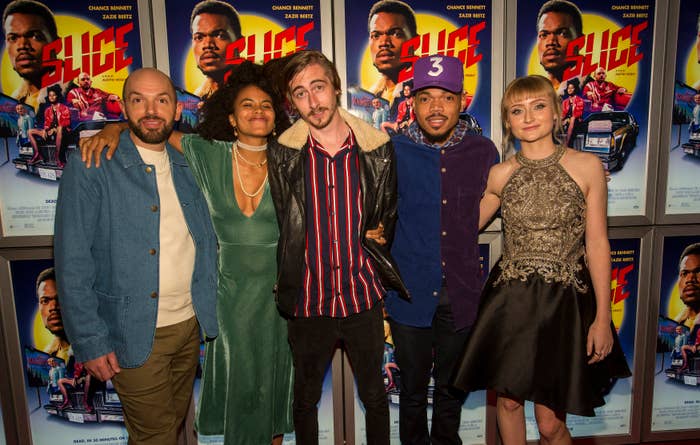 Then there's Chance. In a movie like this, it not only seems intentional that his werewolf make-up isn't even better than the "Thriller" video (honestly it looks like a totally different person, which if true, is amazing), it's hilarious. That's the point of course—when a movie wears its camp on its sleeve, the same limitations that could've held another movie back or flipped to heighten the lo-fi aesthetic. Chance is used sparingly, but threaded throughout enough that he doesn't feel like an afterthought, and holds greater command of the tongue-in-cheek tone than I thought he would. I don't know if this starts a clamor for more Chance the Actor, but if nothing else, his next SNL stint should be fun. A rapper in his position could've easily chosen something more basic and less democratic to fit his schedule around. Linking with the hardest entertainment company out for a bizarre labor of love definitely deserves points.
The A24 of it all will definitely heighten expectations—the company practically deals exclusively in critically-acclaimed award-worthy fare. Last night after holding several screenings, A24 announcedSlice would hit digital and iTunes at midnight with no theatrical release. That seems for the best. The movie doesn't seem much grander than a rainy day Netflix-and-toke. There's more to appreciate about Slice than there is to like. It's devoid of a memorable sequence or exchange that will live on to become a pop culture go-to reference like the pantheon of cult films it wants to join. The plot is honestly so aimless and missing spark that it felt way longer than 83 minutes and as thankless as it is to be the straight woman amidst the madness, Rae Gray is still a total bore. The end result bears less of a resemblance to Buffy the Vampire Slayerthe TV series than it does Buffy the movie: highly watchable fare despite being something of a misfire altogether. That movie was, historically, more important for where it signaled Joss Whedon's career was headed than for what he accomplished within it. I'm eager to see what Vesely does with more clout, experience and money under his belt.