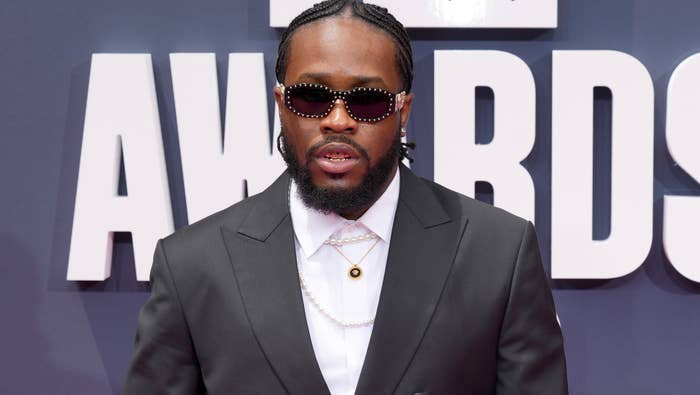 Shameik Moore seems to have belatedly responded to criticism lobbed at him on Twitter last month.
The Spider-Man: Across the Spider-Verse star wrote on Friday, "The perception online and my reality is so disconnected it's crazy. I'm a whole Jamaican man raised in east atlanta, y'all taking these edited interviews and tweets from when I was 13 [years old] way to serious. Stop it."
It's unclear what "edited interviews" are being referenced.
The post arrives one month after the 28-year-old took to Twitter to say—on the week of Spider-Verse's buzzy release and his Ebony cover story—"I didn't realize y'all were haters like this lol."
Many assumed this was related to the debate about whether Moore's portrayal of Miles Morales should carry over into live-action when Sony finally gets there. In response to a fan pointing out Moore is "not even part Latino" (the character's mother is of Puerto Rican descent), Shameik said "it's the rest of my resume that validates me."
The "haters" tweet could also have been a reaction to people trolling him for his perceived lack of game with co-star Hailee Steinfeld. In early June, around the time of the premiere of the celebrated Spider-Verse sequel, various clips made the rounds showing Moore attempting to flirt with Steinfeld.
Regardless of who exactly his "haters" tweet was meant for, users went in on him. One responded with a screenshot of a 2020 tweet where Moore shared his opinion on racism, the police, and "Black on Black violence."
Another user responded with a clip of Moore discussing Rosa Parks, where he seemed to suggest she should have taken a cab rather than the bus.
Those points were heavily debated and critiqued on social media in 2020.
It's not evident which tweets Moore is referencing from when he "was 13 y/o," but one reply spotlighted a 2013 post where he answered an ask.fm user's question about whether he likes white women.
"DO IIIIIII mm mm mmmm megan fox, venessa hudgens, allison from twilight, gahhhh," an 18-year-old Moore wrote.
It looks like he's being trolled once again this week, and unprompted, following the arrival of paparazzi photos of Steinfeld making out with Buffalo Bills quarterback Josh Allen on a Mexico getaway.