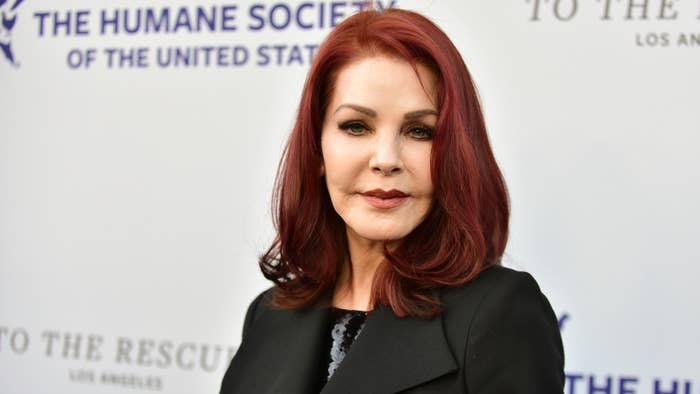 Though Priscilla Presley and her late ex-husband, Elvis were only married for a few years, she doesn't think ill of him.
According to Variety, Presley had nothing but praise for Sofia Coppola's biographical drama Priscilla at the Venice Film Festival. Acknowledging the more nuanced take on her relationship with Elvis portrayed in the film, Presley shared her reaction with the audience.
"It's very difficult to sit and watch a film about you, about your life, about your love," Presley reportedly said, tearing up. "Sofia did an amazing job. She did her homework, we spoke a couple of times and I really put everything out for her that I could."
The film tells the story of the pair's relationship from the first time they met when she was 14 and he was 24, with Cailee Spaeny playing the title role and Jacob Elordi as Elvis. During the press conference, Presley contended that her relationship wasn't sexual with the King of Rock 'n' Roll.
"It was very difficult for my parents to understand that Elvis would be so interested in me and why," the 78-year-old continued. "And I really do think because I was more of a listener. Elvis would pour his heart out to me in every way in Germany: his fears, his hopes, the loss of his mother—which he never, ever got over. And I was the person who really, really sat there to listen and to comfort him. That was really our connection."
"Even though I was 14, I was actually a little bit older in life—not in numbers. That was the attraction. People think, 'Oh, it was sex.' No, it wasn't. I never had sex with him. He was very kind, very soft, very loving, but he also respected the fact I was only 14 years old. We were more in line in thought, and that was our relationship."
There was a 10-year age gap between the two, and they later got married when Priscilla was 21 and Elvis, 32 in May 1967. The couple welcomed their first and only child, daughter Lisa Marie Presley in February 1968.
"I didn't know why he put so much trust in me, but he did," Priscilla added. "And I never, ever, ever told anyone that I was seeing him, and that was another issue that he loved, is the fact that I never gave him up in any way. I never told anyone at school that I was seeing him. So, we built a relationship, and then our relationship went on until I left.
"And it wasn't because I didn't love him—he was the love of my life. It was the lifestyle that was so difficult for me, and I think any woman can relate to that. But it didn't mar our relationship, we still remained very close. And of course, we had our daughter, and I made sure that he saw her all the time. It was like we never left each other."
Priscilla and Elvis divorced in 1973 and he died a few years later, in 1977. Their daughter, Lisa Marie passed away earlier this year after suffering cardiac arrest at the age of 54.
A24's Priscilla debuts in theaters on Oct. 27.