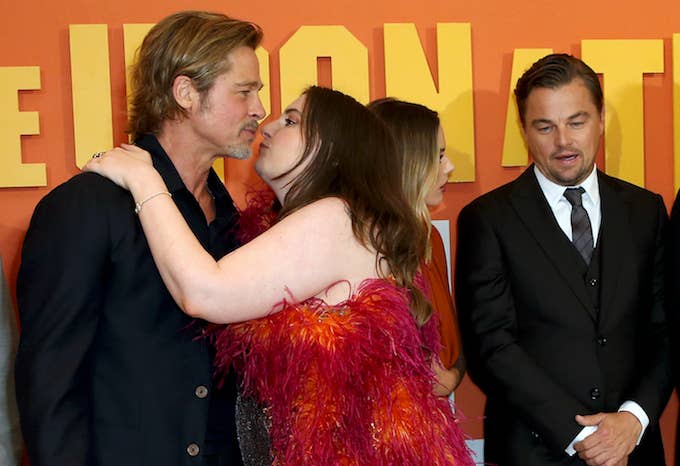 Lena Dunham has been accused of inappropriate behavior after she evidently tried to kiss Brad Pitt on the lips during the London premiere of Once Upon a Time In Hollywood, the Quentin Tarantino that briefly features the Girls creator.
Photos show the actress leaning in for a kiss. But instead of planting one on the lips, it looks like she landed on the side of his mouth. After the images surfaced, Twitter users had at it, complaining of double standards, labeling Dunham's actions as predatory, and referencing the #MeToo movement.
It's clear Dunham was feeling herself that night. The actress took to Instagram to post a photo of her bronze sequined, red feathered dress, writing, "She rose like a phoenix from the ashes, bitches... and ended up in London."
Earlier this week, Pitt discussed how Harvey Weinstein's takedown and the ensuing #MeToo movement impacted Hollywood. "It's more that I think we're getting recalibrated, but in a good way," he said, drawing a comparison between the Weinstein scandal and the tectonic 1969 moment that was the Manson Family murders.
Dunham's inappropriate behavior has made the news before. In March 2018, reports surfaced that she was the unnamed assailant in the #WhoBitBeyoncé scandal, though Dunham denied the claims. Prior to that incident, Tessa Thompson took issue with Dunham for appearing in the Golden Globes #TimesUp red carpet photos without putting in work toward the movement.