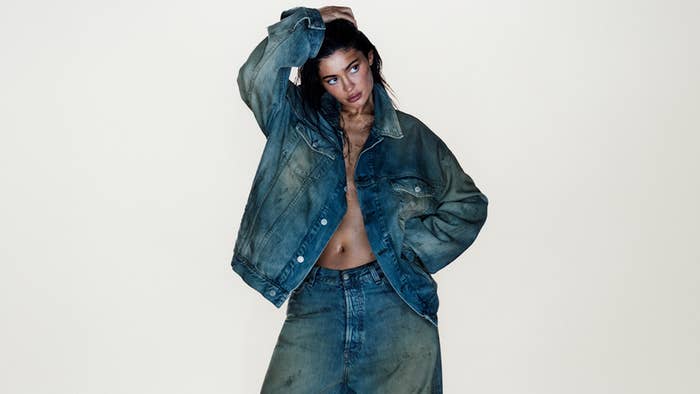 Kylie Jenner is the face of Acne Studios' Fall/Winter 2023 denim campaign.
Shot by Carlijn Jacobs, Jenner is "transformed, stripped back and undone wearing oversized silhouettes, and distressed and dirty washes" in the jeans collection.
Denim is at the heart of the brand—and how Creative Director Jonny Johansson launched Acne, by gifting 100 pairs of jeans to artists, fans, and friends in 1996.
"Denim is one of those rebellious but practical materials that is always attractive to me. It's also a very sustainable material in the sense that you end up wearing it again and again for years. I think of denim as the axle for everything else in your wardrobe—all your other clothes revolve around denim. It's an endlessly important material that I love to reinvent every season," he said in a statement.
The company has introduced a new style and silhouette through Jenner's campaign: the 2023, which is described as an ultra-oversized and unisex style. The denim comes a vintage-inspired distressed 'Penicillin' wash and a waxy 'oil-coated' wash. Jenner is also seen wearing Acne's 2021 jeans, which is mid-rise and has a wide-leg silhouette, and the Dacna denim max dress. She wears accessories from the Fall/Winter runway collection, like the leather multi-pocket bag and eyewear.
"I love the organic relationship I've built with Acne Studios," Jenner said in a press release. "I am a fan of the brand and I've worn their product over the past few years. This campaign is one of my favorites. I loved working with Carlijn and I love the simplicity of the images, they have strength in their directness."
The campaign is available on Thursday at worldwide Acne Studios stores and online at acnestudios.com.