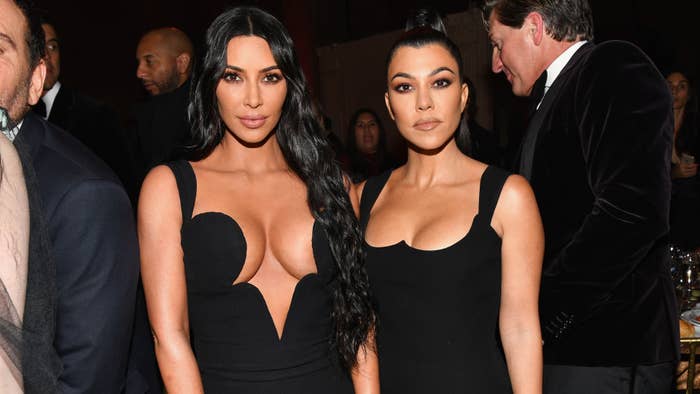 Kim and Kourtney Kardashian haven't been seeing eye-to-eye for months.
According to People, the pair settle their differences in Thursday's episode of The Kardashians. In the episode, the sisters explain that they began fighting when Kim partnered with Dolce & Gabbana as creative director for a show. The same fashion house designed Kourtney's wedding to Travis Barker.
Kim tells Kourtney that the Dolce & Gabbana collab was initially supposed to be with Skims; however, there wasn't enough time to pull it together. Kim explains, "I kept saying, 'I don't want to do this because it's so close to Kourtney's wedding—I want it to be completely different.'"
Even without Skims, D&G still wanted to work with Kim on a show of archived looks. When Kim invited Kourtney, she declined to attend the event.
"You weren't like, 'Hey, I'd love to know how you feel about this.' You called me after the deal was done," Kourtney says.
During their conversation, Kim outright says that Kourtney's wedding was a replica of Kim's.
"I got married in Italy. Am I saying you copied me by getting married in Italy?" Kim says in a confessional. "Who performed at my wedding? Andrea Bocelli. Who performed at Kourtney's wedding? Andrea Bocelli."
She adds, "You stole my fucking wedding country and my wedding performer. Andrea Bocelli is my favorite male singer of all time, but I'm copying her dolce vida lifestyle? Okay."
Kourtney explains that she was upset because no one considered her feelings. She also had a problem with the "classic Italian vibes" of Kim's D&G show, which she thought was similar to her wedding.
"I would be upset, I get it," Kim says, seeming to come around. "I feel you." She eventually apologizes, telling Kourtney, "I'm happy for the experience, but I'm sad and sorry that the experience ever hurt you."