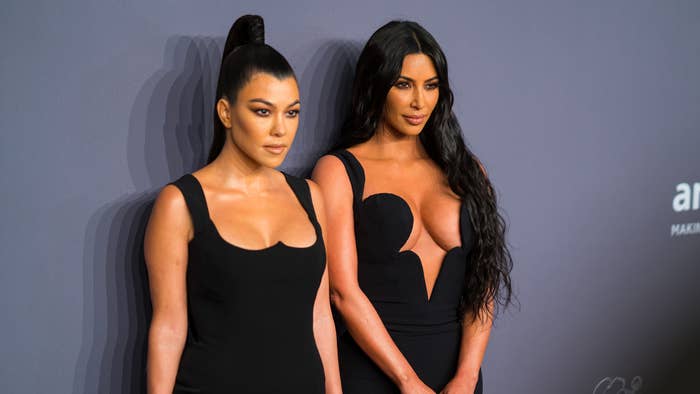 On the latest episode of The Kardashians on Hulu, Kourtney Kardashian accused her sister Kim of "copying" her Italian wedding hosted by Dolce & Gabbana.
Kim Kardashian debuted her Dolce & Gabbana collaboration at Milan Fashion Week in September last year, months after Kourtney got married to Travis Barker in a ceremony in which she wore a white D&G corset dress and custom-designed lace veil. "So Kim is in Milan, you know, doing this whole Kim/Dolce & Gabbana, Ciao, Kim, living la dolce vita, whatever," she said in the episode, per Page Six. "It's not like I did their campaign and she did their campaign right after. It's my actual wedding. That wasn't a business deal for me. I did it because it felt really personal."
Kourtney added that she believes Kim has an overabundance of "opportunities" to team up with all sorts of fashion houses and brands, which made her question the Dolce & Gabbana collaboration. "It's just legit copying my wedding," she said. "While we were at our wedding, I guess Kim was having these conversations with Dolce that I didn't know about, and she had called me and said she was doing a Skims collab with Dolce & Gabbana."
Kourtney said she wasn't told about Kim's plans to work with D&G prior to the wedding. She first found out about it when her sister asked if she was interested in going to Milan "for my Dolce thing." Ultimately it turned out to not be a Skims and D&G collab, but one between the fashion house and Kim directly. Regardless of how it came together, Kourtney did not seem happy about the outcome. "I think she sees everything that I had there and takes it for her own and she doesn't even see it," Kourtney said. "She sees it as, like, the dollar signs."
The sisters have been at odds on the latest season of The Kardashians, but Kim recently clarified that she's still on good terms with her sister despite their issues. "We've been there before and we'll always be OK," she said last month. "We're always family, that's how we were raised. But I'm also proud that everyone's really vulnerable because I'm sure so many other families have gone through similar things."