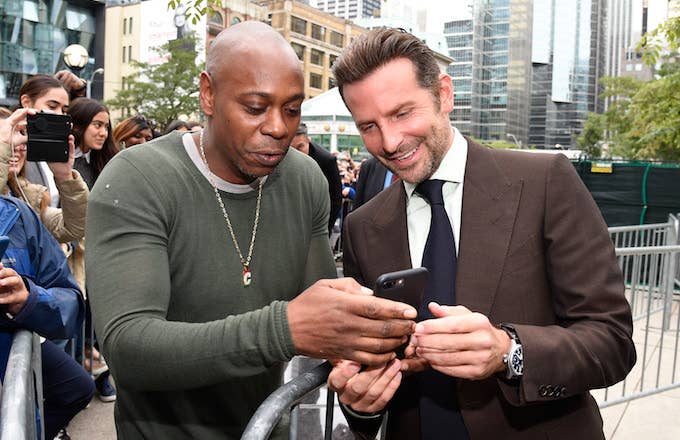 Bradley Cooper had to repeatedly persuade Dave Chappelle to be in A Star Is Born, Vulture reports.
During the Q&A portion of Dave Chappelle's five-show Broadway residency, an audience member asked Chappelle how he was cast in the film. Chappelle revealed that Cooper had to really convince the comedian to take the role.
Chappelle was in London with Kanye West when West introduced Chappelle and Cooper. The comedian shared with the crowd that he was impressed with Cooper's performance in the West End production of The Elephant Man. Chappelle didn't think much of the chance meeting until later, when Cooper showed up at Chappelle's annual barn party in his that he throws in his neighbor's barn in Ohio. Cooper's intention was to sway Chappelle to consider the role.
After the barn party, Cooper started calling Chappelle "every two days" before he agreed to shoot the part. Chappelle explained that he accepted the role so Cooper would stop bothering him. "He sent me the script," Chappelle said, "but I never read the script. I didn't know the shit was going to be good!"