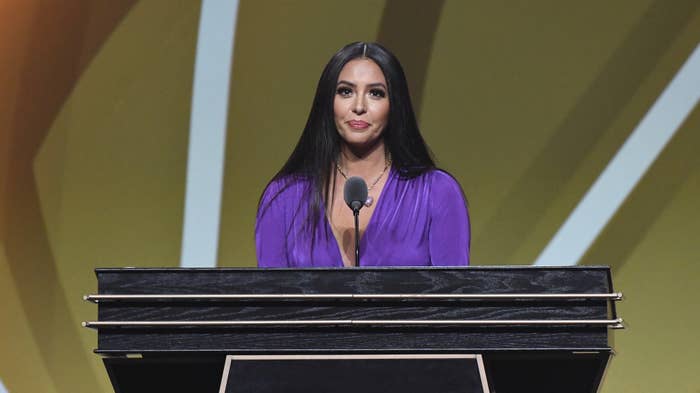 Additional details have emerged in Vanessa Bryant's ongoing legal battle against Los Angeles County authorities.
According to newly filed documents obtained by People magazine, 39-year-old Bryant claims graphic images of Kobe Bryant's crash site were shared on at least 28 devices belonging to members of the LA County Sheriff's Department. The lawsuit also states the photos, which included a number of "close-up" shots, were passed along by a dozen county firefighters, one of whom showed the images during a 2020 gala for broadcast journalists.
Bryant's legal team says county law enforcement and emergency personnel tried to conceal evidence of the photos: "It has also shown that defendants engaged in a cover-up, destroying the direct forensic evidence of their misconduct and requiring extensive circumstantial evidence to establish the full extent of that misconduct," Bryant's attorneys said in the documents. 
The details emerged nearly two years after Bryant's husband, Kobe, and their 13-year-old daughter, Gianna, were killed in a helicopter crash in Southern California. The tragedy also claimed the lives of Payton Chester, 13; Sarah Chester, 46; Alyssa Altobelli, 14; Keri Altobelli, 46; John Altobelli, 56; and Christina Mauser, 38.
About eight months after the crash, Bryant sued the LA County Sheriff's Department, the LA County Fire Department, as well as eight officers; the lawsuit alleged first responders had taken unauthorized photos of the victims' remains and proceeded to show them to their colleagues and private citizens. 
The county attempted to have the lawsuit dismissed, but the request was denied after a federal judge determined there was enough evidence to move forward. The county has continued to deny the allegations, insisting no images of the crash site were shared with the public.
"While the County sympathizes with Ms. Bryant's tragic loss, it did not cause the crash that claimed the lives of her husband and child," said Skip Miller, an attorney representing the county. "Rather, it responded to that crash and, at her specific request, set up a no-fly zone, undertook extensive efforts to keep the public and paparazzi away, and made sure none of the investigative photos were ever publicly disseminated. The County did its job and believes there is no merit to this lawsuit."
Bryant is reportedly seeking damages for emotional distress caused by the alleged image leak. The trial is scheduled to begin next month.