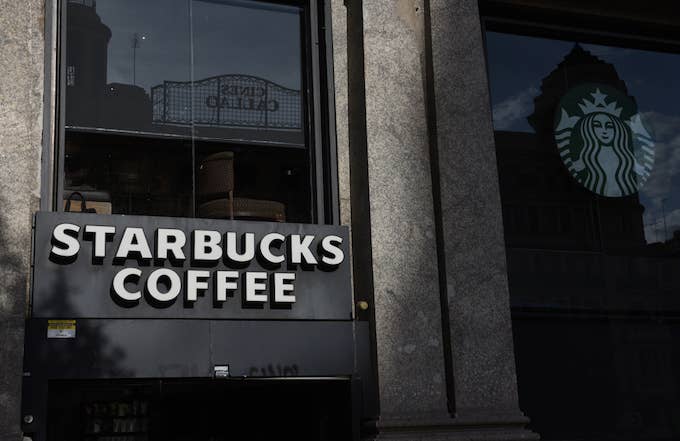 That infamous Game of Thrones coffee cup gaffe gave Starbucks a lot of free publicity. And we mean a lot.
During the feast scene in Sunday night's episode, viewers noticed a modern-day disposable cup sitting in front of Daenerys Targaryen, played by Emilia Clarke. Though the cup's logo was fairly blurry, many GoT fans immediately assumed it was a Starbucks drink—an assumption that resulted in countless headlines and viral memes. 
Well, it turned out the cup wasn't actually from Starbucks after all. It was from craft services, as confirmed by a HBO press release:
In response to inquiries from those who saw a craft services coffee cup in Sunday night's episode of Game of Thrones, HBO states, 'The latte that appeared in the episode was a mistake. Daenerys had ordered an herbal tea.'
By the time HBO made the clarification, Starbucks had already received a ton of free press coverage. Stacy Jones, CEO of marketing company Hollywood Branded, estimates that the publicity was worth more than $2.3 billion.
"This is a once-in-a-lifetime collision of opportunity for Starbucks," she told CNBC. "But really, this is just the tip of the iceberg, because what isn't being monitored or estimated is the word of mouth and social media on top of this."
However, Dan Hill, founder of communications firm Hill Impact, is hesitant to place a monetary value on the GoT slip-up.
"It's impossible to put a real figure on how much free advertising Starbucks gets out of the situation, but it's in a totally different category than product placement because it was accidental, which makes it more valuable," he explained. "I know people assign a value to these things, 'more than $1 million in public relations,' but I think it's all hogwash—too hard to quantify. Plus this one will live on as a meme, so I guess you could say it's a gift that will keep on giving."
The coffee cup has since been edited out of the episode.