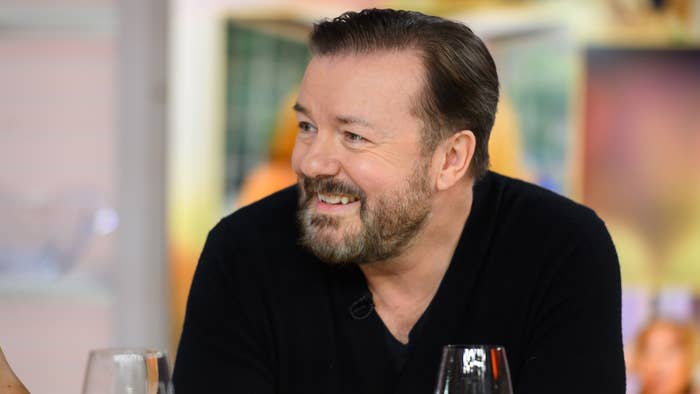 Ricky Gervais has, once again, created a stir.
During a recent Twitter Q&A session, the comedian addressed the Will Smith slapping incident at the 2022 Oscars. For those who've been under a rock for the past two weeks, the shocking moment took place while Chris Rock presented the award for Best Documentary. Before announcing the nominees, Rock made several jokes directed at celebrity audience members, including Smith's wife, Jada Pinkett-Smith.
"Jada I love you. G.I. Jane 2, can't wait to see it," Rock said, an apparent reference to Pinkett-Smith's shaved head.
The joke prompted Smith to walk on stage and slap Rock across the face. The King Richard star then returned to his seat, and shouted, "Keep my wife's name out your fucking mouth."
Though the incident has left fans and fellow celebrities divided, Gervais made it very clear he believed Smith's actions were unwarranted.
"You don't hit people over a joke, however bad it is. And it wasn't bad!" he said. "That was like the tamest joke I would ever have told."
The British actor then dismissed claims that Rock was mocking Pinkett-Smith's alopecia diagnosis, which some have called a "disability."
"Someone said it was joking about her disability. Well, I'm going a bit thin," he said, before point to his hair. "So I'm disabled. That means I can park right up next to Tesco now. And I'm fat. That's a disease, isn't it? I'm fat and balding. I should get fucking benefits."
Unsurprisingly, Gervais' comments were met with mixed reactions. Some social media users agreed with his stance, while others slammed him for minimizing Pinkett-Smith's condition.
"I have alopecia I would laugh if they said it was a disability 🤣," one TikTok user replied. "It was only a GI Jane joke."
"I agree Will shouldn't have slapped Chris but you need to understand how emotionally important a woman's hair is," someone else wrote. "It is devastating to lose it."
"I completely disagree with this Ricky to be honest," another commented. "I think you've gone a bit far."
"Both wrong not a disability but a medical condition that she was outwardly struggling with. But no hitting him was not the answer."
In the weeks since the 2022 Oscars, Smith issued a public apology to Rock and announced his resignation from the Academy of Motion Picture Arts and Sciences.
"The list of those I have hurt is long and includes Chris, his family, many of my dear friends and loved ones, all those in attendance, and global audiences at home," Smith said in a statement. "I betrayed the trust of the Academy. I deprived other nominees and winners of their opportunity to celebrate and be celebrated for their extraordinary work. I am heartbroken."
Academy president David Rubin said the Board of Governors are moving forward with their disciplinary proceedings against Smith.