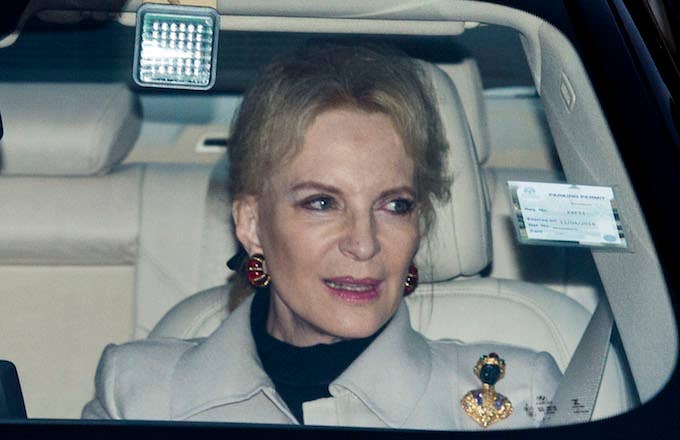 Princess Michael of Kent received major backlash this week after she wore a racially insensitive brooch to an event attended by Meghan Markle—her biracial soon-to-be relative. To make matters worse, the ignorant princess went on to issue a half-assed apology that implied she has worn the piece many times before without any issues.
"The brooch was a gift and has been worn many times before," a spokesperson said in a statement to the Daily Mail. "Princess Michael is very sorry and distressed that it has caused offense."
The British princess wore the piece of jewelry to the Queen's annual Christmas lunch, where she would meet Prince Harry's fiancée, Markle, for the first time. The brooch comes from a centuries-old genre of art known as "blackamoor," which depicts an African man or woman—typically servants—with exaggerated features. 
As many people on Twitter pointed out, this isn't the first time Princess Michael has faced accusations of racism. While at a New York restaurant in 2004, she allegedly told a group of black patrons "to go back to the colonies" during a verbal altercation over noise. The princess denied these claims during a TV interview, in which she referred to black people as "adorable." She insisted she even wanted to be black at one point in her life. 
"I even pretended years ago to be an African, a half-caste African, but because of my light eyes I did not get away with it, but I dyed my hair black. I traveled on African buses. I wanted to be a writer. I wanted experiences from Cape Town to right up in northern Mozambique. I had this adventure with these absolutely adorable, special people, and to call me racist: It's a knife through the heart because I really love these people."
Cringe.