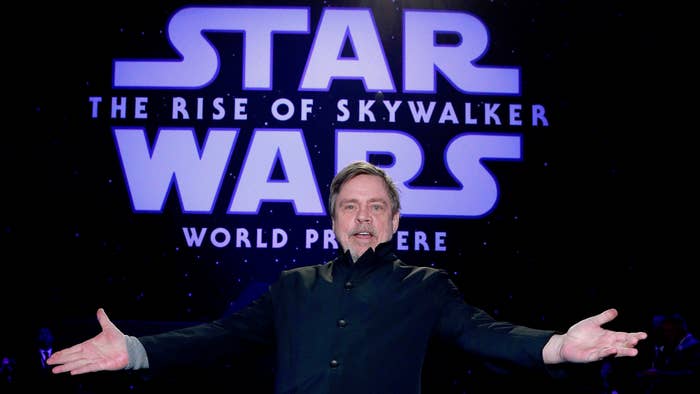 The season 2 finale of The Mandalorian was an emotional event for Star Wars fans. The episode concluded with an unexpected cameo by 69-year-old actor Mark Hamill, who—through the use of heavy visual effects—reprised his iconic role as a young Luke Skywalker.

The moment resulted in a slew of reaction videos from Star Wars die-hards, many of whom were brought to tears by the return of one of film's most beloved characters. 
"Jon [Favreau] sent me links to reaction videos, which were just — you know, I don't get to see these things in the audience," Hamill said on this week's Disney Gallery episode. "To see grown men cry and just people screaming their heads off, it was really, really thrilling for me to see them enjoying it so much."
Hamill went on to express his appreciation for the Star Wars fandom, whom he credits for his success.
"If it weren't for them, I wouldn't be sitting here, talking to you," he added. "They are the most loyal, passionate group of people I've ever encountered. I just have deep gratitude for their enthusiasm over the years. I never expected that. It's been something that I really cherish."

Elsewhere in the Disney Gallery episode, Hamill said Luke's appearance in The Mandalorian gave him some satisfaction, as it gave audiences a chance to see Luke's skills after Return of the Jedi.
"I remember joking with George [Lucas], I said, 'You know, when Return of the Jedi ends, it's all over for me. That would almost be like taking three movies to tell you how James Bond earned his license to kill — and then it's over. No Dr. No, no Goldfinger. No From Russia with Love.' And I was joking, but it did occur to me that he went from a farm boy, then to a trainee to a Jedi, and then it's over. So it was nice to have a rare look at what he would be doing prior to establishing the Jedi Academy but post-Jedi."