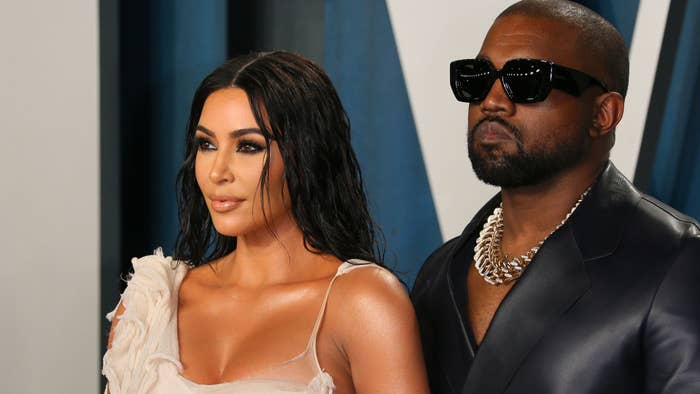 Though Kanye West's Drink Champs interview raised plenty of eyebrows, it seems his estranged wife wasn't surprised by what went down.
During his lengthy conversation with hosts N.O.R.E. and DJ EFN, Ye opened up about seven-year marriage to Kim Kardashian as well as their impending divorce. He spoke about her recent Saturday Night Live appearance in which she suggested their split was finalized; however, Ye reminded listeners he and Kardashian were still legally married and he has yet to see divorce papers.
"SNL making my wife say 'I divorced him' on TV because they just wanted to get that bar off, and I never have seen the papers," he said, before expressing his hopes for reconciliation. "We're not even divorced … [It's] no joke to me. My kids want their parents to stay together. I want their parents — I want us to be together."
A source told E! News that Kardashian wasn't surprised by Ye's comments, but emphasized there was "no chance" she would take him back.
"She knows he has his feelings and doesn't hold back on sharing them," the insider told the outlet. "Kanye has made it very clear he doesn't want to get divorced and wants her to reconsider … Kanye is still hoping Kim changes her mind but she's not interested in getting back together."
Ye also mentioned Kardashian while discussing his rocky relationship with Drake.
"I had this conversation where Drake is like, 'You know I never fucked Kim,'" he recalled. "But I was like, but you acted like you did. … The anticipation of something is what we live in. Now is the shortest moment of our life. The now that was just there is gone now. So you could be sitting there like, 'Did he? Did he not?' That's worse."
One topic that was addressed during Ye's Drink Champs episode was Kardashian's rumored romance with Pete Davidson. The two have been spotted together on several occasions over the past weeks; however, sources say their relationship is strictly platonic. 
"They hang in the same circles so they will be together from time to time," an insider told People magazine. "It's just friends hanging out."